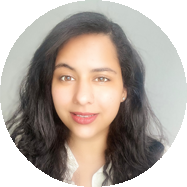 Dr. Akanksha Rathod, PT
Physical Therapist
"Dr. Rathod is the best physical therapist, provided me undivided attention and helped me become so much better in such a short time."
As a physical therapist specializing in sports injuries, Akanksha Rathod has dedicated their career to helping athletes of all levels recover and return to peak performance. With a Bachelor's degree in physical therapy from C.C.H.S. and a master's in Exercise Science from Long Island University Brooklyn, Akanksha Rathod has extensive knowledge of anatomy, biomechanics, and injury prevention strategies.
Over the course of Akanksha Rathod's career, they have worked with a wide range of athletes, from high school students to professional athletes. They have a particular expertise in treating injuries to the knee, shoulder, and ankle, and have helped countless athletes overcome these common challenges. She has a hands-on approach and enjoys treating a wide variety of conditions like sciatica, cervicalgia, knee, and spine problems. She also teaches ergonomic and postural correction techniques.
In addition to their clinical work, Akanksha Rathod is passionate about staying up-to-date on the latest research and techniques in the field. They have completed advanced training in manual therapy, therapeutic exercise, and sports-specific rehabilitation, and are always looking for new ways to help their patients achieve their goals.
Whether working with a weekend warrior or a professional athlete, Akanksha takes a collaborative approach to care, working closely with patients to develop individualized treatment plans that address their unique needs and goals. She strives to provide an intensive, total-body fitness, rehabilitation, and wellness approach. Her mission is to provide a restorative environment to encourage and empower her patients to connect and heal their bodies.
Certifications:
Certified Exercise Specialist (N.A.S.M.)
Certified in Manual Therapy
Education:
Long Island University Brooklyn
Provider information
NPI: 1811562200
Specialty: Physical Therapist (225100000X)
License: 047091
Practicing from: 2021
Accepts Medicare: Yes
About Our Center
With several locations throughout New York, our certified therapists use a multimodal rehabilitation approach to treat various pain conditions, including chronic pain.
You've come to the right place if you're in pain and need outpatient physical therapy. We offer hands-on, one-on-one physical therapy to people in New York City and Brooklyn suffering from the lower back, sciatica, knee, shoulder, and neck pain.
Our team is top-tier New York pain rehabilitation physiotherapist specialists who are passionate about treating pain issues non-invasively and using time-tested physical therapy techniques. We see a lot of patients who have orthopedic, neurological, or cardiovascular problems.
CLIENTS TESTIMONIALS
Dr. Rathod is professional, kind, and just great to be around! She was gentle with me yet meticulous about the exercises I needed to do to get rid of the back pain I was experiencing.
Patient
Very helpful, courteous staff and Dr. Rathod was always friendly and personable. She used a wide variety of exercises and activities that really helped with my recovery from knee surgery.
Patient