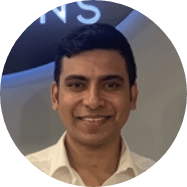 Dr. Hetarth Kapadia, PT
Physical Therapist
"My knee pain is Feeling way better thanks to PT. Dr. Kapadia made my situation Feel so simple! I'll be back!"
Dr. Hetarth Kapadia is a licensed physical therapist in the state of New York. Dr. Hetarth pursued his Bachelor's in physical therapy from India and has worked with orthopedic, neurological and cardiovascular patients.
Dr. Hetarth pursued his Masters in Kinesiology from California Baptist University, Riverside, California with Exercise science as a major. He worked in New York at various outpatient clinics where he dealt with patients with musculoskeletal and orthopedic disorders. Dr. Hetarth is currently pursuing his Doctorate in physical therapy at Touro College, New york as he is passionate about learning and updating himself with latest skills and information to deliever effective and efficient results to his patients.
Dr. Hetarth loves to take care of his patients along with that he loves music, dance, art, travelling and learning new things.
Education and Training:
Areas of Expertise
Dr. Hetarth Kapadia has expertise in a wide range of areas within physical therapy, including but not limited to:
Orthopedic rehabilitation. Dr. Kapadia specializes in the treatment of musculoskeletal conditions, including joint and muscle injuries, fractures, and post-surgical rehabilitation. His customized treatment regimens are designed to improve recovery, minimize discomfort, and restore functional abilities.
Sports injuries. Dr. Kapadia understands the special needs of athletes because he is a sports enthusiast himself. He provides comprehensive sports injury rehabilitation, customizing treatments that help patients regain top performance and avoid future injuries.
Pain management. Dr. Kapadia employs a multidisciplinary approach to pain management, combining manual therapy, therapeutic exercises, and modalities to alleviate pain and improve overall well-being.
Provider information
NPI: 1134615685
Specialty: Physical Therapist (225100000X)
License: 042922
Practicing from: 2018
Philosophy and Approach
Dr. Hetarth Kapadia's patient-centered approach is defined by his unrelenting commitment to his patient's well-being. He believes in treating each person as a whole, taking into account not just their physical health but also their emotional and mental well-being. He ensures that his patients fully understand their medical conditions and are actively involved in their treatment programs through open communication and active engagement.
Dr. Kapadia's idea is based on the notion that each individual seeks tailored and compassionate care. He is renowned for his gentle and compassionate approach, which immediately puts his patients at ease and fosters a positive environment for their recovery.
Beyond the Clinic
When he's not practicing physical therapy, Dr. Hetarth Kapadia enjoys staying active through various sports and outdoor activities. Dr. Hetarth also loves music, dance, art, traveling, and learning new things.
With multiple locations in New York, our clinic uses a multidisciplinary rehabilitation approach to treat chronic pain.
If you are in pain and looking for physical therapy, look no further. At our center, we offer patients in NYC and Brooklyn hands-on physical therapy for lower back, excersises for knee, shoulder and neck as well as one-on-one physical therapy for sciatica.
Our therapists are best in class, top New York pain rehabilitation specialists who share a passion for resolving pain issues through non-invasive and the latest, time-tested physical therapy technics. We often see patients with orthopedic, neurological, and cardiovascular problems.
CLIENTS TESTIMONIALS
Fantastic doctor! From the moment you walk in to the moment you leave is such a great vibe. Thankful for everything you do.
Patient
I was so impressed with how sweet and patient this therapist was with me. I will difiantly be returning! Thank you so much!
Patient