Neurological rehabilitation is a physician supervised program for people with nervous system disorders that can include disease and injury. The goal of neuro rehab is to improve the function of that individual, reduce some of their symptoms, and increase their overall well-being and quality of life.
At Physical Therapists NYC, we are committed to the continual care and treatment of our patients who suffer with neurological issues. We have well-trained medical doctors on staff who are experts in their field and will guide your essential physical therapy treatment program.
Our neuro rehab facilities are among the best with state-of-the-art diagnostic tools and a complete gym onsite. That means you can have all of your care managed in our neuro rehab center without having to chase all over town to different clinics.
Who Benefits From a Neurological Rehabilitation Clinic
There are many different conditions that can affect the nervous system and leave the patient managing symptoms. Some conditions that require a visit to our neurological rehabilitation clinic are listed below, but this is not an inclusive list.
Spinal cord or brain injuries
Alzheimer's disease
Amyotrophic lateral sclerosis (ALS)
aneurysm
Bell's palsy
Epilepsy
Guillain-Barre syndrome
Meningitis
Multiple sclerosis
Muscular dystrophy
Parkinson's disease
Stroke
Tumors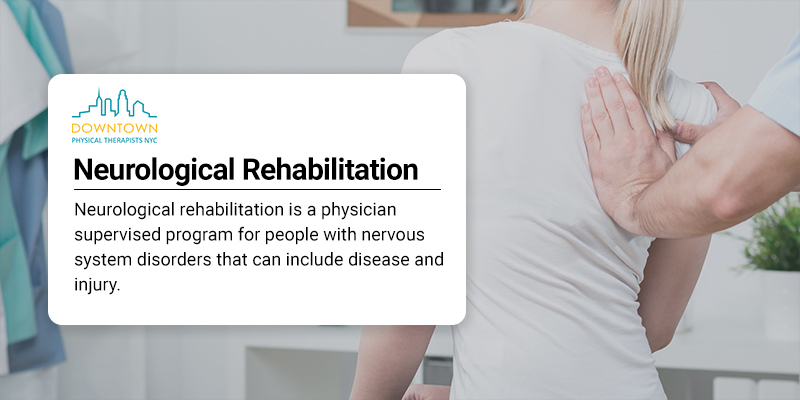 CLIENTS TESTIMONIALS
Very nice office and very great Doctor!
SH
Love what you did! Great job!
SL
What To Expect at a Neuro Rehab Clinic
Your first visit to a neuro rehab clinic can be intimidating, especially if this is a new diagnosis and you've never been to physical therapy. At Physical Therapists NYC, we make every attempt possible to ensure that your experience is pleasant and you feel positive about your prospects. You will do better with physical therapy and the guided care of our medical staff as a key part of your improved health and well-being.
When you enter our facility, we will greet you warmly and answer any questions you may have about the process. We realize that sometimes emergencies happen, but we work diligently to stay on schedule, so you don't have the frustration of long wait times.
You'll meet our team who will be helping you and they'll conduct a detailed patient history so they can learn about your symptoms but also about how you used to enjoy your life and what you'd like to recapture and enjoy again. Then a treatment program will be created that will focus on relieving your symptoms and working toward improvement. Your treatment program will always be flexible to accommodate any changes in your condition and your improvements.
Our facility is completely state-of-the-art with all of the diagnostic tools necessary and the equipment needed for your neuro rehab treatment. We don't want our patients to have to worry about going off-site or adding the hassle of another location to their care plan.
Advanced Neurologic Rehabilitation
Every treatment program is customized to the unique needs of the patient, but there are some common goals and advanced neurological rehabilitation steps you may encounter, these can include:
Help with daily activities and modifications as necessary
Activities to improve movement, muscle control, walking, and balance
Exercise programs that also focus on movement, building strength, pain management, and range of motion
Assistive device evaluation and training
Modalities to provide pain relief and muscle benefits
Schedule A
Consultation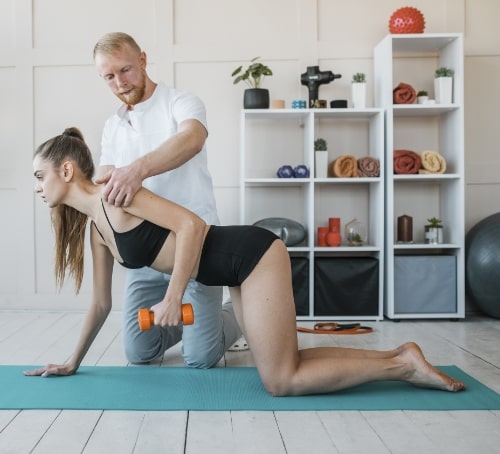 Physical Therapists NYC is downtown New York City's premiere neurological rehabilitation facility with a staff that's here to help you or your family member achieve their maximum potential. Your improved overall quality of life is possible with an integrated team of experts who are on your side. It all starts with a visit to our clinic.
Book Your Appointment Now at Physical Therapists NYC
If you live in the New York City area or surrounding regions, connect with us at Physical Therapists NYC to begin your neuro rehab journey. Our skilled and award-winning orthopedic physical therapists led by our well-trained medical doctors who listen to your concerns and guide your recovery plan. They will pay attention to your list of symptoms, perform diagnostic tests using our state-of-the-art equipment, if necessary, and then move into the gym to take advantage of modern tools, equipment, and techniques to speed up your healing process.
From the minute you walk in our door of our modern downtown offices, we will work to accommodate you. We understand that many of our patients work on Wall Street and in downtown NYC, which is why we have early morning and late evening hours, so you don't have to miss work.
Connect with our office to schedule an appointment to begin neuro rehab physical therapy.