It's been estimated that about a quarter of the population suffers from frequent foot pain. This can have a debilitating effect of your ability to enjoy life and to perform your routine, daily activities. Luckily, there is a solution. At Physical Therapists NYC, we offer a complete foot therapy treatment program that features foot physical therapy and massage techniques to relieve your current symptoms and improve your chances of avoiding foot pain in the future. There are even stretches you can learn to maintain foot health and strength on your own.
While we see patients with a variety of causes for their foot pain, some of the more common conditions we treat include:
Plantar fasciitis
Calcaneal bone spurs
Broken bones in the foot, toes, or ankles
Sprains or strains
Tendinitis
Arthritis
Gout
Repetitive motion injuries/pain
Turf toe
Foot Therapy at Physical Therapists NYC
When you visit our offices, our medical doctors will determine what is causing your pain or discomfort so a customized treatment plan can be implemented. Your physical therapy plan will work to relieve your pain and then attempt to improve the function of your bones, joints, and muscles in that region. This will lead to better foot health and can greatly improve your comfort in the future.
It's not uncommon for patients with foot issues to discover that they were also having gait and balance problems and associated pain in their back and legs. Once they begin foot physical therapy exercises, their overall health and comfort improves.
Foot Physical Therapy
No matter what causes your foot pain, physical therapy is one of the most effective forms of treatment. Therapeutic and focused exercises are designed to restore your range of motion, improve muscle strength, increase neuromuscular coordination, evaluate gait mechanics, and relieve pain.
While your physical therapist will focus on addressing your immediate concerns and your pain symptoms, they'll also work with you to create an approach that will reduce the chance of re-injury. Whether this means a new approach to sporting activities, walking, or simply strengthening the rest of your body to better support your feet.
Patients who are referred to our clinic for foot physical therapy after surgery will find that our medical professionals are well-versed in post-surgical therapy. They'll work with you to gently and methodically improve your strength, flexibility, and comfort with day-to-day activities. Then, they'll come up with a gameplan to get you back to all of the activities you want to do with confidence and comfort.
Foot Physical Therapy Exercises
Your physical therapist will prescribe some foot exercises that are specific for your pain and/or injury to target that area and strengthen the surrounding foot. This will help you find pain relief, stay pain-free longer, and possibly avoid future injuries. The following are some of the exercises you might be prescribed, they're also exercises you can do on your own to maintain pain-free and healthy feet.
Toe raise, point, and curl
Scrunch toes on a towel
Pick up objects with toes
Roll arch on a golf or tennis ball
Achilles stretches
Ankle rotation
Many of these exercises can be done while you're at your desk working or sitting on the couch enjoying television. Maintaining foot health and strength will go a long way toward promoting a healthy gait and balance.

Foot Massage Therapy
Foot massage therapy is often prescribed along with physical therapy as a two-pronged approach to relieving pain and strengthening the foot. At Physical Therapists NYC, there are skilled massage therapists on staff so you can receive your treatments in our office, without having to schedule another appointment and head over to a different facility.
Your foot massage therapy not only treats foot pain and injuries, but comes with many other benefits as well, including:
Improved circulation
Better blood pressure
Improved lymphatic circulation and removal of waste
Fights infection
Stretches muscles, allowing them to heal more quickly
Pain relief
Strengthening effect can prevent future injuries
Relieves unrelated foot conditions
Improved balance
Better sleep
Releases dopamine for all-over wellbeing
The benefits from a foot massage are so profound that we find some people come in just for this treatment alone.
Physical Therapy for Broken Foot
If you've suffered a broken foot, then physical therapy should be a priority for the most complete recovery possible. Exercises to strengthen the muscles in your foot begin after a healing period of four to six weeks. This healing period is vital in re-setting your bones and letting them mend. Follow your doctor's advice regarding rest and how much weight you can put on the foot.
Once you're cleared for physical therapy, you will begin slowly to develop a pain-free range of motion that is comfortable and is close to pre-injury levels. Concurrently, you'll work on strengthening your foot and the surrounding area. Relieving pressure and pain from the injury area is important and often can be accomplished with gait training and modification.
Part of your treatment program will be performed in our gym, some will include hands-on manipulations and possibly foot massage, and you'll likely be assigned exercise "assignments" to do at home to continue improving at a rapid rate. Your treatment plan will be overseen by our medical doctors to ensure you're getting the best care possible for your individual situation.
Schedule A
Consultation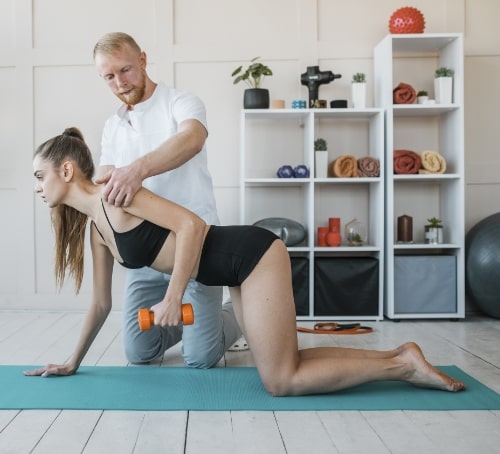 Book Your Appointment Now at Physical Therapists NYC
Whether you suffer from chronic foot pain, you've had an injury, or you're recovering from a broken foot, our staff is here to help. From the minute you walk into our modern downtown offices, we will work to accommodate you and make your visit as comfortable as possible.
It is our mission, at Physical Therapists NYC, to create a treatment plan that is customized to your level of movement and the symptoms you are experiencing. We will work with you to define long-term goals and create a treatment plan that will have you on your feet again, feeling fantastic. For us, it's not just about treating you today but giving you the best possible future solutions as well.
Our team is guided by our well-trained medical doctors who listen to your concerns and guide your recovery plan. They will thoroughly catalogue your symptoms, perform diagnostic tests using our state-of-the-art equipment, if necessary, and then move into the gym to take advantage of modern tools, equipment, and techniques to speed up your healing process.
Connect with our office today to schedule an appointment for physical therapy or massage therapy for your foot conditions. Because many of our patients work on Wall Street and in downtown NYC, we have early morning and late evening hours, so you don't have to worry about missing work.