Having good balance is important at any age, but it becomes increasingly more important as people age and the possibility of a traumatic fall increases. Having poor balance is dangerous and this cannot be overstated. Poor balance can lead to falls, disability, and even death – especially in older populations.
Not only is balance important to prevent accident and injury, a study by the Frontiers in Aging Neuroscience found that the ability to control balance decreases with age and can greatly reduce the quality of life that people experience. They have found that adaptive physical activity programs, or balance physical therapy, can make a big difference in anyone's life by challenging their sensory, cognitive, and musculoskeletal systems while improving balance confidence.
Why Seek Balance Therapy at Physical Therapists
At Physical Therapists NYC, we know that balance problems don't just begin when you reach retirement.
They can begin long before then and might not have anything to do with aging. We're here to help our patients improve their balance at any stage in life because we understand that balance is important to every aspect of a healthy and active life.
Our skilled and award-winning physical therapy team is led by well-trained medical doctors who listen to your concerns and guide your approach to balance. They will pay attention to your list of symptoms, perform diagnostic tests using our state-of-the-art equipment, if necessary, and then move into the gym to take advantage of modern tools, equipment, and techniques to improve your comfort with movement and balance.
From the minute you walk in our door of our modern downtown offices, we will work to accommodate you. We understand that many of our patients work on Wall Street and in downtown NYC, which is why we have early morning and late evening hours, so you don't have to miss work. Our goal is to treat our patients with the utmost respect and attention to their individual needs and concerns.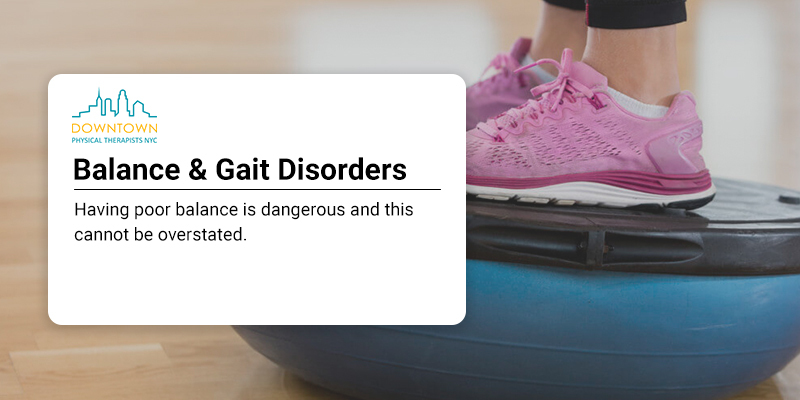 CLIENTS TESTIMONIALS
I have an upcoming appointment and can't wait. I recommend Dr. Yadav to all my Friends.
LD
I received outstanding service. I would definitely recommend Dr. Yadav.
MB
What Can I Expect From Vestibular Therapy?
Whether you're already experiencing some balance issues, or you want to get ahead of this and improve your balance for a lifetime of confident mobility, some of the same approaches will be taken. Your individual program will be customized but it may include:
Balance massage therapy for targeted care
Vestibular exercises physical therapy for strengthening
Balance test physical therapy to pinpoint concerns
Body balance physical therapy with a focus on eye tracking and inner ear concerns
Flexibility and range of motion for improved balance confidence
Your balance problems or concerns may not be related to aging, in fact, there are many other things that could be going on in the body that are causing you to have a feeling of unsteadiness. Your therapist will test the following when you first come to the office.
Muscle and joint strength and flexibility
Your inner ear and equilibrium
Eye tracking ability
Skin sensation
Proprioception or your positional awareness
Circulation
Schedule A
Consultation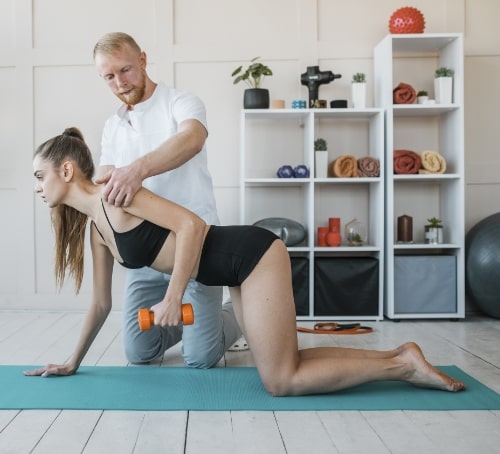 How a Balance Therapy Program Will Help
Once you begin a physical therapy for balance program, you'll immediately begin to see some results and learn ways you can improve your confidence in movement and feel better balanced. Your therapist will work with you to:
Reduce your fall risk. This can encompass a wide range of options, from evaluating your footwear and discussing fall hazards to strengthening your core and posture re-education.
Reduce the fear of falling. Being afraid of falling can drastically limit your enjoyment of life and activities. Improving confidence in your abilities and an understanding of your appropriate level of concern helps you create legitimate expectations.
Improving mobility. One of the most important things a physical therapist can help you with is moving more. It's not just about moving but it's about being comfortable and confident with what you're doing. Practice and dedication are key here.
Improving strength. Along with mobility, strength is key in making each person feel more comfortable with movement and their ability to recover from a fall or misstep.
Increase flexibility and stability. Moving more, building strength – they both work to give you added flexibility. Once you are more flexible, then bending, reaching, moving all feel more stable and you can push yourself to do even more.
Proper posture. One of the things that slips when people begin to lose balance is their posture. They tend to shrink in upon themselves and almost collapse inward. This can lead to a number of other problems including issues that lead to bad balance. It's a vicious cycle that your therapist can help you overcome.
Maximize balance. You'll start with physical therapy balance exercises to test where you are, then you'll see the more you work on it, the better your balance becomes. This is the goal of balance therapy but with it comes so many additional benefits and a sense of freedom.
Increased activity levels and more enjoyment of life. When you're feeling more confident in your own skin again and not worried about falling, you can step out of the fear zone and begin to enjoy life once again.
Book Your Appointment Now at Physical Therapists NYC
The best approach to combatting balance concerns is to begin before you experience a loss of balance, unsteadiness, dizziness, vertigo, or lightheadedness. Of course, this isn't always possible, but the earlier you begin working on a balance program, the better off you'll be in the long run. If you're interested in starting a balance program or looking for balance rehab, connect with our Physical Therapists NYC office to see how you can get started.
From little modifications that can help you feel steady on your feet on a daily basis to intensive programs that will help people with severely compromised balance return to activities of daily living, our staff is here to help.
Connect with our office today to schedule an appointment. In many cases, early intervention and treatment of balance concerns can lessen the effects and improve your quality of life.