Many people in the western part of the world were first introduced to cupping at the 2016 Olympics when swimmers, including famed Michael Phelps, were spotted with circles on their skin. These circles are the result of using a therapeutic treatment called cupping. Cupping is not new and didn't just appear at the 2016 Olympics, in fact, Chinese cupping therapy has been around since around 200 to 300 AD when Ge Hong first practiced it to improve Qi. There's also evidence that it may have been used in Egypt almost two thousand years before in 1550 BC.
Today, cupping, sometimes called suction cup therapy, is used to relieve pain and reduce inflammation by boosting blood flow to specific areas of the body.
It can be quite relaxing for some and might also be used with cupping massage to get maximum results.
How Does Cupping Treatment Work?
Cupping treatment is done by placing a cup directly onto the skin, either the cup is heated in some manner, or it's pumped to create suction. The cups are left in place for a few minutes to pull the skin, fascia, and muscles apart. It's almost the opposite of most physical therapy massage techniques which use compression to push soft tissue together, instead cupping uses suction as a pulling method.
Cupping is non-invasive and only leaves some bruising and skin irritation after use. Both of these side effects heal fairly quickly on their own. Cupping uses suction to decompress the muscles and connective tissues which prompts blood flow to the area. This kickstarts the body's own healing methods. Interestingly, cupping results are most like deep tissue massage, but in reverse. You may hear it referred to as massage cupping therapy.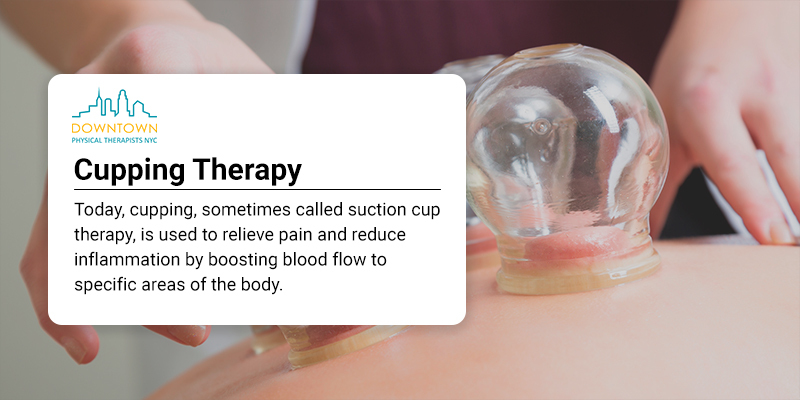 CLIENTS TESTIMONIALS
Great visit, helped work out all my stiffness, very gentle.
CR
Great therapist, really gives a lot of attention and care.
SK
What Is Cupping Physical Therapy Used For?
Who can use cupping and benefit from it? Just about anybody can find some benefit to cupping, especially if they have muscle aches and pains, but it does have specific applications in the world of physical therapy. If you've been prescribed this type of treatment or you're using it for a specific medical condition, then it's best to make sure you're seeking cupping physical therapy and not simply an enhancement to a massage.
Cupping is known for providing relief for:
Shingles
Facial paralysis
Cough and lung congestion
Back pain
Neck pain
Individuals with trigger points
Arthritis
Knee pain
It should be noted that it can also be useful for many people recovering from muscle injuries who want to speed healing in that region. If this is the case, cupping will be paired with other types of physical therapy to get the maximum results.
There are some that suggest cupping therapy for weight loss is an option. This is not scientifically proven, but cupping can decrease inflammation and reduce the appearance of cellulite by breaking it up and releasing toxins from the body. Both of these effects can have the appearance of weight loss and might be beneficial if used with a calorie modification and exercise program for weight loss.

Schedule A
Consultation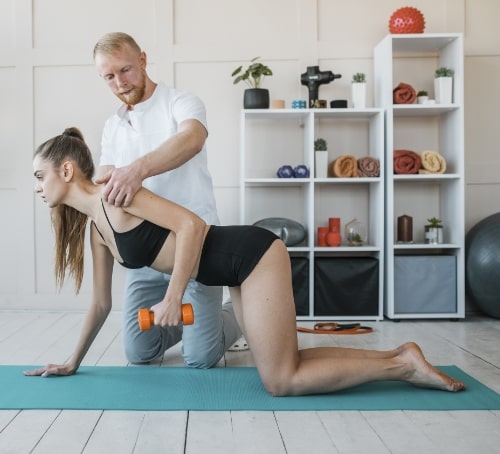 Things to Know About Cupping
Cupping as a treatment modality is not new, it's been around for thousands of years and used in different parts of the world regularly. There is no official certification for cupping, so it's important that you do your research and find qualified health care professionals that you trust to perform this procedure.
Cupping can be very beneficial and acts like a deep tissue massage, in reverse. It also is reported to be much less painful than therapeutic massage and even relaxing to some. At Physical Therapists NYC, we believe that skilled cupping can be very beneficial for certain conditions, and we'll often pair it with other treatment modalities, so you get the maximum benefit possible.
There are some groups of individuals who should stay clear of cupping or extra caution should be exercised. These are children under four years old, seniors or anyone who has fragile skin, and pregnant women should not have cupping in the abdomen or lower back. Other things to consider are the condition of your skin, in addition to avoiding cupping if you have thinning of the skin, it's also not a good idea if you have a burn of any kind, this includes sunburns, a wound, ulcers, and any internal organ disorders.
Book Your Physical Therapy Appointment Now at Physical Therapists NYC
At Physical Therapy NYC, we believe that cupping should be treated with the regard that any medical procedure or physical therapy modality receives. That's why our staff is very well-trained and experienced. They will do cupping when it is most beneficial for the patient to receive this care and they'll thoroughly explain the process at the time, so it doesn't feel strange or foreign.
Our patients are our top priority, and our goal is to bring you long-term pain-free relief with the most effective treatment plan possible. Led by a team of in-house medical doctors, our physical therapy experts can ensure your care is delivered with experience and expertise.
We specialize in treating busy professionals at Physical Therapists NYC, mainly because we are in the heart of the business district. Our downtown location makes it convenient for people who work in the city and on Wall Street to find the time to be seen for care and to have minimal down time in their day. To better accommodate your schedule, we have early morning and evening hours. It should be noted, those are very popular time slots, so we suggest scheduling today to ensure you get the time you want.
In our office, we feature some of the best state-of-the art diagnostic tools available and a well-appointed, full gym for your workouts and exercises. Having the latest and the best technology leads to a faster recovery with less setbacks along the way. We also put a lot of stock in our physical therapy staff, making sure that we have top-rated therapists who are leaders in their field. Your health care is our priority.
Connect with our office today to schedule a physical therapy appointment and begin living your life to the fullest again.