Trigenics therapy is a muscular and neurological treatment provided at Physical Therapists NYC to deliver immediate results. With a focus on aiding patients who are suffering from pain and limited movement, trigonous treatment combines three separate therapies into one, that's where the prefix tri comes from. Those three therapies include:
Neurogenic, resistive exercise
Myogenic, muscle nerve sensor manipulation
Autogenics, biofeedback breathing
Pulling three different techniques together and creating one approach makes this a multi-modal procedure and it has been found to be an extremely effective method of relieving pain and improving range of motion. Not only that, but by marrying these three methods together the end results are more long-lasting than they would have been if performed on their own.
How Does Trigenics Therapy Work
During a visit to Physical Therapists NYC for trigenics therapy, you'll have treatments applied to your muscle nerve sensors while doing specific resistance exercises and practicing biofeedback breathing techniques. That's it in a nutshell, but it sounds very confusing, so we'll break it down.
Trigenics begins with something called myoneural mapping, which identifies abnormal muscle signaling patterns in the body using muscle strength and length testing procedures. When you've suffered an injury, your brain and body no longer communicate as they used to, and you develop neurological inhibition. This eventually leads to a sort of coping between the brain and the body where messages are sent and received but not as effectively or efficiently as they should be. This can lead to weakness, pain, imbalance, and dysfunctional motion, and athletes tend to see a decrease in their performance.
Once these neurological inhibition spots are located, the patient becomes an active member in their own therapy. This is a big plus for many patients, especially athletes who like to control their bodies. The therapist and the patient will work together with the therapist providing muscle nerve sensor manipulation while the patient does resistive exercises and uses biofeedback breathing. The body responds to this approach in a combination of ways that trigger the brain/body communication pathway. This can create new and effective pathways or it can repair the original pathway and lead to restored movement and function.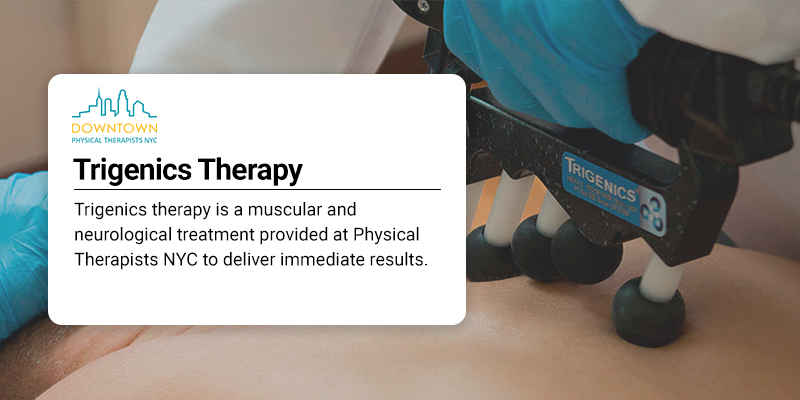 CLIENTS TESTIMONIALS
Dr Kapadia was wonderful! Can't wait to come back! You have been great.
KT
I can't wait to come again, Thank you For your time, I DO NOT Regret.
MC
Who Benefits from Trigenics Physical Therapy
Trigenics is still fairly new, as far as the world of physical therapy is concerned anyway. This is why it's not often thought of as an initial approach for treating illness, injuries, and pain. The fact that it's not usually a first course of treatment doesn't mean it shouldn't be. In fact, we've found, at Physical Therapists NYC, that it can be a very effective option for a variety of conditions including:
Trigenics for knee pain
Athletes and transgenics
Trigenics for rehabilitation patients and post-surgical care
Patients with anxiety and other stress-related trigenics
Trigenics for respiratory patients
Neurological patients and transgenics
As you can see, transgenics isn't just focused on patients who have physical ailments or injuries to their muscles. It's an approach to using physical therapy in some new arenas that is showing considerable success and positive benefits for patients.
Book Your Physical Therapy Appointment Now at Physical Therapists NYC
If you're looking to experience the benefits of trigenics, then your best option is to connect with Physical Therapists NYC. At Physical Therapists NYC, we're here to give you a solution to your limitation and bring you long-term pain-free relief with the most effective treatment plan possible. Our trained team of physical therapy experts is led by medical doctors to ensure your care is delivered with experience and scientific backing.
Schedule A
Consultation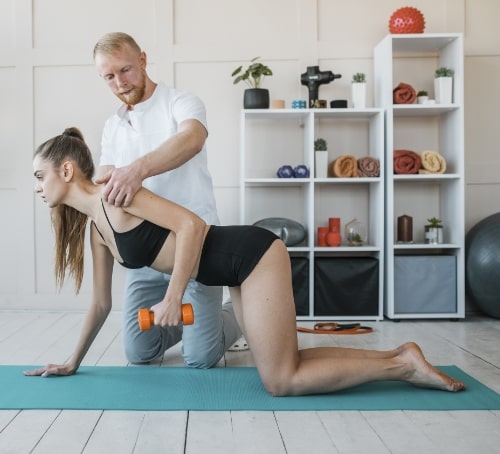 We specialize in treating busy professionals at Physical Therapists NYC, mainly because we are in the heart of the business district. Our downtown location makes it convenient for people who work in the city and on Wall Street to find the time to be seen for care and to have minimal down time in their day. To better accommodate your schedule, we have early morning and evening hours. It should be noted, those are very popular time slots, so we suggest scheduling today to ensure you get the time you want.
In our office, we feature some of the best state-of-the art diagnostic tools available and a well-appointed, full gym for your workouts and exercises. Having the latest and the best technology leads to a faster recovery with less setbacks along the way. We also put a lot of stock in our physical therapy staff, making sure that we have top-rated therapists who are leaders in their field. Your health care is our priority.
Connect with our office today to schedule a physical therapy appointment and begin living your life to the fullest again.