Pelvic floor physical therapy is an important part of the healthcare practice at Downtown Physical Therapists NYC. Our therapists are experts in pelvic floor issues and specialize in orthopedics, bladder, bowel, and sexual function to effectively relieve symptoms such as pain, discomfort, or disruptions in the quality of life. We provide hope and healing to both men and women suffering from pelvic pain, incontinence, or pelvic dysfunction.
What Is the Pelvic Floor?
A pelvic floor is a group of muscles that have the function of supporting the urinary and reproductive tracts. It also helps control the bladder and the bowels.
In women, the pelvic floor holds the bladder in place in the front and the vagina and rectum in the back. Muscles, tendons, and connective tissue hold the uterus in place at the top of the pelvic floor. When it comes to men, the pelvic floor helps keep the bowels, bladder, rectum, and urethra in place.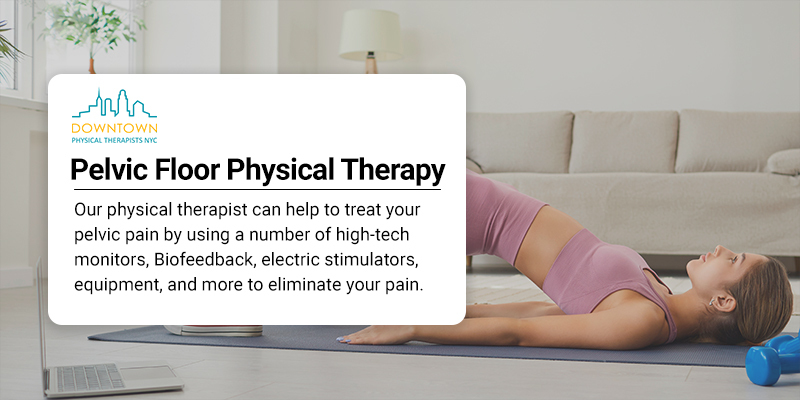 What Is Pelvic Floor Dysfunction?
Experts aren't sure about the causes of pelvic floor dysfunction. Some things that might trigger the condition include:
Pelvic surgery
Pregnancy
Being overweight
Aging
Overuse of the pelvic muscle
Serious injuries to the pelvic area.
CLIENTS TESTIMONIALS
I have an upcoming appointment and can't wait. I recommend Dr. Yadav to all my Friends.
LD
I received outstanding service. I would definitely recommend Dr. Yadav.
MB
What Are the Signs of Pelvic Floor Dysfunction?
In case the pelvic muscles cannot relax and only tighten, it might lead to symptoms such as:
Frequent urination
Constipation
Erectile dysfunction in men
Issues controlling the bowels or urine
Leaks or pain during sex in women
What Are the Signs That I Need Pelvic Physical Therapy?
There may be several reasons for visiting a physical therapist. You can consult a physical therapy specialist if you have any of the following symptoms:
Urinary and fecal incontinence
Frequent or urgent urination
Painful sex in women
Vaginal pain
Interstitial cystitis
Endometriosis
Chronic pelvic pain
Pudendal neuralgia
Pelvic organ prolapse
Constipation
Lower back pain
Hip pain
Bowel pain
Can Physical Therapy Help with Pelvic Floor Issues?
Pelvic floor physical therapy specializes in providing symptom relief of pelvic floor dysfunction and can help the muscles work the way they should. It might include several exercises to help the pelvic muscles relax and strengthen.
Your PT will check your core muscles to detect how strong they are and how much core endurance you might have. The specialist might also have you try different activities and positions to check the coordination of the pelvic floor muscles.
The assessment will help the physical therapist develop the appropriate pelvic floor physical therapy plan for you. Your treatment will combine both internal and external therapies. However, internal therapy won't be started until you are ready and comfortable with it.
The goal of pelvic floor physical therapy is to help you return to your normal routine by relieving symptoms. It will help you control your bladder and participate in sports and activities you love. Physical therapy can also help women relieve the pain and discomfort that comes with having sex. Additionally, some exercises can help women become more aware of their muscles and achieve better orgasms.
What Techniques Are Used During Pelvic Floor PT in NYC?
Pelvic floor physical therapy can include different techniques and exercises, such as:
Trigger point therapy involves applying pressure to a specific spot on the body, either externally or internally. These spots are also known as trigger points. The doctor or your physical therapist might also inject anesthesia into the area.
Kegel exercises help strengthen the pelvic floor muscles by relaxing and contracting them. These exercises can not only aid with pain alleviation during sex but also help control inconsistency. Your physical therapist can teach you how to do Kegels properly and get the most out of this exercise.
Electrical stimulation is a technique that helps reduce pelvic pain and muscle spasms. Your physical therapist can use electrical stimulation in their office, but they can also teach you how to do it at home using special equipment.
Biofeedback helps check how the exercises are going while also looking for improvements. Your physical therapist may place electrodes on the outside of your body, such as the anus or the vagina. Your physical therapist may also use an internal probe to evaluate the tension and relaxation of the pelvic floor muscles. The findings of this technique will be shown on a computer screen for you and your physical therapist to discuss.
Your doctor will customize the program based on the severity of your symptoms and your responsiveness to treatment. Since not everyone responds the same way to exercises, you must work with your physical therapist to develop a therapy plan that works best for you. In most cases, patients undergo such a session once a week for one to three months. It is critical to maintaining consistency if you wish to reap the benefits of the treatment.
Can I Have Pelvic Physical Therapy to Prevent Future Problems?
Pelvic health physical therapy might be helpful even if you are pain-free and only wish to address core and pelvic floor weakness or take a preventive approach to potential issues.
How Long Is the Initial Pelvic Floor Therapy Appointment? What About Follow-Ups?
Your initial assessment will take approximately 70 minutes. Your follow-up appointments will take about 45 minutes each. Some patients need an average of 6 to 12 visits. The ultimate objective is for you to be able to manage your condition on your own.
What Is the Cost for a Pelvic Floor Therapy Session and Is It Covered by Insurance?
In general, you should expect to pay around $165 to $350 per session and a little more for your initial consultation. Pelvic floor physical therapy is covered by most insurance carriers. You may check out if your therapy will be covered by calling your insurance provider.
Is Pelvic Floor Therapy Only for Women, or Can Men Get This Type of Treatment Too?
Pelvic floor therapy isn't exclusively for women. These exercises can also help men who have urologic, sexual, and colorectal conditions
Read more: What is Pelvic Floor Physical Therapy?
If you are experiencing pelvic pain visit our physical therapy clinic which is conveniently located just minutes from Midtown Manhattan. Contact us for an appointment today!
Schedule A
Consultation