The Graston Technique is similar to the Active Release Technique in approach. Its primary goal is to quickly locate and resolve soft tissue disorders. While Active Release focuses on a hands-on approach to finding scar tissue adhesions in muscles, ligaments, tendons, and nerves and breaking them up through massage, the Graston Technique uses tools or assistive devices to accomplish the same benefits.
Why Break Up Scar Tissue and Adhesions
Using both the Active Release Technique and Graston Technique, your therapist is working on the same understanding that your pain and limitations are directly caused by adhesions. These techniques break up the adhesions, which immediately prompt your body's own, natural healing mechanisms to recover. Typically, your treatment will be followed by additional exercise and possibly some modalities to boost your recovery and appropriate healing.
It should be noted that the Graston Technique can be painful as breaking up scar tissue requires force and targeted attention. But the results are quite remarkable, and you may only need to have one or a few treatments to find relief. For many patients, these are the pains they feel they've just got to learn to live with. At Physical Therapists NYC we don't believe you have to live with this pain, and we'll help you find long-term relief.
Some of the benefits you'll get from the Graston Technique include:
Increased rate of blood flow to the affected area for more nutrients and oxygen
A breakdown of collagen cross-links
Boost in cellular activity, which prompt natural recovery
Reduction in inflammation
Less pain
Increased mobility
Ability to perform daily tasks with ease
More flexibility and stability
Return to activities you love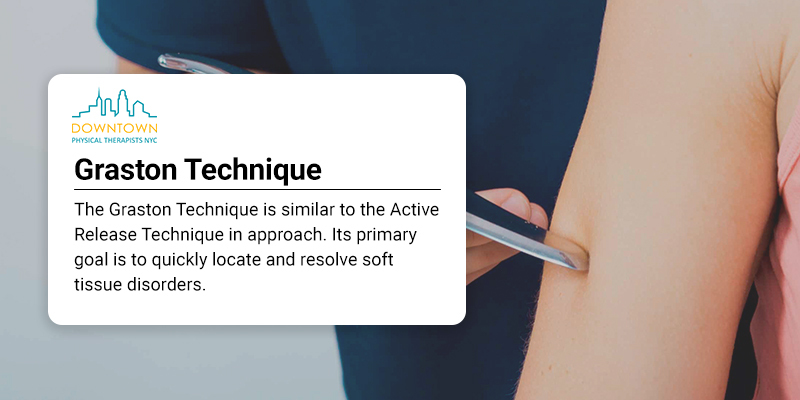 CLIENTS TESTIMONIALS
Great visit, helped work out all my stiffness, very gentle.
CR
Great therapist, really gives a lot of attention and care.
SK
Graston Technique Physical Therapy Tools
There are six core tools used with the Graston Technique, they're durable and made of stainless steel but have rounded edges with nothing sharp on them at all. They're used to scan over the body and detect areas of injured tissue, then they are applied in different massage technique motions to break up the tissue.
Your treatment will be given along the kinetic chain, so if you're receiving Graston Technique knee care, you can expect to find your treatment extends up and down on your leg and isn't just focused on your knee. The tools that are used can facilitate a more thorough approach to breaking up scar tissue and by extending out from the adhesion, a more extensive repair response.
It should be noted that people sometimes refer to the chiropractic Graston Technique, to be clear, this is the same as the physical therapy Graston Technique, the only difference is the individual performing this scar tissue release treatment. Both types of health care professionals can be well-versed in how to do this skillfully and effectively.
What to Expect with Graston Technique NYC
If you are visiting our offices for the Graston Technique you can prepare for your care by doing the following.
Schedule a consultation or an initial appointment to meet our team and discuss your condition
You may be asked to do some physical activity or undergo an ultrasound or another heat treatment to warm up the targeted soft tissue
During your Graston Technique treatment, tools will be used to scan the body and then treat the area. This treatment will involve rubbing with the steel instrument in massage-like motions that are very specific for your pain and limitation complaints
The treatments per area are usually short, in the range of 30 to 60 seconds but they can cause discomfort and pain
Following treatment, you may have some targeted excises to do to focus on appropriate healing in that region. Modalities may also be prescribed to help your body recover appropriately
The Graston Technique often requires several treatment sessions, so you should plan for repeat visits to our office
Schedule A
Consultation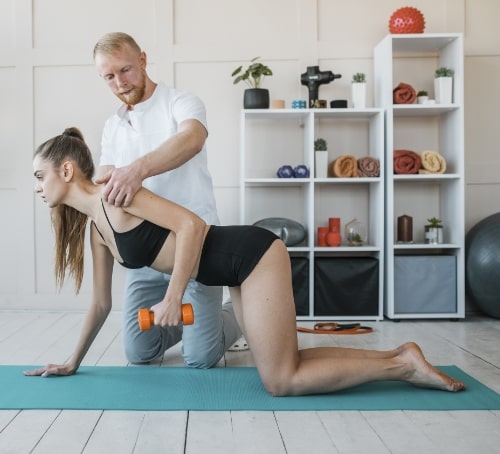 Patients visit our office with different types of pain and concerns and many of them respond very well to Graston Techniques. For instance, the Graston Technique back treatment can be used to treat a range of spinal conditions that run from the cervical or neck region of the spine down to the lumbar and low back region. Throughout your spine there are different areas of pain and different conditions that can be affected by scar tissue and the Graston Technique can prompt recovery.

Also, the Graston Technique hip care is another illustration of how this method can be used for areas that extend away from the spine. It's especially beneficial on this region of the body that is susceptible to injury and scar tissue from sporting, falls, and simple aging. Similarly, the Graston Technique for carpel tunnel can speed post-surgical healing or be used as an alternative to surgery.
Book Your Physical Therapy Appointment Now at Physical Therapists NYC
If you're looking to try the Graston Technique NYC based care, then your best option is to connect with Physical Therapists NYC. At Physical Therapists NYC, we're here to give you a solution to your limitation and bring you long-term pain-free relief with the fastest treatment plan possible. Our trained team of physical therapy experts is led by medical doctors to ensure you receive the best care.
We specialize in treating busy professionals at Physical Therapists NYC, mainly because we are in the heart of the business district. Our downtown location makes it convenient for people who work in the city and on Wall Street to find the time to be seen for care and to have minimal down time in their day. To better accommodate your schedule, we have early morning and evening hours. It should be noted, those are very popular time slots, so we suggest scheduling today to ensure you get the time you want.
In our office, we feature some of the best state-of-the art diagnostic tools available and a well-appointed, full gym for your workouts and exercises. Having the latest and the best technology leads to a faster recovery with less setbacks along the way. We also put a lot of stock in our physical therapy staff, making sure that we have top-rated therapists who are leaders in their field. Your health care is our priority.
Connect with our office today to schedule a physical therapy appointment and begin living your life to the fullest again.