Worker's comp injuries come with a wide variety of causes and with varying degrees of severity. They can be similar to many other injuries, and it all depends on what you do for a living and how you injured yourself on the job. What makes worker's comp injuries different is that you're not going through your personal health insurance, you're filing a worker's compensation claim.
The claims process for worker's compensation injuries is very complicated and worker's comp physical therapy often requires a referral from a physician. The good news is that we have physicians on staff at Physical Therapists NYC, in fact our therapists are medical doctors. This means you won't have to go to another doctor to get a referral and can skip that extra step on your road to rehabilitation. (is this true?)
Managing worker's comp physical therapy and insurance claims are not new to us and our staff can help guide you through this confusing process. We truly believe your focus should be on healing and you shouldn't have to manage additional stress from the worker's comp claim process which is why we're here to help as much as possible. Your health is our priority.
What Is a Worker's Comp Injury
Worker's compensation injuries are ones that happen on the job. They can be minor or they can leave you permanently disabled. Worker's compensation can be an injury you incurred as a result of doing your duties or simply being on work property. A worker's compensation claim refers to filing your bills or other financial-related documents to an insurance policy that your employer is required to have. Worker's compensation is basically a type of insurance that compensates employees for injuries or disabilities suffered as a result of employment. It is separate from your regular healthcare insurance.
At Physical Therapists NYC, we can help you file your bills from treatment in our office with your worker's compensation insurance company. We are not able to offer legal advice regarding your claim or how you should proceed. This can be a very complex area of the law and liability, you may want to seek legal help for specific questions that are unrelated to our bills and services.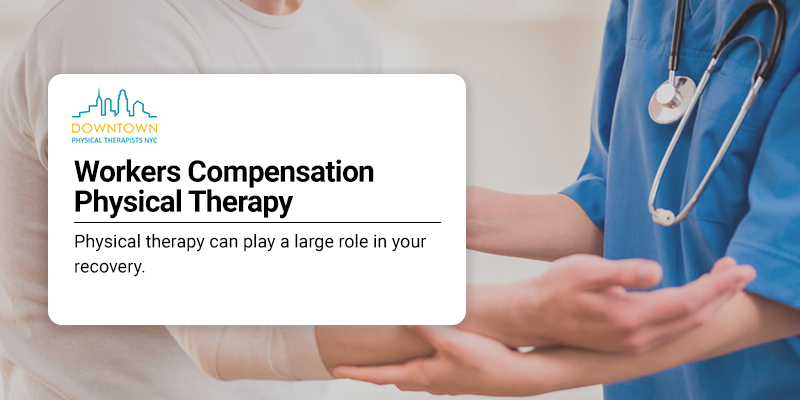 CLIENTS TESTIMONIALS
Great visit, helped work out all my stiffness, very gentle.
CR
Great therapist, really gives a lot of attention and care.
SK
Worker's Comp Physical Therapy
Every job has its own nuances that can lead to a worker's comp claim, from an acute injury to repetitive use syndrome. Even walking up the stairs at work can be a hazard and cause an injury that needs physical therapy for a complete recovery. That said, there are some more common injuries that we see on a regular basis related to work injuries and professional dance injuries.
Strains of the spine, mainly focused on the thoracic and lumbar regions
Disc herniation
Sprains and torn ligaments in ankles and wrists
Shoulder impingement and strain
Knee injuries including strain and sprains
Overuse or repetitive use syndrome and injuries
Falls and other traumatic or acute injuries
Broken bone recovery
Physical therapy can play a large role in your recovery. Having a trained therapist work with you to rebuild strength and range of motion is important following any injury. Getting your muscles back in shape and preventing the build-up of scar tissue, permanently tight joints and ligaments, and adding strength will improve the outcome for anyone suffering from an injury.
Where PT for worker's compensation injuries becomes especially important is the modification training and adaptations that might be necessary to prevent future injury or disability. The odds are that you're going to return to your job after an injury at work. If you're continuing to do exactly the same thing that caused your injury in the first place, you're likely to experience another injury in the future. Through physical therapy, you can learn new techniques for performing routine tasks that protect your injured region and promote a healthier work environment for you.
Worker's Comp Massage Therapy
Unlike a massage that's done routinely for relaxation or general health, massage therapy can be an integral part of a physical therapy treatment plan. If you've experienced an injury or had surgery to repair an injury you sustained at work, pairing massage therapy with physical therapy will speed up your recovery process and improve your flexibility and strength. Some ways you'll see benefits by including massage therapy in your treatment plan include:
Improvement in flexibility. Hands-on massage that's targeted at injured areas builds muscles and gives them a greater range of motion, quickly but safely.
Less recovery time. Targeting an injury area through massage can break up and remove carbonic and lactic acid, two waste products produced by injury and exercise that can slow recovery.
Muscle nutrition. Muscles become healthier the more nourished they are, and nourishment happens through blood flow. Massage therapy moves blood to vulnerable regions and prompts more natural circulation and the flow of oxygen and nutrients.
Prevent future injury. Along with your physical therapist, your massage therapist will help strengthen key areas and work on retraining muscles so you can compensate for your injury by using different muscles or techniques in the future.
Worker's Comp Physical Therapy Appointments
At Physical Therapists NYC, we focus on the individual rather than the injury. We feel that it's important to take the time to listen to your version of what happened, where you're feeling pain, how you physically accomplish your daily work tasks, and what you'd like to see as an end rehab result.
Your worker's comp physical therapy appointments will begin slow and easy with a lot of assessments to determine your initial range of motion, pain level, strength, and abilities. Then a customized program will be developed to get you on the road to recovery and back to work. Your care will be focused on returning you to a previous condition of strength and motion with a twofold approach that also looks at ways you can avoid re-injury as you transition back.
Schedule A
Consultation For Work Injury Rehabilitation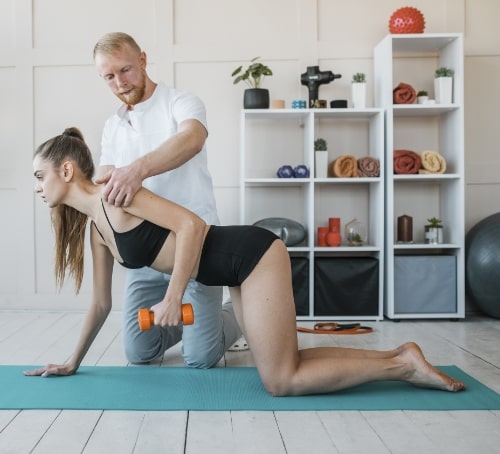 Book Your Worker's Comp PT Appointment Now at Physical Therapists NYC
If you've suffered an injury on the job, then finding "worker's comp physical therapy near me" is more important than ever. You're already trying to manage to have unexpected time off work and probably not getting the paychecks you were. It's not the time to be driving all over, looking for a physical therapist who specializes in worker's compensation claims. You're also in no shape to be traveling far for your treatment. We understand how important having a physical therapist nearby is, which is why we cater to our New York City area patients. Not only is our office conveniently located in the downtown and Wall Street region, but we have also extended early morning and late evening hours to accommodate your schedule.
Our skilled and award-winning physical therapy team is led by well-trained medical doctors who listen to your concerns and guide your recovery plan. They will pay attention to your list of symptoms, perform diagnostic tests using our state-of-the-art equipment, if necessary, and then move into the gym to take advantage of modern tools, equipment, and techniques to speed up your healing process. It's all done onsite so you don't have to try to navigate busy streets to travel to appointments. Connect with our office to schedule an appointment for worker's comp physical therapy to immediately begin your healing journey.