If you go to a local gym, it's possible you're already familiar with functional exercise training, or at least the term. That's because this type of training is not just a beneficial way to approach exercise for people who have been prescribed physical therapy rehab, it's great for everyone.
Functional training centers around improving your daily life and everyday movements to boost your function. The goal of functional exercises is to look at the activities most people do within their day and translate those motions and muscle exertions into exercises that build strength, range of motion, and flexibility to facilitate practical application.
To sum it up, functional training workouts are designed to make it easier to do your day-to-day activities so you're more comfortable, enjoy your day more, and so you are less likely to injure yourself.
How Does Functional Training Work
Think about your daily movements, from opening your car door while balancing an armload to twisting and reaching to put away groceries. As people age, they are more at risk for injury from doing simple, everyday tasks like these because, over time, bodies suffer small injuries, repetitive use damage, and joints and muscles wear out. By focusing on your daily activities and creating a functional strength training program that supports your individual lifestyle, you can boost strength where you need it most. This can lead to a better quality of life now and long into the future.
A functional fitness training workout typically isn't exhausting and frustrating, like some workouts can be. Instead, it boosts your mood and energy level through endorphins while not completely taxing or draining your strength. The approach looks at multi-joint movements, like how your knees and hips work together when you walk or how your spine and shoulders cooperate to reach. It's not about building big muscles and flexing; a great functional gym training program is about strengthening your muscles in a beneficial way that effectively supports you in your daily life.
Read more: What Is Cardiovascular Exercise?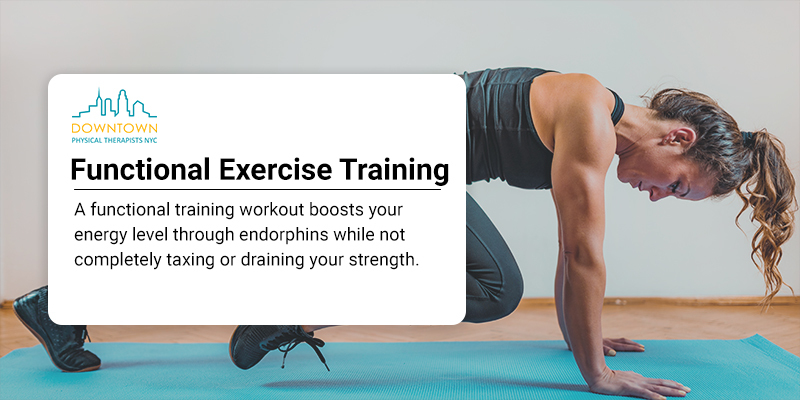 Benefits of Functional Exercise Training
At Physical Therapists NYC, we firmly believe that a functional exercise program is for everyone. It can do wonders for people seeking rehab and recovering from an injury, illness, or surgery but it can also improve the daily lives of all people who give it a try.
Age catches up with each of us eventually. If you are lucky enough to age without suffering a significant injury, you might not notice the small changes in your body, you just know you can't move like you used to. That doesn't have to be your status quo. There are huge benefits to functional medicine training in everyday life.
CLIENTS TESTIMONIALS
Very Kind & helpful/ Accomodating. Feel better already after 3 sessions. Very proffessional.
UK
I had back pain and since I have been seeing Dr. Yadav, my back pain is becoming more bearable.
SD
Increased strength. Strength isn't just having big muscles or the ability to lift heavy things. Functional strength is what most people want to smoothly and effortlessly carry their groceries, open heavy doors, maybe even lift a child. Functional exercises focus on exactly these types of things to give you the strength you need to perform these activities with ease. If you're a physical therapy rehab patient, it's about getting you back to where you used to be and then maybe even improving on that a bit.
Improved balance. Because functional exercises focus on how the body moves to accomplish tasks, it harmonizes your body as a unit. This increased coordination has a lot to do with better balance and body awareness. Understanding how different parts of the body work together allows you to track your movements better and develop core strength, all of which give you greater balance.
Greater range of motion and flexibility. Again, no one expects you to do the splits or turn cartwheels but being able to reach farther and lift your leg higher could have great benefits in your everyday life. This can help you do more with greater ease, effortlessly in fact, it can also be a big factor in avoiding injury.
Decreased risk of injury. As mentioned, being able to easily reach the top shelf, or step over a barrier moves you through your day without a second thought. But not being able to reach that far or lift your leg that high can easily lead to an injury, sometimes even a traumatic fall. It can be just that little extra effort at the gym, a targeted approach to movement, that makes all the difference in your life and your ability to enjoy it.
Schedule A
Consultation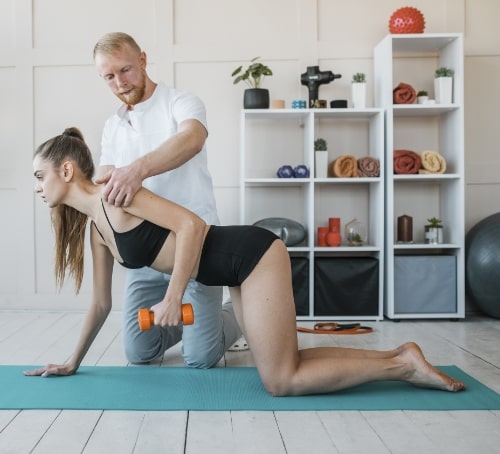 Functional Training and Physical Therapy
The goal of all functional training is to focus on daily living and functional activities but for people who are seeking physical therapy, it often is about regaining lost function. It doesn't matter how that function was lost, whether abruptly or over time, injury or wear and tear – what is important is not accepting those limitations as permanent. You can improve and you will at Physical Therapists NYC with a customized functional training exercise program.
We will help you assess your current situation and discuss what your goals are, what your normal activities are, and what you want them to be. A customized program will be created to give you exercises that help you develop your strength, flexibility, and balance. Our well-appointed gym has all of the equipment you need to perform your exercises, but you might be given some "homework," or exercises to do regularly when you're not in our offices that are designed to further support your efforts.
Physical therapy patients notice, over time, that they're not just working on recovery but that their daily activities will become easier and even joyful at times.
Read more: Hammer Curls vs. Bicep Curls – What Is the Best Way to Build Biceps?
Book Your Physical Therapy Appointment Now at Physical Therapists NYC
Starting a functional exercise program is as easy as connecting with our office and making an appointment. Every single person can benefit from doing exercises that are designed to make daily living easier and support their regular movements.
At Physical Therapists NYC, we welcome both rehab patients and individuals who want to improve their functional experience. Led by a team of in-house medical doctors, our physical therapy experts can ensure your care is delivered with experience to give you the best results possible.
We specialize in treating busy professionals at Physical Therapists NYC, mainly because we are in the heart of the business district. Our downtown location makes it convenient for people who work in the city and on Wall Street to find the time to be seen for care and to have minimal down time in their day. To better accommodate your schedule, we have early morning and evening hours. It should be noted, those are very popular time slots, so we suggest scheduling today to ensure you get the time you want.
In our office, we feature some of the best state-of-the art diagnostic tools available and a well-appointed, full gym for your workouts and exercises. Having the latest and the best technology leads to a faster recovery with less setbacks along the way. We also put a lot of stock in our physical therapy staff, making sure that we have top-rated therapists who are leaders in their field. Your health care is our priority.
Connect with our office today to schedule a physical therapy appointment and begin living your life to the fullest again.