Knee pain or injuries can have many different causes. That said, one of the most common causes of knee pain is being active. While living an active and healthy lifestyle is important to overall wellness, it can take a toll on the body. Depending on your preferred activities, your knees are often subject to a lot of abuse and stress or injuries related to repetitive motions. Over time, these smaller injuries or wear and tear damage can lead to osteoarthritis, which is the leading cause of knee pain for people over the age of 50.
Some causes of knee pain include:
Accident or injury
Repetitive motion
Osteoarthritis
Runner's knee
Bursitis
Dislocated kneecap
Iliotibial (IT) band syndrome
Meniscus tear
Osgood-Schlatter disease
Patellar tendinitis
Knee replacement
Gout
Infections
Patellofemoral pain syndrome
The good news is that there are physical therapy exercises for knee pain and hands-on treatment techniques that can help relieve suffering and improve your range of motion and enjoyment of activities again.
Exercise Knee for Physical Therapy
When you're in pain, exercise often feels like the last thing you want to do. Our well-trained staff understands this and works to help you find a comfort level for exercise that's manageable. Even though you may not want to exercise your knee, customized physical therapy exercises prescribed by one of our medical doctors will help you recover. These exercises are designed to provide both mobility and stability to the knee while simultaneously strengthening and stabilizing the hip and ankle to shore up the entire leg. Any weakness or dysfunction in your body, especially during walking and other activities, can lead to knee pain. This is why it's so important to exercise the knee as well as the entire leg and body to get the best physical therapy results.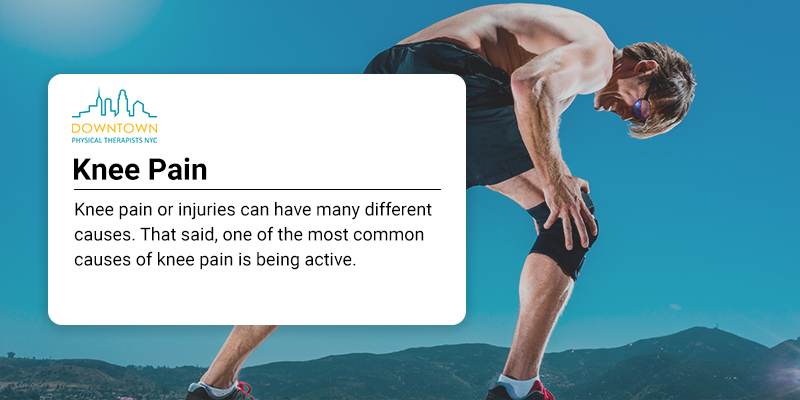 CLIENTS TESTIMONIALS
I was seen Fairly quickly and everything was very clean. Highly recomend this location and Dr Yadav
AS
Great office. Everyone was so kind and helpful. She treated me better than I have been in a while.
HE
Physical Therapy for Knee Pain and Injury Relief
Your knee is a wonderfully complex piece of human equipment. It bears a great deal of stress and strain on a regular basis and is quite vulnerable. The knee is where your tibia and femur (main leg bones) come together behind the kneecap. Each bone is covered with cartilage that absorbs shock while muscles, ligaments, and tendons hold everything together and keep it working properly. This leaves a lot of room for injuries, illness, accidents, and repetitive stress to wear on the body and cause pain.
For an accurate diagnosis and a physical therapy for knee pain plan that will put you on the path to recovery, put your trust in our award-winning physical therapists and we'll customize a treatment plan that will work specifically for you.
Our state-of-the-art facility and full gym is designed to offer a variety of treatment options, all guided by New York's top-rated physical therapists. Here we will work with you on your knee exercises physical therapy approach and technique so you're getting the most out of your efforts and practicing correct form.
Physical Therapy for Knee Arthritis
Osteoarthritis is the most common type of arthritis that affects the knee. It's a degenerative process where the cartilage in the joint gradually wears away. It usually affects people after they've reached 50 years of age, but it can occur earlier and it can be exacerbated by a very active lifestyle, repetitive motion, or being overweight. No matter what caused your osteoarthritis, there are therapeutic options available to relieve your pain and strengthen your surrounding muscles.
Another type of knee arthritis that's fairly common is rheumatoid arthritis. Rheumatoid arthritis (RA) is an immune system disorder that causes the body to attack itself, the joints are particularly at risk. RA tends to be discovered in the knees at a younger age than osteoarthritis and requires a multi-pronged approach to treatment. One of those prongs will include arthritis physical therapy, specifically for knee arthritis.
Physical Therapy for Knee Replacement
Knee replacement surgery or arthroplasty is a procedure that's used when other attempts at pain relief and restoring function have failed. An orthopedic surgeon will assess your knee's range of motion, stability, and strength to determine if this surgery is right for you.
Physical therapy for knee replacement surgery is typically one of the first steps in your rehabilitation process. It's important to begin moving and strengthening your knee again so you get the best results from your surgery. Connect with your surgeon or primary care physician if you need a referral for knee replacement physical therapy. We're happy to work with you to explore your physical therapy insurance coverage.
Schedule A
Consultation For Knee Pain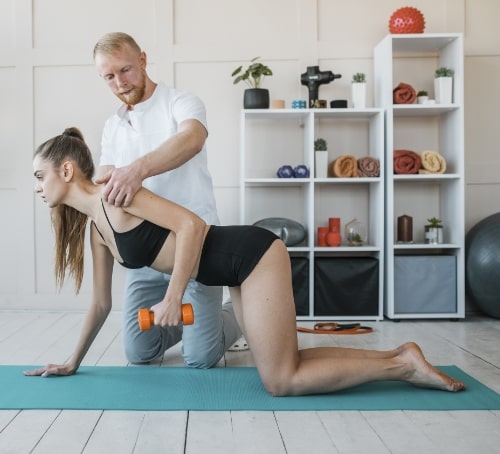 Book Your Appointment Now at Physical Therapist NYC
From the minute you walk in the door of our modern downtown offices, our staff will work to accommodate you and make you feel comfortable. We want your experience to be beneficial and to remove any hesitancy you may feel.
Our team is guided by our well-trained medical doctors who listen to your concerns and guide your recovery plan. They will thoroughly listen to your symptoms, perform diagnostic tests using our state-of-the-art equipment, if necessary, and then we'll move into our gym to take advantage of modern tools, equipment, and techniques to speed up your healing process. If you ever experience pain or you feel an exercise is too much for you, we'll find an alternative so you can continue to progress in your healing journey.
It is our mission, at Physical Therapists NYC, to create a treatment plan that is customized to your level of knee pain and the symptoms you are experiencing. Then, we will work with you to define long-term goals and create a treatment map that will get us there. For us, it's not just about treating you today but giving you the best possible future solutions as well.
Connect with our office today to schedule an appointment for physical therapy for knee pain, arthritis, replacement, or injury.