Laser Therapy sounds a little like something from a sci-fi show, but we assure you, it's all science-based and there's no fiction involved. Laser therapy involves using energy to help damaged tissues in a non-invasive way. Laser therapy expedites healing while reducing pain and inflammation.
Physical therapists use lasers that produce a cold effect and/or ones that provide a warming effect. Both types of lasers provide pain relief and aid in healing of musculoskeletal and neuromuscular conditions. In addition to the direct healing that lasers can prompt, an indirect benefit comes with a greater range of motion, allowing the patient to perform more beneficial exercises and experience different modalities after laser treatments.
How Does Laser Therapy Work
Lasers are light energy that's amplified and then focused. When talking about laser therapy for pain, there are three options hot or thermal, cold laser therapy or a combination of thermal and cold.
Hot laser therapy. Hot laser therapy is not an uncomfortable heat, it's a warmth that patients will feel on their skin. When this therapy is used, the main goal is to prompt healing and tissue regeneration. It is also an effective form of laser treatment for pain and inflammation. Think of the heating pad you use for aches and pains, it's similar but more targeted. Hot laser therapy does penetrate deeper into the tissues than cold lasers, which is why it's sometimes referred to as deep tissue laser therapy.
Cold laser therapy. Cold laser therapy feels cold on the skin and can be compared to using an ice pack for injuries and to reduce swelling and pain. Cold lasers flood the tissues with photons which prompts a cellular healing response that can improve function, reduce swelling, and kickstart a metabolic effect that will continue for hours after the treatment is done.
Contrast laser therapy. Sometimes, therapists will follow a hot laser treatment with a cold one, this is called contrast therapy. It is an effective use of laser treatment for pain and will speed up healing for most patients.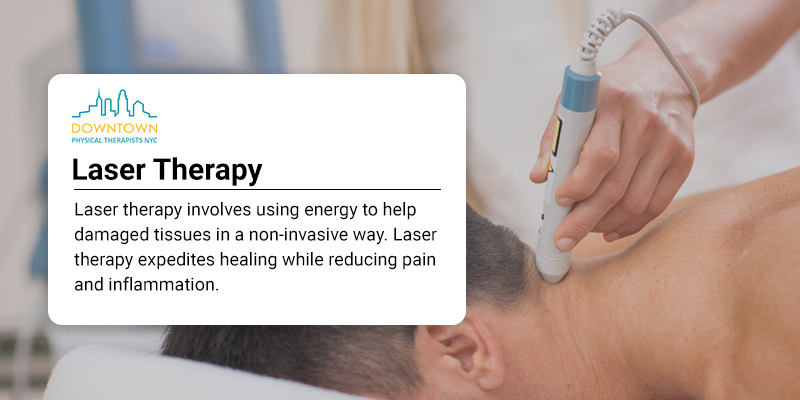 CLIENTS TESTIMONIALS
I really feel like you care about my healing journey, you are by far the best PT I have met with!
EM
I can finally go back to Hiking, you did a great job. I'll be back next week.
TJ
What To Expect with Laser Therapy
When you visit Physical Therapists NYC in downtown New York City for laser therapy, you can expect to have a thorough initial appointment. During this appointment your therapist will learn about your concerns, areas of pain or injury, your current limitations and what your goals are for your post-therapy recovery. A treatment plan will be established that will include laser therapy and perhaps some other modalities and/or hands-on physical therapy treatments to make the most of your healing process. Laser treatments themselves last somewhere between five to ten minutes per region. You'll feel a cold or warm sensation and will begin to notice healing and reduction in pain immediately after your laser treatment is done.
What Does Laser Therapy Treat
When it comes to physical therapy, there are many different conditions that lasers can treat. Some doctors find that post-surgery their patients heal faster when a course of laser treatment is included in their physical therapy prescription.
Cold laser therapy for knees is a popular way to manage pain and inflammation that can come from osteoarthritis, overuse, age, and injuries. It's become a standard treatment for athletes looking to recover quickly from sporting injuries to their knees.
Laser treatment for back pain is another very popular way to relieve back pain. Back pain is a wide-reaching disability that affects people across the globe, and it often responds very well to physical therapy and exercise programs designed to target muscle groups for strengthening and range of movement. From laser treatment for sciatica pain to dry needling to remove a "knot" in your low back, there are a lot of options for back pain relief at Physical Therapists NYC and we're here to help you overcome your physical limitations.
Other conditions that can be treated in our downtown New York City offices with either hot, cold, or contrast laser therapy include:
Neck pain
Headaches and migraine
Arthritis
Tendonitis
Bursitis
Capsulitis
Plantar fasciitis
Bell's Palsy
Sprains and strains
Surgical wounds
Some traumatic injuries
If you're wondering if laser therapy is the right choice for you and your condition, connect with our office and we'll schedule a consultation so you can learn more about what your treatment options are.
Book Your Physical Therapy Appointment Now at Physical Therapists NYC
If you're looking to experience the benefits of laser therapy, then your best option is to connect with Physical Therapists NYC. At Physical Therapists NYC, we're here to give you a solution to your current situation and bring you long-term pain-free relief with the most effective treatment plan possible. Laser therapy is often included to speed along recovery and provide our patients with immediate pain relief. Our trained team of physical therapy experts is led by medical doctors to ensure your care is delivered with experience and scientific backing.

Schedule A
Consultation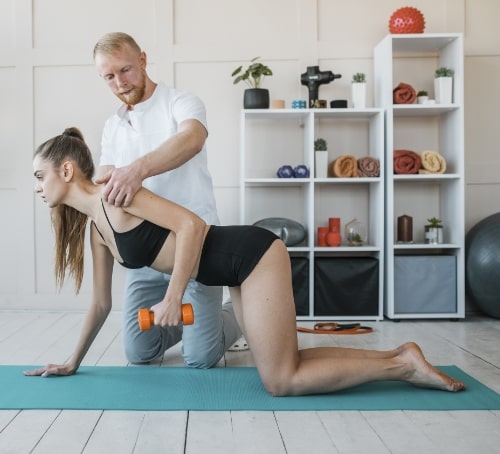 We specialize in treating busy professionals at Physical Therapists NYC, mainly because we are in the heart of the business district. Our downtown location makes it convenient for people who work in the city and on Wall Street to find the time to be seen for care and to have minimal down time in their day. To better accommodate your schedule, we have early morning and evening hours. It should be noted, those are very popular time slots, so we suggest scheduling today to ensure you get the time you want.
In our office, we feature some of the best state-of-the art diagnostic tools available and a well-appointed, full gym for your workouts and exercises. Having the latest and the best technology leads to a faster recovery with less setbacks along the way. We also put a lot of stock in our physical therapy staff, making sure that we have top-rated therapists who are leaders in their field. Your health care is our priority.
Connect with our office today to schedule a physical therapy appointment and begin living your life to the fullest again.