Our Physical Therapy Center has developed a top notch physiotherapy for total body or for isolated located. We use physiotherapy to treat, knees, lower back, shoulders, elbows, and all soft tissue. Our Physiotherapists are passionate professional that help patients to increase their mobility. For athletes or the physically active, we can work together post-accident or pre-accident to prevent injury in the first place. By working on the soft tissue, tendons, ligaments, and muscular system we can conquer all aspects of rehabilitation and injury prevention.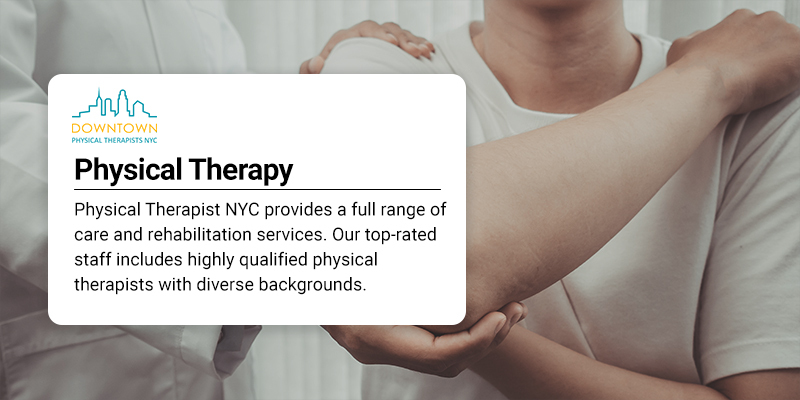 Physical Therapist NYC provides a full range of care and rehabilitation services. Our top-rated staff includes highly qualified physical therapists with diverse backgrounds. Some of our treatment-based services include the following:
One of the best steps you can take to prevent back pain and to recover from back injuries is meeting with one of our top-rated back pain specialists at Physical Therapists NYC. Our focus is not just on helping you recover from back pain, but also creating a back physical therapy approach that helps you avoid injuries and pain in the future.
We focus on relieving the pain and stiffness you're currently experiencing. There are several different approaches to this, and your individual treatment plan may use massage, modalities, state-of-the-art equipment, or gentle movements and exercise.
Sciatica pain comes from a nerve that runs down your lower back, through your buttocks, and into your thigh and leg. All of these symptoms could be caused by sciatic nerve pain. The good news is that physical therapy can provide effective treatment for your symptoms and the underlying nerve problem.
Knee pain or injuries can have many different causes, the good news is that there are physical therapy exercises for knee pain and hands-on treatment techniques that can help relieve suffering and improve your range of motion and enjoyment of activities again.
Shoulder pain can come and go or be consistent and chronic, it can range from mildly annoying to debilitating, and the causes are vast. Shoulder physical therapy can often give you relief and may even prevent future injuries. Some people find that physical therapy for shoulder pain immediately relieves their symptoms while others discover that a regular exercise routine is necessary to give them the strength and mobility they need.
Your hip is a marvel of engineering with a large ball-and-socket joint that can withstand repeated motion and wear and tear. It fits together in a remarkable way that allows for walking, running, dancing, sporting activities, and more. When the hip begins to fail, the cartilage wears down or is damaged, when there is an injury, the pain can be intense, and loss of mobility limits your enjoyment of life and daily activities. If you're suffering from hip pain, visiting Physical Therapists NYC is your first step toward relieving your symptoms.
Hand pain and wrist pain can have many different causes and because the hands are so vital and complex, it can sometimes be difficult to pinpoint the exact cause. Our top-rated doctors are well-versed in different illnesses, injuries, and other causes of pain in the hands. They will find your diagnosis and work to create a customized hand physical therapy treatment plan that goes right to the root of your issues.
It's been estimated that about a quarter of the population suffers from frequent foot pain. This can have a debilitating effect of your ability to enjoy life and to perform your routine, daily activities. Luckily, there is a solution. At Physical Therapists NYC, we offer a complete foot therapy treatment program that features foot physical therapy and massage techniques to relieve your current symptoms and improve your chances of avoiding foot pain in the future.
Your ankle joint is a weight-bearing marvel, but it's also very susceptible to injury. The worst thing is that an already compromised ankle is instable, which can lead to further injury. This is why seeking the help of a trained physical therapist is important. They can help you rehab your ankle faster and more effectively, so you heal quickly and eliminate your chance of further injury. They might also be able to help you improve your normal gait to avoid future problems.
The goal of physical therapy for elbow pain and injuries is to return the patient to all previous activities with pain-free enjoyment. In some situations, this is best accomplished by changing the manner in which the individual performed their activities, i.e., modifying a tennis or golf stroke. In other situations, complete relief or recovery may not be attainable but significant improvements are still possible.
Orthopedic physical therapy helps you move beyond an accident, injury, illness, post-surgical recovery and more. Orthopedic therapy involves the care of the entire musculoskeletal system as an integrated whole. They'll be looking at your bones, muscles, ligaments, tendons, joints, and connective tissue and how they work together.
If you've recently had surgery, there's a good chance you'll be sent to a physical therapist for post-operative rehabilitation. We frequently treat patients who are recovering from surgery, and sometimes we even see them before surgery to make sure they're in good shape before surgery or to give them instruction on using assistive devices while they're recovering.
The focus of sports medicine and physical therapy at our clinic is not just to relieve pain and restore mobility. We work closely with athletes, professional and recreational, to help them get back to the maximum level of physical function and to avoid future injury. We know that restoring the individual to their previous condition can just be opening the door to another injury. That's why it's so important that we work together to find new ways to move which allow for better support and function – leading to fewer injuries down the road.
Physical Therapy for worker's compensation injuries is more than relieving pain and getting you back to work, modification training and adaptations are important to prevent future injury or disability. The odds are that you're going to return to your job after an injury at work. If you continue to do exactly the same thing that caused your injury in the first place, you're likely to experience another injury in the future. Through physical therapy, you can learn new techniques for performing routine tasks that protect your injured region and promote a healthier work environment for you.
Are you sick of suffering from frequent and/or severe headaches? What if you could find relief for your pain without a cocktail of medications? It is possible with the help of physical therapy. Many migraine and headache sufferers find that physical therapy is their solution with a treatment plan that not only reduces pain but also improves mobility, strength, and gives you techniques to manage or prevent future headaches.
Recovering from a fracture or a broken bone can be a long and painful process, but physical therapy can help ease the pain and shorten your recovery. In physical therapy, your focus will be on the muscles that surround your broken bone and how to regain strength after the bone has healed. In addition, a physical therapist can help you target other muscles that can help support your injured area and relieve day to day pains and pressures, so you recover faster and have less pain.
If you're suffering with any form of arthritis, you're probably very concerned about maintaining as much mobility and flexibility as possible while keeping your pain at a minimum or avoiding pain altogether. The good news is that physical therapy can play a large role in your arthritis treatment plan.
At Physical Therapists NYC, we are committed to the continual care and treatment of our patients who suffer with neurological issues. We have well-trained medical doctors on staff who are experts in their field and will guide your essential physical therapy treatment program.
Having good balance is important at any age, but it becomes increasingly more important as people age and the possibility of a traumatic fall increases. Adaptive physical activity programs, or balance physical therapy, can make a big difference by challenging sensory, cognitive, and musculoskeletal systems while improving balance confidence.
While there are many different aches and pains that are associated with pregnancy, one of the most common and the most debilitating is back pain. The good news is that this is an area that can definitely be helped by physical therapy. You can receive immediate pregnancy back pain relief through hands-on care and modalities in the office and learn exercises and stretches to help relieve your pain throughout the day.
Runner's knee usually gets better with rest and physical therapy to rebuild strength and stamina. It's a catchall term that relates to a number of knee pain conditions and they aren't all related to running. The best care for runner's knee is a physical therapy treatment plan that takes into consideration your level of injury and pain, your overall fitness and health, and your age. If you've had this condition in the past, that will also play a role in your runner's knee treatment.
The more time you spend hunched over a keyboard, the more likely you are to experience the symptoms of carpal tunnel syndrome. We live in a world where working (and playing) on computers is almost a necessity. Computers have become essential work and household tools and this constant use takes its toll on your body. One of the growing issues is finger, hand, and wrist symptoms arising from carpal tunnel syndrome.
Myofascial pain syndrome is a chronic pain disorder that's generalized in one location on the body. It's typically caused by repetitive stress or repetitive motions. Contrasted to an overuse injury, rather than slowly recovering, people who have myofascial pain syndrome feel their muscle aches worsening. When this happens, it's best to seek professional myofascial pain syndrome treatment.
Everyone experiences muscle pain at one time or another. Common causes of muscle pain include: Tension, Stress, Overuse, or Injuries. Physical therapy can help shorten the amount of time necessary to recover from muscle pain.
Muscle strain, or a pulled muscle, typically happens when your muscle is overworked, stretched, or torn. It can happen from excessive exercise or demanding physical activity, or you can simply strain a muscle by reaching too far or lifting something too heavy. Each person experiences muscle strain in different ways and the causes are varied. This means that any effective treatment for muscle pain needs to be customized.
If you have rheumatoid arthritis, you know what it's like to manage chronic inflammation. Your body is trying to ward off the enemy but has turned against itself and physical therapy or occupational therapy are two of the best courses of action (along with anti-rheumatic medications) to alleviate and manage your pain symptoms.
Schedule A
Consultation