Pregnancy physical therapy has gained in popularity over the last several years as women seek more natural methods for pain relief, easing discomfort, and enhancing the body's ability to have a smooth pregnancy and birth. Prenatal physical therapy is definitely a great way to prepare your body for birth while relieving some of the aches and pains that go hand-in-hand with the physical changes your body is experiencing.
While there are many different aches and pains that are associated with pregnancy, one of the most common and the most debilitating is back pain. The good news is that this is an area that can definitely be helped by physical therapy. You can receive immediate pregnancy back pain relief through hands-on care and modalities in the office and learn exercises and stretches to help relieve your pain throughout the day.
CLIENTS TESTIMONIALS
I have an upcoming appointment and can't wait. I recommend Dr. Yadav to all my Friends.
LD
I received outstanding service. I would definitely recommend Dr. Yadav.
MB
Physical Therapy, Pregnancy, and Back Pain
Obviously, each individual and each pregnancy is different, and your back pain might not be related to the following, but these are the most common reasons for back pain pregnancy symptoms. Some women have multiple causes, so the pain can fluctuate and change over time.
Increased hormones
Center of gravity shifts
Additional weight (especially in the belly which can cause low back pain)
Inability to maintain proper posture
Additional stress (emotional and physical)
Age-related complications
Poor physical condition prior to pregnancy
One of the first steps you should take when you become pregnant or when you are preparing for a pregnancy is to get a prenatal exercise program. Strengthening your entire body, with a focus on prenatal back exercises, can go a long way toward preventing pain in the first place, reducing the severity and length of pain, and preparing your body for delivery.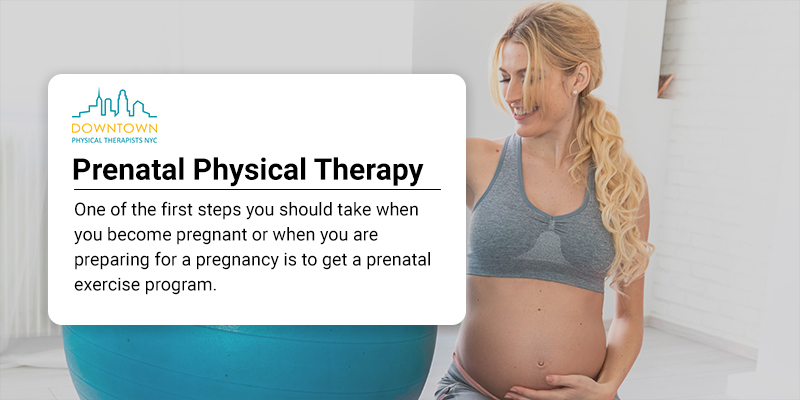 Pregnancy Back Pain Treatment and Modalities
As your pregnancy advances, you're likely to feel more aches and pains all over, but the focus may turn to your low back which continually has to bear more stress and strain while being pulled out of proper posture. If you're wondering how to relieve back pain during pregnancy, physical therapy is definitely the solution. You've moved beyond the stretching and pregnancy back pain exercises portion of care and now you need a little extra help. Physical therapy exercises for lower back pain during pregnancy can often come from modalities that a skilled physical therapist can perform.
Manual, hands-on therapy and massage
Bracing and support
Hot and cold therapy
You'll notice that there aren't many modalities available during pregnancy to help relieve your pain, but pregnancy back pain treatment is still possible with these options when they're performed by a skilled physical therapist.
The best way to get pregnancy lower back pain relief is through careful and prescribed exercise and pregnancy stretches for back pain. If you develop new pains or pains in a different area, it's best to connect with our physical therapy team before trying any new exercises to make sure you're not suffering from an injury and to adjust your program to include care for new pregnancy back pain.

Schedule A
Consultation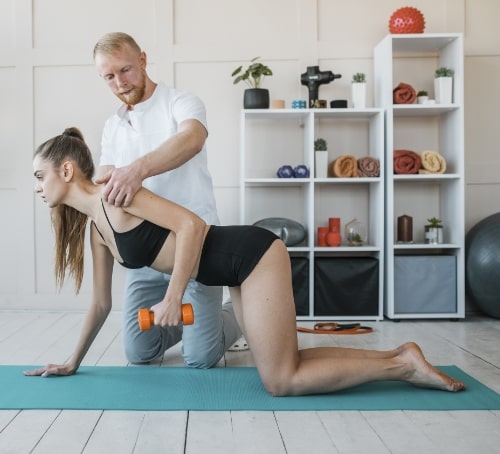 Book Your Appointment Now at Physical Therapists NYC
If you're pregnant or planning a pregnancy and living in the downtown New York City area, it's time to connect with our office and book an appointment today. From the minute you walk in the door of our modern downtown offices, we will work to accommodate you. We understand that many of our patients work on Wall Street and in downtown NYC, which is why we have early morning and late evening hours, so you don't have to miss work.
Our medical team at Physical Therapists NYC is here to help you prepare for pregnancy by getting you in great physical shape and creating a foundation of strength that will make pregnancy easier. It's not just about a smooth delivery but easing the pains that are normal and occur throughout your entire pregnancy. If you experience back pain during your pregnancy, connect with our office to get a customized treatment plan and learn some techniques that will help you manage pregnancy back pain throughout your pregnancy and even after delivery.
Connect with our office today to schedule an appointment to begin your prenatal physical therapy program and to learn how to ease back pain throughout your pregnancy and as you recover.