Relieve pressure on joints, reduce inflammation and improve nerve function with Spinal Manipulation Therapy
If you've been prescribed physical therapy with spinal and joints manipulation, you might be wondering why you're not being sent to a chiropractor. At our clinic, we have access to chiropractors in our facility and you can be seen by one if that's what you'd like (is this true?), but it's not necessary if your prescription is for physical therapy manipulations and not chiropractic ones. There is a difference, and we'll explain that further below.
For now, let's look at what joint and spinal manipulation therapy are in the context of a physical therapy treatment plan. Overall, these are hands-on therapeutic techniques used to treat back pain, neck pain, and other musculoskeletal conditions throughout the body. Be assured, that spinal manipulation performed by a trained physical therapist is effective and safe.
Physical Therapy Spinal Manipulation & Joint Manipulation
Spinal manipulation therapy and joint manipulation work hand-in-hand as a therapist applies force to the spinal joints to treat areas of dysfunction in the spine and restore the spine's structural integrity. Through this process the body's natural healing abilities are activated and pain begins to subside.
Many people think of this as a "pop" but there may or may not be a sound associated with the small, rapid force applied to the joint. For many, the manipulation is a bit sudden and surprising but not painful. To get the best results, physical therapists take it a step further and pair the manipulation with manual therapy treatments to reinforce the manipulation, reduce pain and stiffness, and open the possibility of pain-free exercise. If the patient is feeling significant relief, then gentle exercise will also be introduced to enhance the treatment.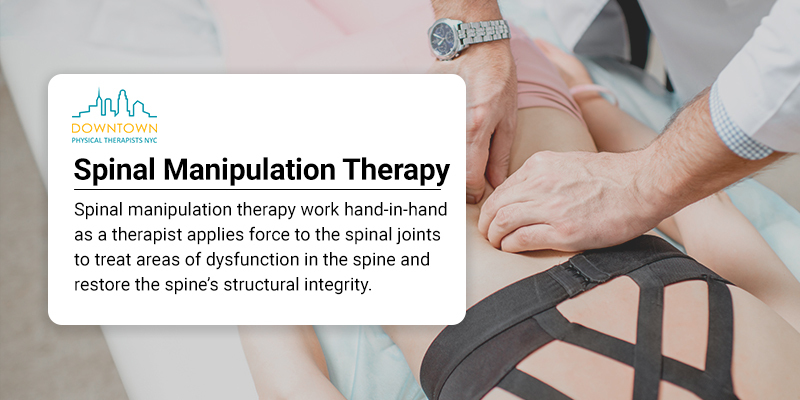 Sections of the Spine & Physical Therapy Manipulation
The entire spine is considered a super-highway because it provides passage for the spinal cord through the body, with nerves shooting out to their respective areas. It's how the body and brain communicate and when the spine is in great condition, things work smoothly.
To determine if joint manipulation and/or spinal manipulation is the right treatment for a particular patient, a therapist will screen the patient and consider several criteria. They will also consider the region of pain because each section of the spine is a little different when it comes to manipulations and the responses.
There are five main sections of the spine, but typically the cervical, thoracic, and lumbar are what's considered for physical therapy spinal manipulation. Moving out from the spine, there are other areas, termed peripheral, that may benefit from joint manipulation.
CLIENTS TESTIMONIALS
Very Kind & helpful/ Accomodating. Feel better already after 3 sessions. Very proffessional.
UK
I had back pain and since I have been seeing Dr. Yadav, my back pain is becoming more bearable.
SD
Cervical spine. Your cervical spine consists of the first seven vertebrae in the body which begin at the base of the skull. If you have an impingement in this area, you may be suffering from neck pain and immobility in addition to headache or numbness. Sometimes cervical issues extend down the arm and into the hands.
Thoracic spine. Your thoracic spine is the longest portion of the spine and connects the cervical and lumbar regions with twelve vertebrae. Because the thoracic spine is considered the mid back, it's also the area most therapists turn to when a patient has mid-back pain. In addition, the thoracic region can be manipulated to assist with pain and limited motion in the shoulders, the ribs, upper back region, and down into the lower back.
Lumbar spine. Speaking of the lower back, this is the lumbar spine region, which consists of five vertebrae that lead into the sacrum and coccyx. Manipulation of the lumbar spine is often done to relieve lower back pain, one of the leading causes of pain across the globe. It can also help with gait pain and limitations, lifting concerns, and general movement.
Hip joint manipulation. One of the common peripheral manipulations that physical therapists perform are hip joint manipulations. This is similar to a spinal manipulation but moves outward from the spine to address the hip region. This is an area of common injury and pain, especially with sporting injuries, falls, and age. Manipulating the joints to ensure proper alignment and then beginning on an extensive manual therapy and exercise program can bring a patient back to normal function with reduced or relieved pain symptoms.
Elbow joint manipulation. Another very common peripheral manipulation involves the elbow joint and people who suffer from tennis elbow and golfer's elbow. These are conditions who often happen to people who play those respective sports, but they're not limited to athletes and can happen to anyone who stresses or strains the muscles and joints in this area. Joint manipulation can free up tightness and relieve pain so that strengthening exercises can be performed.
Book Your Physical Therapy Appointment Now at Physical Therapists NYC
When you're suffering with pain, limited mobility, and a decreased range of motion, it can be difficult or even impossible to perform your normal activities. There's no reason to put it off treatment any longer, in fact, the sooner you begin care, the easier it is for your body to recover. At Physical Therapists NYC, we're here to give you a solution to your limitation and bring you long-term pain-free relief.
Schedule A
Consultation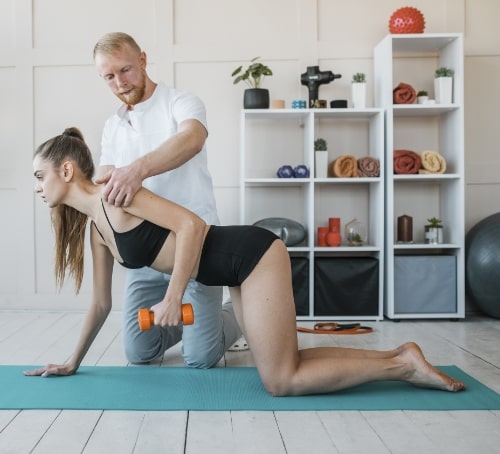 We specialize in treating busy professionals at Physical Therapists NYC, mainly because we are in the heart of the business district. Our downtown location makes it convenient for people who work in the city and on Wall Street to find the time to be seen for care and to have minimal down time in their day. To better accommodate your schedule, we have early morning and evening hours. It should be noted, those are very popular time slots, so we suggest scheduling today to ensure you get the time you want.
In our office, we feature some of the best state-of-the art diagnostic tools available and a well-appointed, full gym for your workouts and exercises. Having the latest and the best technology leads to a faster recovery with less setbacks along the way. We also put a lot of stock in our physical therapy staff, making sure that we have top-rated therapists who are leaders in their field. Your health care is our priority.
Connect with our office today to schedule a physical therapy appointment and begin living your life to the fullest again.