Treating yourself to a massage after a long week of work is a luxury that makes you feel better and is good for your mental and physical health. But a massage in a spa and massage therapy are different, even though both of them are extremely beneficial and can feel uncomfortable at times and fantastic at others. The difference lies in the person administering the massage, the massage therapist, and the intent of the massage. Let's take a deeper look.
What Is Massage Therapy
Massage therapy is administered by a trained and certified medical professional, like those at Downtown Physical Therapy NYC. Our job is to manipulate the muscles, connective tissues, tendons, ligaments, and skin using pressure and movement. These are the soft tissues of your body, and they're often manipulated with the therapist's hands, but there are some tools of the trade that might also be used.
Massage therapy is often prescribed by a doctor which is why you may hear it called medial massage or therapeutic massage. This helps differentiate it from the relaxing massage you get at a spa. If you've been prescribed massage therapy, it's possible that you're recovering from an injury or even surgery.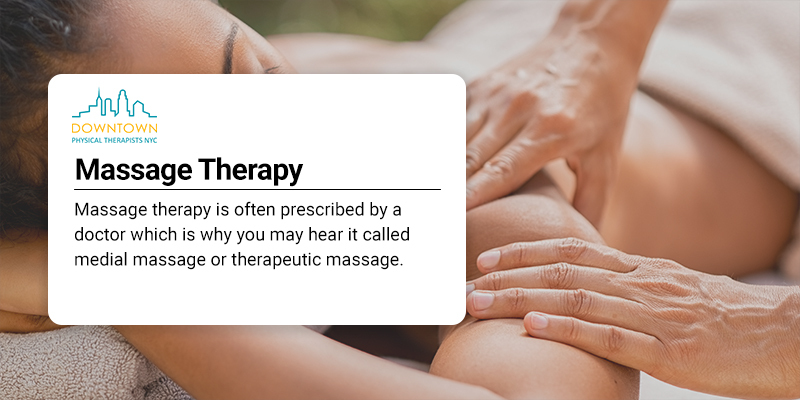 Massage can also work hand-in-hand with physical therapy to improve range of motion, balance, comfort, and help people get back to their normal acts of daily living more quickly. Some people who suffer from pain, both chronic and acute, do quite well with routine massage therapy.
Types of Massage Therapy
Each person responds differently to massage therapy and the therapist can play a role in how well you do with therapy. That's why it's important that you select a skilled massage therapy professional from Downtown Physical Therapy NYC and that you pursue the right type of massage therapy. There are different types of massage therapy and it's not uncommon for people to discover that one of them simply works better than another. You and your therapist may try a couple different techniques until you find just the right prescription for your condition.
A few popular massage therapy types include:
Swedish Massage. This type of massage is more like what you'd get at the spa. Its main purpose is relaxation, but it can be a good starting point, it increases blood flow, and eases into more aggressive massage techniques.
Deep Tissue Massage. This is one of those more aggressive techniques where the therapist works deep into the soft tissues to loosen up "knots" or clenched muscles and break up scar tissue. This technique is very useful if there is a long-term pain issue or if there's been an injury.
Lymphatic Massage. You'll sometimes hear this technique referred to as lymphatic draining. This is because the purpose is to move and release lymph fluids in the body. It's most often used for people who have swelling due to stagnant lymph fluid, this is called lymphedema.
Trigger Point Massage. Those little knots in your muscles often trigger points, which are tiny muscle spasms or a build-up of tension. Using trigger point massage techniques and often pairing them with deep tissue massage can release the knot and improve the blood flow which can help reduce pain.
Myofascial Release. Your fascia is the connective tissue that is underneath your skin. It supports your structures and softly surrounds them. Sometimes these tissues get tense and tight and using this technique can relieve tightness.
Other Massage. In the category of other massage, types are those designed for specific purposes, like a sports massage to help the athlete, a prenatal massage for moms-to-be who are suffering from pressure and swelling, or oncology massages for people undergoing cancer treatments who are having trouble relaxing and sleeping.
Benefits of Massage Therapy
The benefits of massage therapy, regardless of the type, can be multifold and life-changing for the patients. They include:
Reduced stress and improved relaxation
Reduction in anxiety
Reduced pain, tension, and muscle soreness
Improved circulation, energy, and alertness
Lowered heart rate
Lowered blood pressure
Improved immune function
Decreased inflammation
Deactivation of myofascial trigger points
Improved digestion
Improved flexibility and range of motion
Scar tissue is broken up and healing is faster
Many people who seek medical massage therapy are coming for one or two benefits in particular, but they find that there is an overall improvement in their health and situation.
When to Seek Massage Therapy
In many cases, you'll be prescribed medical massage therapy by your doctor to help with a specific health condition or concern. But if you're suffering with one of the following, you might want to ask your doctor if seeking massage care at Downtown Physical Therapists NYC is the right step for you.
Repetitive stress injury or pain
Migraines, tension headaches, sinus headaches, or other chronic headaches
Whiplash
A strain or sprain
Tendonitis
Radiating pain
Fibromyalgia
Neuropathy
Anxiety and depression
Injury due to an accident
There are many other conditions that can benefit from some type of massage. Your best course of action is to connect with your doctor to see what they feel is the best course of action for you. Or, if you live in the greater New York City area, you can reach out to our offices directly to set up a consultation.
What to Expect During Massage Therapy
When you first arrive at your appointment, your therapists will discuss your condition with you and talk to you about your symptoms, medical history, and what your future goals are. Then you'll discuss your possible treatment plan and what types of medical massage will be used to help you relieve your condition and concerns.
In most sessions, depending on the area of concern, your therapist will have you disrobe or wear loose clothing so they can access your muscles and other soft tissues. Your therapist will make a physical assessment and begin with gentle pressure to determine what is tolerable. Oil or lotion may be used to reduce friction.
The length of time for your appointment will vary, depending on your concerns and medical situation. You may start with shorter appointments and ease into longer ones. For some people that approach is reversed.
It is true that at times your massage treatment will be uncomfortable. You should express this to your therapist so they know what you're feeling, but it can be a part of some types of therapy and essential to get optimal results.
CLIENTS TESTIMONIALS
So happy to go back running! Thank you for the relief.
MM
We got good stretches in, Thank you till next time.
EQ
Book Your Physical Therapy Appointment Now at Physical Therapists NYC
At Physical Therapy NYC, we believe that massage therapy should be treated with the regard that any medical procedure receives. That's why our staff is very well-trained and experienced. Your licensed massage therapist will thoroughly explain the process at the time, so it doesn't feel strange or foreign.
Our patients are our top priority, and our goal is to bring you long-term pain-free relief with the most effective treatment plan possible. Led by a team of in-house medical doctors, our massage therapy experts can ensure your care is delivered with experience and expertise.
Schedule A
Consultation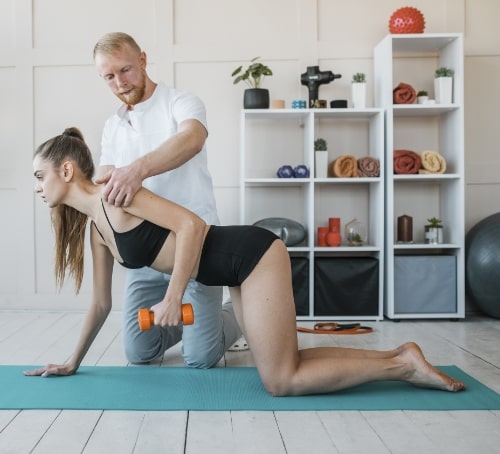 We specialize in treating busy professionals at Physical Therapists NYC, mainly because we are in the heart of the business district. Our downtown location makes it convenient for people who work in the city and on Wall Street to find the time to be seen for care and to have minimal down time in their day. To better accommodate your schedule, we have early morning and evening hours. It should be noted, those are very popular time slots, so we suggest scheduling today to ensure you get the time you want.
In our office, we feature some of the best state-of-the art diagnostic tools available and a well-appointed, full gym for your workouts and exercises. Having the latest and the best technology leads to a faster recovery with less setbacks along the way. We also put a lot of stock in our entire staff, making sure that we have top-rated specialists who are leaders in their field. Your health care is our priority.
Connect with our office today to schedule a massage therapy appointment and begin living your life to the fullest again.