If you've recently had surgery, there's a good chance you'll be sent to the best physical therapist for post-operative rehabilitation. We frequently treat patients who are recovering from surgery, and sometimes we even see them before surgery to make sure they're in good shape before surgery or to give them instruction on using assistive devices while they're recovering.
Rest assured, you will recover from your surgery, but it can take a lot of time to regain your strength and motion. It all depends on the type of surgery you've had, the severity of your injury or illness, and how long you've had the condition before surgery was performed.
The outlook is good for patients who visit Physical Therapists NYC because we have medical doctors on staff to deal with any concerns or issues that may come up. They can also keep an eye on your progress to make sure you're as health as can be. We feature a state-of-the-art facility that has the best diagnostic tools available as well as a well-appointed gym, so you can do all of your aftercare with us and not chase around town to different facilities.

CLIENTS TESTIMONIALS
Great visit, helped work out all my stiffness, very gentle.
CR
Great therapist, really gives a lot of attention and post operative care.
SK
Stages of Post Operative Care
Typically, post-operative care can be categorized into four blocks.
Surgery Recovery. This is where you'll be focused on managing pain from the incision, reducing swelling, possibly keeping the area immobilized, and battling an infection.
Returning Motion. The next step is to start moving. This isn't just to return you to normal function, moving helps blood flow and pushes healing along faster. Physical therapy will begin very gently in most situations to ease you into healing. Then you will progress to do more movements and increase your range of motion without pain.
Rebuilding Strength. While you're moving, your muscles are working, so you've already begun developing strength in the motion phase of your recovery. Adding extra strength to the region and improving cardiovascular endurance will improve your all-over health post-surgery and is an essential part of any post-operative rehab program.
Restoring Normal Function. You're working toward recovering your normal function, it will take time and gradual steps. It may go faster for some people than others, but it's a process of moving forward relentlessly, regardless of the time involved.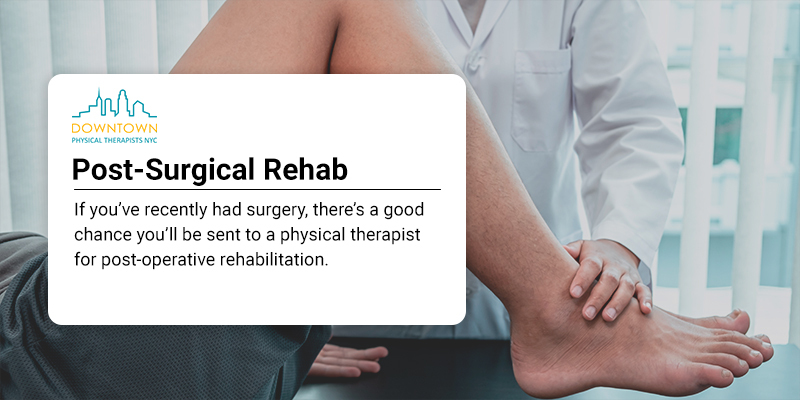 Post-Operative Physical Therapy
You can see that many of the stages of post-operative care involve physical therapy or that, at the very least, with the help of a well-trained physical therapist your recovery will be less painful and go more quickly.
The idea of moving after surgery can be scary at first and intimidating, that's why it's important to select a very well-trained and experienced physical therapy office with a therapist that you trust.
We firmly believe that putting you at ease and making you as comfortable as possible is part of being a good healthcare provider. Putting patients first is the key to our success.
Once you've decided to have your post-operative physical therapy in our office, you'll start to see the benefits right away. Physical therapy can help with:
Restoring strength
Improving range of motion
Speeding up recovery
Maximizing return to function
Reducing pain
Minimizing scar tissue
Improving muscle tone
Returning to normal function and activities
Schedule A
Consultation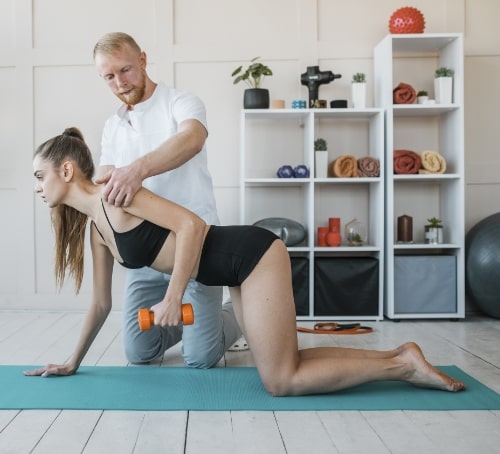 Pre-Surgical Physical Therapy
Some patients can benefit from seeing a physical therapist prior to surgery, depending on the surgery they're having. Pre-surgical physical therapy can provide you with the following benefits:
Reduce pre-surgical pain
Increase stamina
Speed healing
Shorten your hospital stay
Improve range of motion
Reduce the chance of post-surgical complications
Let's not forget that having a physical therapist train you on how to most efficiently use your assistive devices and prevent you from incurring additional injuries. Even using something as common as crutches can cause shoulder, rib, and hand injuries if not used correctly.
Book Your Appointment Now at Physical Therapists NYC
If you're looking for pre-surgical physical therapy or you're interested in connecting with a physical therapist so you can arrange your post-surgical therapy, contact our office and book a consultation today. Our medical team at Physical Therapists NYC is ready to help you recover and do it with less pain and faster.
Our skilled and top-rated physical therapy team is led by our in-clinic medical doctors who listen to your concerns, consult with your surgical team, and guide your post-op rehab plan. With a state-of-the-art facility, we're here to do any diagnostic tests you need as follow-up and move you into our gym when you're ready to take your therapy to the next step.