Elbow pain or pain that radiates out from the elbow is a fairly common complaint and often responds very well to physical therapy. Most people that have elbow pain are actually experiencing pain in the muscles that surround their elbow, it's not impossible for the joint or the bone to be the cause of pain but it is less common.
Muscle pain in the elbow region often responds well to these basic therapeutic methods offered at our Physical Therapists NYC clinics.
Muscle strengthening exercises
Range of motion exercises
Exercises for fine motor skills
Hand dexterity exercises
Regulated weight-bearing activities
Motion modification techniques to avoid future episodes
The goal of physical therapy for elbow pain and injuries is to return the patient to all previous activities with pain-free enjoyment. In some situations, this is best accomplished by changing the manner in which the individual performed their activities, i.e., modifying a tennis or golf stroke. In other situations, complete relief or recovery may not be attainable but significant improvements are still possible.
Physical Therapy for Tennis Elbow
One of the best-known elbow injuries is tennis elbow. You don't need to play tennis elbow to have this diagnosis, but it is obviously a condition that people who regularly play tennis risk developing.
Tennis elbow is also called lateral epicondylitis and happens when the tendons on the outside of your elbow are stressed and/or strained. This usually is caused by repetitive motions, like swinging a tennis racquet frequently. It's also incredibly painful.
Mild cases of tennis elbow often respond well to rest and over-the-counter pain medications. Very serious cases of lateral epicondylitis require surgery. All cases can benefit from tennis elbow physical therapy.
Tennis elbow therapy is designed to gently begin stretching and strengthening the muscles again. It also improves the blood flow to those tendons which can speed up healing and relieve your pain faster. In addition to several prescribed physical therapy exercises for tennis elbow your medical team at Physical Therapists NYC may also use massage therapy, ice treatments, electrical stimulation, taping or braces, and ultrasound to treat your symptoms.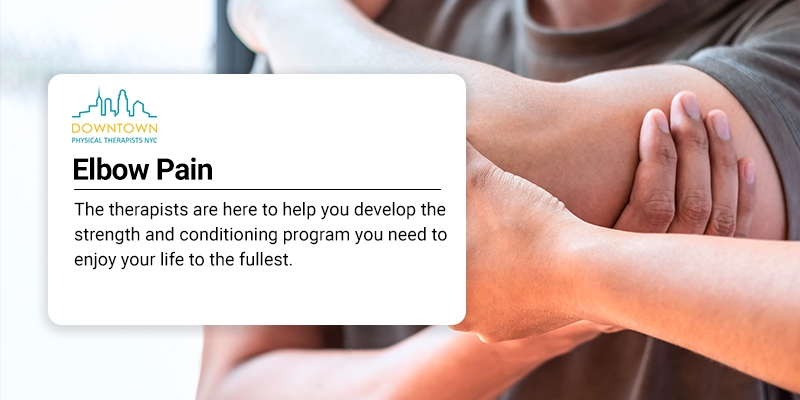 CLIENTS TESTIMONIALS
I have an upcoming appointment and can't wait. I recommend Dr. Yadav to all my Friends.
LD
I received outstanding service. I would definitely recommend Dr. Yadav.
MB
Tennis Elbow vs Golf Elbow
What if you've been told you have golf elbow? Is it the same thing as tennis elbow? Actually, the two conditions do have some similarities, but there are some differences as well – differences that go beyond what sport they're named after. Once again, you don't need to be a golfer to develop golf elbow, but it is something that regularly swinging a club can induce.
Like tennis elbow, golf elbow happens with repetitive motion and involves tendons surrounding the elbow. The major difference is that tennis elbow affects the tendons on the outside of the elbow while golf elbow affects tendons on the inside of the elbow.
Rest and over-the-counter medications are the first course of action for golf elbow, just like the are for tennis elbow but if the symptoms persist or the individual wants to get back to doing a sport they love, then physical therapy for golfer's elbow is strongly recommended.
Golfer's Elbow Physical Therapy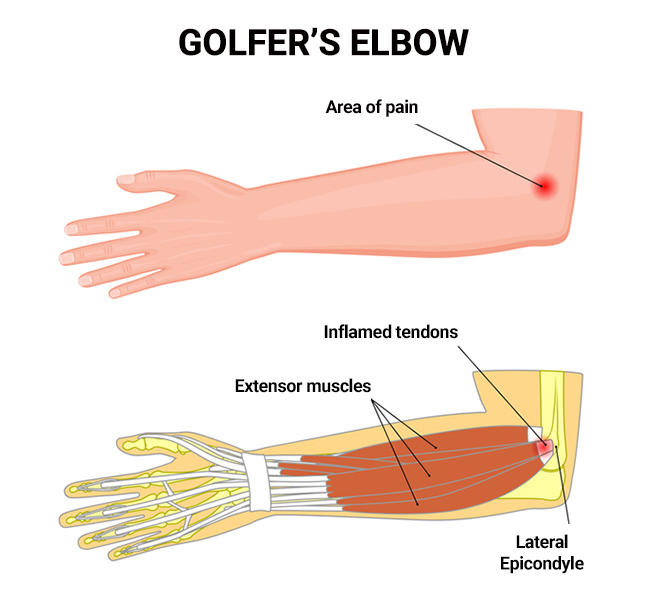 Your physical therapist will evaluate your level of golfer's elbow, or medial epicondylitis, before creating a treatment plan. The first steps in golfer's elbow physical therapy are to relieve current pain levels and to increase strength. Over time, you will work to strengthen the area around the elbow and other muscles to boost the entire arm's strength level. This can go a long way toward preventing a relapse or further injury.
Another very important reason to seek physical therapy for medial epicondylitis is that if it is left untreated, continued repetitive motions can cause the tendon to tear away from the bone. To prevent further injury, your therapist may perform some of the following modalities:
Ice or moist heat
Massage
Iontophoresis
Ultrasound
Bracing and/or splinting
Manual (hands-on) therapy
Range of motion exercises
Strengthening exercises
Functional training to prevent future re-injury
Schedule A
Consultation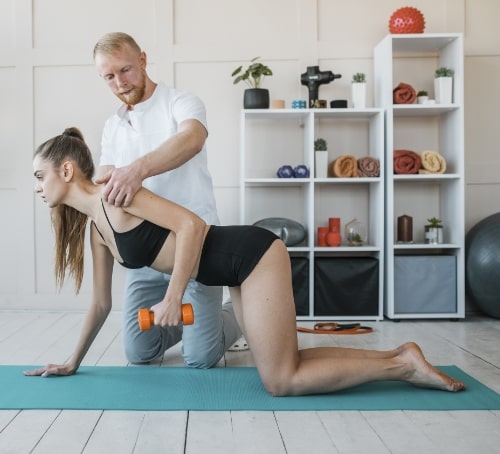 Physical Therapy for Broken Elbow
A broken elbow is not a common injury, but it can be very serious. A fractured elbow can be incredibly painful, it can lead to limited mobility in your arm, shoulder, and wrist and can decrease your ability to perform day-to-day activities. The goal of therapy for a fractured elbow is to restore movement as much as possible and to eliminate pain.
Almost all broken elbows occur due to trauma. Most of the time this trauma is caused by a fall, an automobile accident, or a sports related injury. There are other ways to break your elbow, but these are the most common causes. If you suspect a broken bone, at or around your elbow, your next step should be to seek medical attention to begin the recovery process as soon as possible.
One of the frequent complaints that patients have after an elbow fracture is stiffness and a recurrent loss of motion. Physical therapy is the best approach toward regaining full movement and relieving stiffness and any lingering pain.
Book Your Appointment Now at Physical Therapists NYC
Whether you suffer from tennis elbow, golf elbow, a broken elbow or other arm pain, our staff is here to help. From the minute you walk into our modern downtown offices, we will work to accommodate you and make your visit as comfortable as possible.
It is our mission, at Physical Therapists NYC, to create a treatment plan that is customized to your level of movement and the symptoms you are experiencing. We will work with you to define long-term goals and work toward getting you back to normal and resuming your favorite activities. For us, it's not just about treating you today but giving you the best possible future solutions as well.
Our team is led by our well-trained medical doctors who listen to your concerns and guide your recovery plan. They will perform diagnostic tests using our state-of-the-art equipment, if necessary, and then will move into our gym to take advantage of modern tools, equipment, and techniques to speed up your healing process.
Connect with our office today to schedule an appointment for a physical assessment of your elbow pain and symptoms. Because many of our patients work on Wall Street and in downtown NYC, we have early morning and late evening hours, so you don't have to worry about missing work.