Orthopedic physical therapy might just be the treatment you need to move you beyond an accident, injury, illness, post-surgical recovery and more. Orthopedic therapy involves the care of the entire musculoskeletal system. That means your skilled therapist is trained to work with the body as an integrated whole.
It's not just how your muscles and joints are responding but they consider how the entire body responds and reacts. They'll be looking at your bones, muscles, ligaments, tendons, joints, and connective tissue.
A physical therapist who is trained in orthopedics will create a treatment program that will address how your body moves and how you function. They will then make adjustments as you advance to get you to an optimal level of movement and strength with a reduction in pain.
They can also be effective to prevent injury in the first place or to help strength the body before surgery. Most people consider physical therapy or orthopedic physical therapy after an injury or accident, but they can be very useful before. Athletes who have plateaued or are afraid of an injury can seek the care of an orthopedic physical therapist to have them review their movements to determine if something can be improved and done more safely.
Before surgery, an orthopedic therapist might be called in to help a patient strengthen that area of the body so they can heal faster. The following are some orthopedic physical therapy services and programs we offer at Physical Therapists NYC.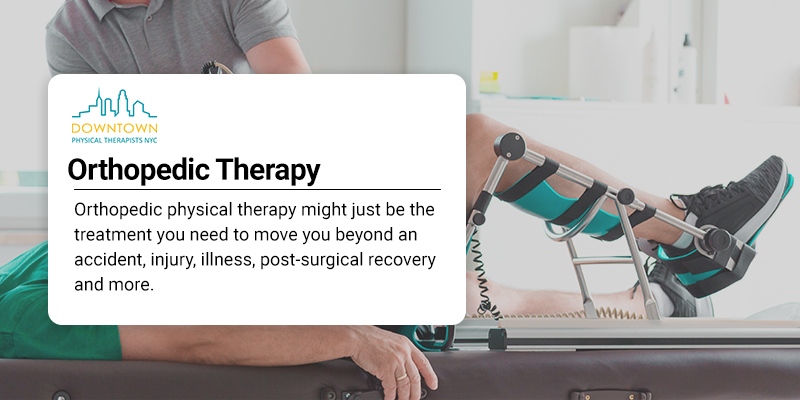 Orthopedic Manual Physical Therapy
Orthopedic manual physical therapy (OMPT) is a hands-on treatment that a specially trained physical therapist does to decrease pain and improve your range of motion in a targeted area of your body. OMPT is often used in conjunction with other forms of therapy and is an additional modality that can help patients recover more quickly. A therapist who specializes in OMPT may use some of the following techniques to achieve results:
Soft tissue mobilization
Massage
Joint mobilization
Spinal manipulation
Neuro-mobilization
Manual stretching
Muscle Energy Activation Technique
Instrument-assisted soft tissue mobilization
Not all physical therapists are qualified to perform these procedures, that's why it's important to seek out a trained OMPT for this type of care. If you're searching for orthopedic physical therapy near me – look no further.
CLIENTS TESTIMONIALS
Great visit, helped work out all my stiffness, very gentle.
CR
Great therapist, really gives a lot of attention and care.
SK
Orthopedic and Sports Physical Therapy
Professional orthopedic and sports physical therapy can help an athlete in so many different ways. You don't need to be at the top of your game to find help from an orthopedic PT who specializes in sports medicine, you could be just starting a new sport and find that physical therapy helps you enjoy it more without fear of incurring an injury.
With a focus on sports and the unique ways that individuals approach sports and perform them, our trained orthopedic staff will listen to your concerns and issues and ask you to explain what your long-term goals are. Then they will create a manual therapy program using evidence-based techniques paired with our state-of-the-art facility to give you the most comprehensive and thorough treatment program.
Remember, that orthopedic physical therapy for sports or other activities is not just for the professional athlete or the collegiate star, it's for anyone who wants to participate in sports but wants to do so in the safest way possible. It can also help someone who has reached a plateau discover what's holding them back and work on techniques to help them move beyond their plateau and succeed.
Advanced Orthopedic Physical Therapy
If you've tried regular physical therapy and feel you're not getting all that you can out of it, it's time to see if orthopedic physical therapy can give you the results you want. Because orthopedic specialists focus on the entire body and look at the way movements harmonize together, they get a bigger picture.
Taking that a step further, with advanced orthopedic physical therapy, you can work to pinpoint the area of interest and then branch out from there to find relief through different techniques or relying on other parts of the body to take on additional burdens.
You can also step past the current issue and use the guidance of an advanced orthopedic physical therapist to create techniques for future successes without pain or injury. This can be important in all aspects of healthy living.
Pre-Surgical Prep and Surgical Rehabilitation
At Physical Therapists NYC, we often see surgical patients for rehabilitation and pre-surgical preparation. A broad treatment plan will include a visit to our office prior to surgery to discuss what limitations you might be facing immediately after surgery and possibly in the long-term. We'll create a physical therapy plan for you to work on prior to your surgery to strengthen the area in question and surrounding areas so recovery isn't as difficult and can be shortened considerably.
One common pre-surgical situation we see is when a patient is going to need crutches or some other assistive device after surgery. By coming in to see our orthopedic physical therapists prior to surgery, you'll get instruction on how best to use these devices, so you don't stress or strain other areas of your body as you try to adapt.
After surgery, you'll be seen in our offices again for your post-surgical orthopedic rehabilitation. We start gradually, with our initial focus on helping you slowly, comfortably, and safely begin to recover movement and flexibility after surgery. We can also teach you some techniques that help you get the mobility you want in different ways, so you can adapt until you're recovered or healed. Then we'll work on restoring you to pre-surgical levels of strength and motion.
Injury-Related Physical Therapy
Whether you're suffering from an acute injury, or you have a chronic injury that comes from repetitive motion, orthopedic physical therapy may be the answer. In both situations, you'll be working to find the exact cause of your pain and what parts of your body are involved in the mechanics. From there you'll work to relieve pain and find ways to improve your function without reinjury.
For some people, recovering from an injury simply takes time and slow and steady progress. For others, there are adaptive techniques to consider and ways to get the end result without pain. This is where a complete look at the body's musculoskeletal system can be of particular benefit. Knowing how all of the parts of your body work together to facilitate movement can lead to discoveries that speed up healing, avoid reinjury, and promote good kinesiological techniques.

Schedule A
Consultation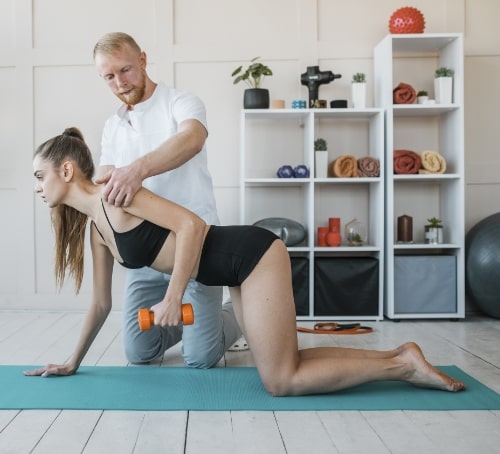 Connect with our office to schedule an appointment for orthopedic physical therapy to treat your symptoms, improve your sports performance, or to manage your surgical concerns both before and after your surgery.