Isokinetic exercises play a big role in physical therapy because they're not just a part of a treatment program, they're also used to help identify and document physical impairment. Throughout the course of your treatment at Physical Therapists NYC we'll often keep track of improvements and strength gained through isokinetic exercise.
In a nutshell, isokinetic exercises are resistance-based exercises using specialized equipment that holds the rate constant while allowing for adjustments in the resistance. The target speed and range of motion can be adjusted for each patient and set to focus on specific muscle groups. The patient is in charge of the amount of resistance they supply, working their muscles safely and in a manner that allows muscles to gain strength consistently through the entire defined range of movement.
If you've been prescribed isokinetic exercise, there's a good chance you're recovering from an injury or surgery. Knees and backs respond particularly well to isokinetic training. When doing isokinetic exercise treatment, you can expect the following benefits.
Consistent strength building throughout the range of motion
A rapid improvement in range of motion and flexibility
Rapid strength building and muscle control
Ability to resist future injury to the region
Release of endorphins during exercise that feels invigorating, not exhausting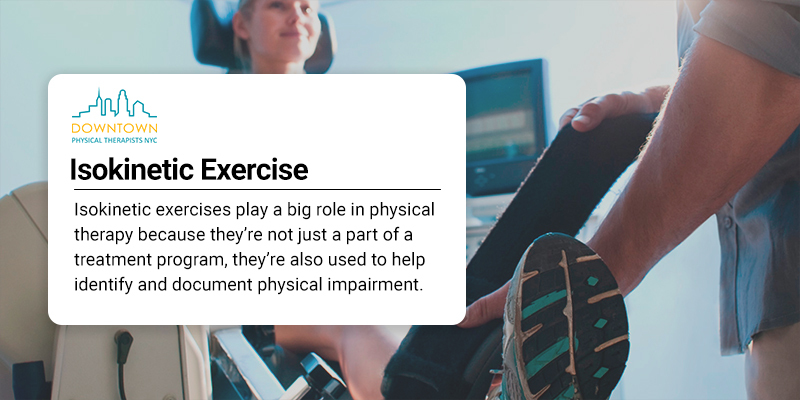 CLIENTS TESTIMONIALS
Very Kind & helpful/ Accomodating. Feel better already after 3 sessions. Very proffessional.
UK
I had back pain and since I have been seeing Dr. Yadav, my back pain is becoming more bearable.
SD
Who Benefits from Isokinetic Exercise
Anyone can benefit from isokinetic exercises, but they are often used for rehabilitation and recovery. Many of our patients at Physical Therapists NYC have suffered an injury or are recovering from surgery or other medical procedure. Isokinetic exercise can also be used, with great success, to treat imbalances in the body and to help individuals recover from a stroke. We find that high-level athletes prefer isokinetic exercise to help them pinpoint areas of muscle strength and weakness and isolate their performance issues.
Using isokinetic contraction to develop one muscle at a time targets the strength training to the area that needs it most and will see the greatest benefit. Through consistent and regular care, the patient will begin to notice an increase in muscle tone, strength, and endurance. Because this can all be measured on isokinetic machines, the progress can be documented. This type of strength training can also lead to improvements in core strength and balance, which have much positive quality of life outcomes.
One of the biggest benefits of isokinetic exercises is that it's controlled. The risk of injury for people who are recovering and in rehab is greatest when they begin exercising abruptly. Isokinetics removes that risk and begins in a safe way. It's also a good treatment plan for people who like to push their boundaries because it limits the ability to do that and to cause further complications or reinjury.
What To Expect from Isokinetic Exercise
On your first visit to Physical Therapists NYC, our staff will do everything to ensure your comfort, we understand that most people who have been prescribed isokinetic exercise therapy are usually in pain from an injury or surgery. Your physical therapist will meet with you to discuss your condition, how you got there, and where you would like to be at the end of therapy.
You'll move into our well-appointed gym and begin working on an isokinetic machine, initially just to test your strength and the current range of motion. Notes on your initial level of strength and movement will be made in your chart for later reference.
Each isokinetic machine has a specific purpose, so you may experience a few different machines to work on specific areas of your body. Initially, starting with little to no resistance is best to avoid injury and to develop comfort with the process. You will still benefit from no resistance and can build up your repetitions.
At each visit, you may do some measurements to assess ability and to determine if there should be a change in the amount of resistance and range of motion. Your therapist will handle assessing changes in your abilities and establishing a treatment plan that's moving in the right direction but at a pace, that enhances healing and builds strength.
Schedule A
Consultation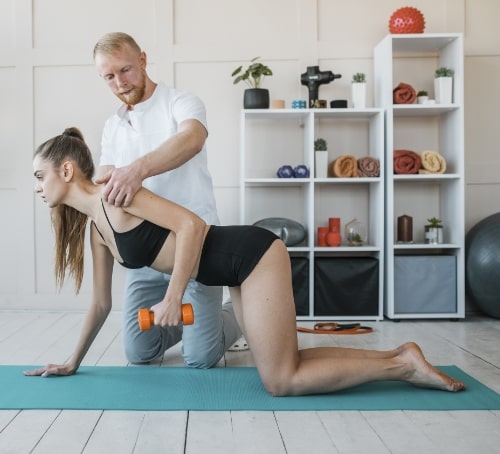 Book Your Physical Therapy Appointment Now at Physical Therapists NYC
For people who want to look into the benefits of isokinetic exercise, visiting a skilled physical therapist or trainer is essential. Isokinetic machines are fairly complex, and supervision is necessary to establish a rehabilitation protocol.
At Physical Therapists NYC, our staff is well-versed in using isokinetic machines for rehab. We often rely on them to give us baseline readings and to measure progress. Our goal is to bring you long-term pain-free relief with the most effective treatment plan possible. Led by a team of in-house medical doctors, our physical therapy experts can ensure your care is delivered with experience and scientific backing.
We specialize in treating busy professionals at Physical Therapists NYC, mainly because we are in the heart of the business district. Our downtown location makes it convenient for people who work in the city and on Wall Street to find the time to be seen for care and to have minimal down time in their day. To better accommodate your schedule, we have early morning and evening hours. It should be noted, those are very popular time slots, so we suggest scheduling today to ensure you get the time you want.
In our office, we feature some of the best state-of-the-art diagnostic tools available and a well-appointed, full gym for your workouts and exercises. Having the latest and the best technology leads to a faster recovery with less setbacks along the way. We also put a lot of stock in our physical therapy staff, making sure that we have top-rated therapists who are leaders in their field. Your health care is our priority.
Connect with our office today to schedule a physical therapy appointment and begin living your life to the fullest again.