Between 2011 and 2014 the National Health Interview Survey looked at sports related injuries across the United States and discovered that an average of 8.6 million of these injuries were reported each year. Sports injuries have led to a greater need for physical therapists who specialize in this type of treatment.
One-On-One Physical Therapy. Our specialists guide you through the full rehabilitation process, from injury recovery to performance training.
The focus of sports medicine physical therapy at our Physical Therapists NYC Clinic is not just to relieve pain and restore mobility. We work closely with athletes, professional and recreational, to help them get back to the maximum level of physical function and to avoid future injury. We know that restoring the individual to their previous condition can just be opening the door to another injury. That's why it's so important that we work together to find new ways to move which allow for better support and function – leading to less injuries down the road.
Benefits of Sports Physical Therapy
If you've suffered a sports injury or you have an injury that's preventing you from participating in sports, you could benefit from visiting a sports injury clinic. Even if you haven't suffered any injury but you're looking to avoid harm or improve your performance you'll find sports physical therapy to be beneficial. These are great reasons to seek sports medicine physical therapy.
Prevent athletic injuries
Immediate pain relief
Treatment for athletic injury
Potential healing without surgery
Young athletes develop proper sporting techniques
Relaxation and muscle release
Develop or improve physical strength
Increase muscle and/or joint flexibility
Improvement in mobility
Balance benefits to avoid falls
Improve cardiopulmonary health
Manage age-related issues
Amateur and Pro Sports Physical Therapy
We understand that for professional athletes, getting back in the game is a top priority. It's their livelihood and their world revolves around their ability to perform at peak levels. But that doesn't mean that amateur, casual, and recreational athletes aren't welcome to sports physical therapy. In fact, we highly encourage anyone who loves physical activity and sports of all kinds to visit a sports injury clinic to learn how to make the most of their recovery and to prevent further injuries.
Physical activity is one of the best things you can do for your health and your body, from improving balance and muscle tone to preventing heart disease and stroke. We strongly encourage everyone to get involved and enjoy physical activities. That said, many people find it easier to be motivated to exercise if they're participating in a sporting event. We treat amateur and professional athletes at Physical Therapists NYC. Our trained professionals know how to relieve pain, get you back in top condition, and how to help you avoid future pain and injuries.
CLIENTS TESTIMONIALS
I really feel like you care about my healing journey, you are by far the best PT I have met with!
EM
I can finally go back to Hiking, you did a great job. I'll be back next week.
TJ
Sports Injury Doctor
How is sports physical therapy different from regular physical therapy? A physical therapist who specializes in sports injuries, rehabilitating from sports-related problems, and preventing them in the first place, typically has considerable training and experience in sports medicine. They understand the unique needs of athletes and the subtle nuances required to return them to action. They also stay on top of changes in fitness and health trends.
Much of sports medicine focuses on preventing surgery or finding a non-surgical alternative to healing. This is because surgery can waylay an athlete for a long time. For professional athletes, this could mean the end of their career. While the idea of healing without surgery is very appealing to athletes, many other people also prefer this path to wellness and would benefit from seeing a sports injury doctor.
At Physical Therapists NYC, we have trained medical doctors on staff who understand sporting injuries and how to avoid them. Our state-of-the-art facility has the diagnostic tools necessary to thoroughly evaluate your concerns and determine a diagnosis. Without leaving the property, you can easily move from diagnostics to our gym for the rehabilitation portion of your care. It's seamless and convenient.
Sports Injury Rehab
How does sports injury rehab work? It's a safe and targeted approach that focuses on returning the patient to pre-injury function and providing pain relief effectively. Like regular physical therapy, it's a customized mix of treatments that include exercise. You don't need to be an athlete at the top of your game to receive benefit from sports injury rehab because your doctor will create a personalized treatment plan and approach that has your specific goals in mind. You can expect the following steps when you visit our office:
Appropriate diagnosis
Reduction in pain and swelling
Measure and record mobility, flexibility, coordination, and strength
Bracing and taping, if necessary
Specific exercises and reconditioning therapy
Hands-on manual therapy
Muscle reconditioning and/or retraining
Proprioceptive training
Measuring progress to document successes
Spine and Sport Physical Therapy
One area of particular concern for amateur and professional athletes is spine and sport physical therapy. A whole-body approach to physical therapy should include spinal examination and consideration. Many injuries, or even the avoidance of injury, involves the spine. That means that taking the bony structures, like the spine, into consideration can play a key role in complete sports injury recovery and a thorough treatment program.
Traditional physical therapists are not allowed to perform spinal manipulations or work on bone structure in the body. Our medical doctors can perform these procedures and have the skills and training to create a spine and sport treatment program that will help you recover from any injury. They'll have you back in sporting condition quickly and confidently.
Schedule A
Consultation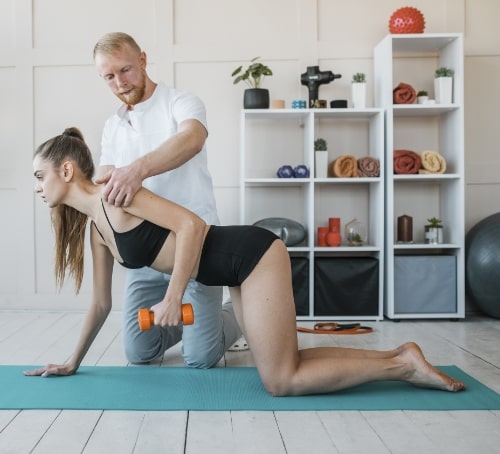 Book Your Appointment Now at Physical Therapists NYC
If you are looking for sports therapy or a sports therapy clinic in the downtown New York City area, it's time to connect with our office and book a consultation today. Our medical team at Physical Therapists NYC is ready to evaluate your injury or your sports technique and create a customized program for pain-free athletic enjoyment.
Our skilled and award-winning sports medicine physical therapy team is led by our well-trained medical doctors who listen to your concerns and guide your recovery plan. They will pay attention to your list of symptoms, perform diagnostic tests using our state-of-the-art equipment, if necessary, and then move into the gym to take advantage of modern tools, equipment, and techniques to speed up your healing process and get you in top physical shape.
From the minute you walk in the door to our modern downtown offices, we will work to accommodate you. We understand that many of our patients work on Wall Street and in downtown NYC, which is why we have early morning and late evening hours, so you don't have to miss work.
Connect with our office to schedule an appointment for sports physical therapy to treat your symptoms, improve your sports performance, and put you back on the path to the active lifestyle you enjoy.