It is estimated that up to 80% of the population will experience back pain at some point in their lives. It's the leading cause of disability across the globe, preventing people from enjoying their day-to-day lives and from doing their jobs.
Relieve the Pain in Your Upper or Lower Back with Physical Therapy
Your back is a very complex system of bones, joints, ligaments, and muscles. Back pain can happen due to something traumatic, like an injury, or it can result from simply lifting incorrectly. The causes are vast and varied, but the good news is that most back pain improves with rest and home treatment. An even better outlook can be attained by seeking physical therapy back exercises at our offices.
One of the best steps you can take to prevent back pain and to recover from back injuries is meeting with one of our top-rated back pain specialists at Physical Therapists NYC. Our focus is not just on helping you recover from back pain, but also creating a back physical therapy approach that helps you avoid injuries and pain in the future.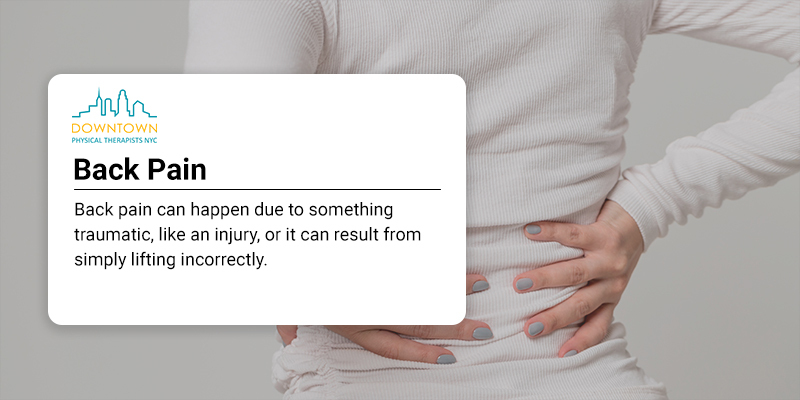 Physical Therapy for Lower Back Pain
Back pain is an issue for people of all ages around the globe and low back pain is the most common complaint. There can be many different causes for pain in the low back region, some of the more common causes include:
Trauma
Strains and sprains
Pregnancy
Sciatica
Deformity
Osteoarthritis
Compression fractures
Spondylolisthesis
Herniated disc
Degenerative disc disease
Facet joint dysfunction
Sacroiliac joint dysfunction
Spinal stenosis
No matter what the cause, lower back physical therapy is often a front-line approach that has great results. Our medical doctors begin by evaluating each patient's symptoms to discover the unique nuances of their pain and pinpoint the area of injury or concern.
Creating customized physical therapy exercises for lower back pain is the best approach to effective relief, improved flexibility, and added strength. By customizing the approach, our physical therapists can help you resume normal activities more quickly and can set you up with a treatment plan that will help you avoid future back pain. The key is our dedication to treating each patient as an individual and focusing on personalized care.
Read more: Dorsalgia: What Is It and How Do I Treat It?
Sharp Stabbing Pain in Lower Left Side of Back
Tips To Reduce Lower Back Pain During Menstruation
CLIENTS TESTIMONIALS
I have an upcoming appointment and can't wait. I recommend Dr. Yadav to all my Friends.
LD
I received outstanding service. I would definitely recommend Dr. Yadav.
MB
How Will Physical Therapy Exercises Help With My Lower Back Pain?
While each patient will have a customized treatment plan that includes physical therapy for lower back pain, there are some common exercises that you may be asked to perform. These physical therapy exercises for lower back have proven results and are part of an effective treatment plan.
Bridges
Knee to chest
Press-up back extensions
Downward dog
Bird dogs
Pelvic tilts
Lower back rotational stretches
Core strengthening
Crunches
Lateral leg lifts
Cat stretches
Child's pose
You may notice that some of these low back exercises aren't for the low back at all. That's because strengthening your core, legs, and other parts of your back can all be beneficial to your lower back. The best approach takes the entire body into consideration and works on creating a treatment plan that encourages all-over strength and flexibility. This relieves excessive pressure and burdens from your back.
Physical Therapy for Upper Back Pain
While there is a lot of attention paid to low back pain, it's certainly not the only type of back pain. Many people also suffer with upper back pain. Again, there are many different causes, but some of the most common upper back pain causes are:
Poor posture
Improper lifting technique
Overuse
Accident or injury
Herniated disc
Arthritis
Compression fractures
Excessive coughing or respiratory illness
Spinal deformity
Fibromyalgia
Tension
Hunching over a computer is leading to more and more upper and mid-level back pain in people as more time is spent in front of a screen. Training yourself to use proper posture when on the computer, sitting at a desk, and while driving can do a lot to relieve this type of back pain. Physical therapy can help you retrain your body to feel comfortable sitting correctly, making it an automatic response.
Strengthening exercises for the upper back, neck, and arms can also be a beneficial way to relieve upper back pain. Our physical therapy team will carefully evaluate your pain complaints, determine what your diagnosis is, and then create a customized treatment plan that will include physical therapy exercises. Our goal is to give our patients as much relief as possible immediately and then work together to create a long-term approach that will help you avoid future episodes of back pain.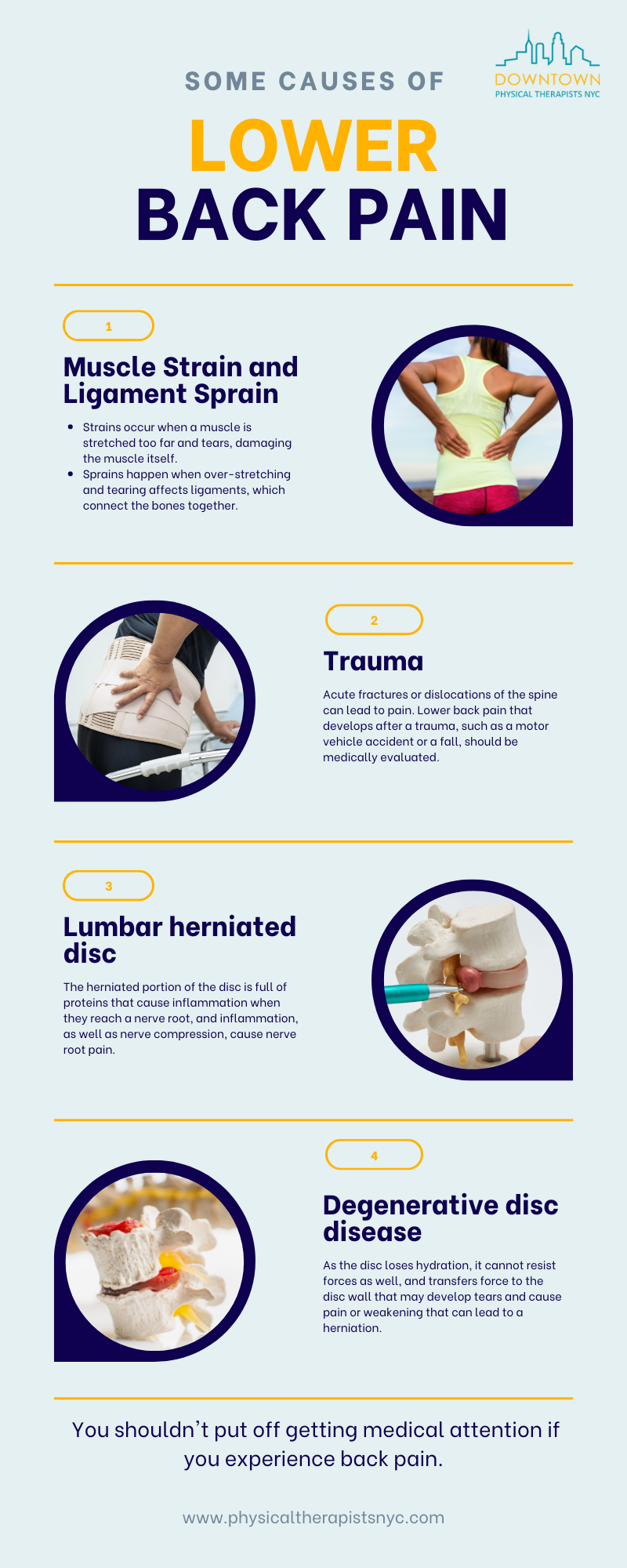 Schedule A
Consultation For Back Pain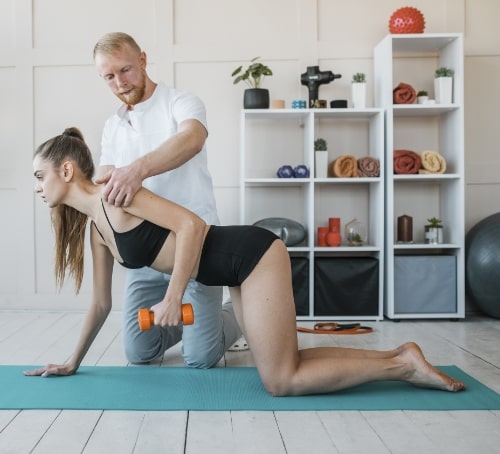 Book Your Appointment Now at Physical Therapists NYC
From the minute you walk in our door of our modern downtown offices, our staff will work to accommodate you and make you feel comfortable. We want your experience to be beneficial and to remove any hesitancy you may feel.
Our team is led by our well-trained medical doctors who listen to your concerns and guide your recovery plan. They will thoroughly listen to your symptoms, perform diagnostic tests using our state-of-the-art equipment, if necessary, and then move into the gym to explore physical therapy exercises for back pain relief. If you ever experience pain or feel an exercise is too much for you, they'll find an alternative so you can continue to progress in your healing journey.
It is our mission, at Physical Therapists NYC, to create a treatment plan that is customized to your level of back pain and the symptoms you are experiencing. Then, we will work with you to define long-term goals and create a treatment map that will get us there. For us, it's not just about treating you today but giving you the best possible future solutions as well.
Connect with our office today to schedule an appointment or a consultation and begin the process of relieving your back pain immediately.