Are you sick of suffering from frequent and/or severe headaches? What if you could find relief for your pain without a cocktail of medications? It is possible with the help of physical therapy.
Many migraine and headache sufferers find that physical therapy is their solution with a treatment plan that not only reduces pain but also improves mobility, strength, and gives you techniques to manage or prevent future headaches.
Obviously, not all headaches are created equally, but those that are connected to tension, improper spinal alignment, and traumatic events or injuries can find their cure in physical therapy care. At Physical Therapists NYC, we will work with you to determine the cause of your headaches, affix a proper diagnosis, and then we'll begin creating a customized treatment plan that can relieve your pain.
Types of Headaches for Physical Therapy
Is your headache one that will respond well to physical therapy? An infrequent headache here and there is a fairly common experience, and it could be environmental, related to exercise or strenuous activity, due to another illness or allergies, or fatigue related. These types of headaches, especially when they're experienced on an infrequent basis, aren't typically candidates for physical therapy care, but there are many headaches that will benefit from physical therapy such as:
Migraine headaches
Tension headaches
Chronic headaches
Cluster headaches
Spinal headaches
Cervicogenic headaches
Post-traumatic injury headaches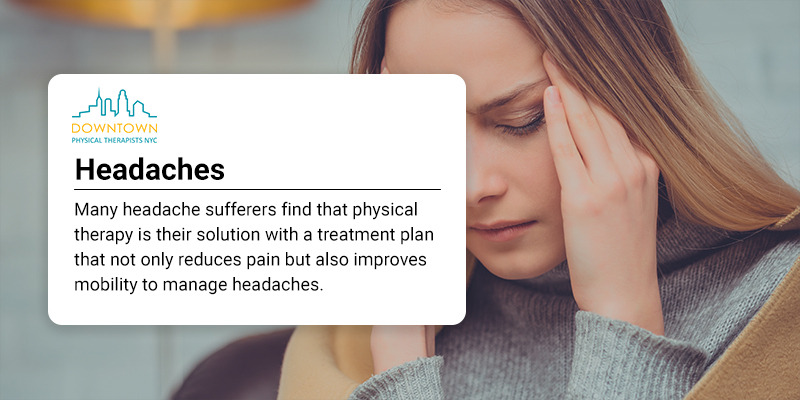 Physical Therapy Headache Treatment
Many people suffer from headaches now and again, some people even have infrequent migraines, and they can resolve themselves after time and require no further care or a treatment program. If you're someone who suffers with chronic headaches, then you know you're not having a run-of-the-mill headache, you're in a different category and you need specialized care. That's where a customized physical therapy headache treatment plan can come into play. Because the cause of each headache and the resultant pain symptoms can vary, your treatment plan will be unique, but you can expect some of the following modalities:
Soft tissue mobilization. This can include massage therapy or hands-on manual therapy from your physical therapist to give you immediate pain relief and prompt a boost in circulation. It can also help release tension.
Heat or ice therapy. Alternating hot and cold therapy can reduce stress in the muscles and provide immediate relief.
Stretching excises. Learning to do stretching exercises on your own not only loosens tension and prompts improved circulation, but it's also a step toward creating a long-term treatment plan that makes your headaches more manageable.
Posture re-education. Some headaches are caused by spinal issues which could be related to your posture. Learning to sit, stand, and walk correctly can help relieve pain symptoms.
CLIENTS TESTIMONIALS
VeRy Nice office, Very PRofessioNAl & peRsoNAl would Highly RecoMMeNd.
ES
I love Dr. Yadav. The sessions I have had with her have really helped.
AG
Tension Headache Treatment
According to the American Migraine Foundation, tension headaches are the most common form of headache and they occur in about three fourths of the population. They may be called other names such as:
Muscle contraction headache
Psychomyogenic headache
Stress headache
Ordinary headache
Essential headache
Idiopathic headache
Psychogenic headache
They're all tension headaches and may be caused by muscle tension that's held in the face, neck, shoulders, and scalp although they may also be related to heightened emotions, tension, or stress. These headaches often resolve with best physical therapy focused on a tension headache treatment plan.
Your therapist will work with you to determine muscle structures involved in your tension and help you identify them so that a targeted release program can be established. Release may come in the form of hands-on and massage care, heat and cold therapy, exercises, and biofeedback techniques. Your customized treatment plan will not just focus on relieving your pain immediately, it will be tailored so you have techniques for reduced pain in the future and pain management techniques.
Migraine Headache Treatment
Another very common headache complaint is migraine. Physical therapy migraine headache treatment will work on your immediate pain but what most migraine sufferers want is a long-term solution to stop, manage, or reduce the pain and other symptoms they have that are associated to migraine.
Surprisingly, headaches are not the only symptoms of migraines. The following symptoms may also be a sign of a migraine and they may occur with or without a headache.
Pain in the neck, temple, forehead, and eye
Radiating shoulder pain
Reduced range of motion in the neck
Nausea and vomiting
Dizziness or vertigo
Sensitivity to light and sound
Visual auras
Fatigue or overall exhaustion
If you have these symptoms and the classic migraine headache you can benefit from physical therapy that includes a migraine headache treatment plan. This may include the following techniques:
Hands-on manipulation
Massage therapy
Mechanical traction
Vestibular therapy
Electrical stimulation (TENS)
Exercises and stretching techniques
Posture and mobility re-education
Schedule A
Consultation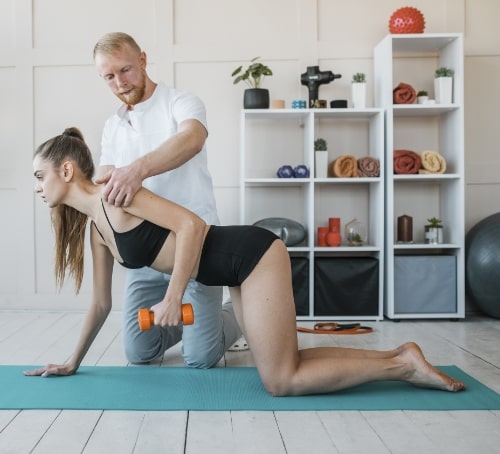 Chronic Headache Treatment
A diagnosis of chronic headache doesn't refer to the type of headache(s) you have, it refers to the frequency and duration. You can have chronic tension headaches, chronic migraines, chronic cluster headaches, etc. By definition, a chronic headache is one that occurs for 15 or more days a month and for longer than three months. Adding to that confusion, if your headache lasts for less than four hours it's termed a short-lasting chronic headache, longer than four hours means you suffer from long-lasting chronic headaches.
All of the definitions aside, if you're suffering from regular headaches, you don't care what type it is, you want relief. Our physical therapy team will worry about your diagnosis while you immediately begin treatment to relieve your pain, find a long-term solution, and learn new techniques for managing pain and heading it off before it even starts. Relief is just a phone call away.
Book Your Headache Appointment Now at Physical Therapists NYC
If you happen to live in or near the downtown New York City area, it's time to connect with our office and book a headache consultation or appointment today. Our medical team at Physical Therapists NYC is ready to pinpoint the cause of your pain and put you on the path toward recovery.
A skilled and award-winning physical therapy team, led by well-trained medical doctors is the key to our success with headache treatment. Our staff listens to your concerns and guides your recovery plan based on your symptoms and diagnosis. With a modern and well-appointed clinic, we're equipped to handle many diagnostic tests using in-house, state-of-the-art equipment.
Once a diagnosis is established, your customized treatment plan will be curated, and you'll move into our complete and full gym to take advantage of modern tools, equipment, and techniques to speed up your healing process.
From the minute you walk in our door of our modern downtown offices, we will work to accommodate you. We understand that many of our patients work on Wall Street and in downtown NYC, which is why we have early morning and late evening hours, so you don't have to miss work.
Connect with our office to schedule an appointment for headache and migraine physical therapy today.