Kinesiotaping is a physical therapy treatment that's used in all specialties of rehabilitation to mimic the pressure and support of a therapist's hands with elastic tape. This treatment technique was first used in the 1970s and has since become a common modality used in pain management, soft tissue recovery, joint alignment, and more. Physical Therapists NYC often uses kinesiotape treatment to give our patients long-lasting pain relief after leaving the office.
How Does Kinesiotaping Work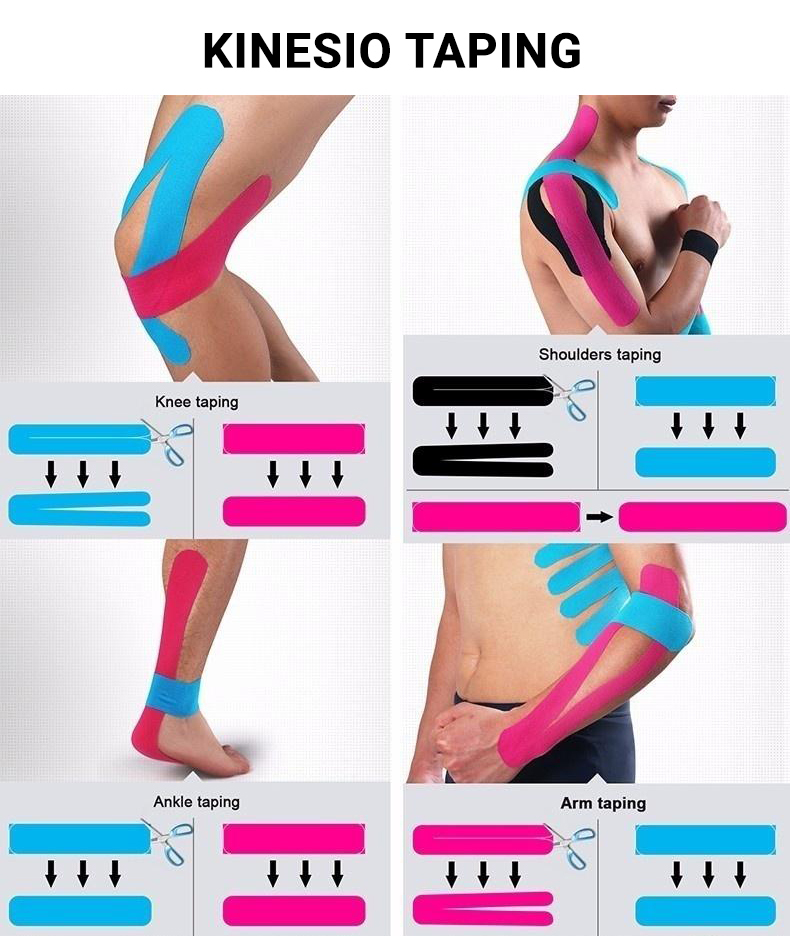 Kinesiotape is elastic in nature, which is unlike athletic tape, a more rigid taping method. Kinesiotape is designed to be stretchy and serve as a gentle reminder to support your therapy through proper posture and movements. There are several different ways this reminder works to keep your muscles from forgetting your therapeutic lessons.
Corrects muscles. Kinesiology tape gently supports muscles during movement, providing just enough to give you more stamina and allow the muscles to heal correctly.
Better circulation. Proper taping can improve circulation and boost lymphatic flow when there is a problem. This leads to faster healing and recovery times.
Better joint movement. Keeping the joints moving on track is important for injury recovery and taping can help you maintain proper positioning outside of therapy.
Pain relief. There's an analgesic effect to kinesiotaping. Yes, it's similar to how children feel like a bandaid helps all injuries. Having tape on injured regions is comforting and provides the feeling of constant stretch.
Microscopic space. When the tape is applied to your skin, is rebounds slightly and creates a space between the skin and the tissue underneath, providing extra room for movement and blood flow.
Changing sensory signals. It's believed that the use of tape changes the way your body's sensory nervous system processes pain. By lifting the skin and relieving pressure from those tissues, the signals of pain are reduced.
CLIENTS TESTIMONIALS
Dr. Yadav has magical hands, I love her techniques. Well Recommended.
MG
Dr Yadav was very understanding and treated me very professionally.
CJ
When Is Kinesiotape Used
There are several different situations that may benefit from or even require kinesiotaping. If you're a patient at Physical Therapists NYC, you'll find that this is used in conjunction with your physical therapy and possibly other modalities to get the best results. We find that kinesiology tape works best for the following:
Treating injuries. If you've suffered an injury, kinesiology is especially useful to mitigate swelling and pain when paired with other treatments.
Supporting weakness. When muscles and joints are weak, no matter what the cause, taping can provide some extra support and even some enhanced performance.
Muscle reeducation. If you've lost function or you're moving in ways that are unhealthy, taping can help you remember to practice new techniques.
Athletic performance. Professional and recreational athletes are realizing the benefits of taping and using them in different ways to enhance their performance in a safe and drug-free manner.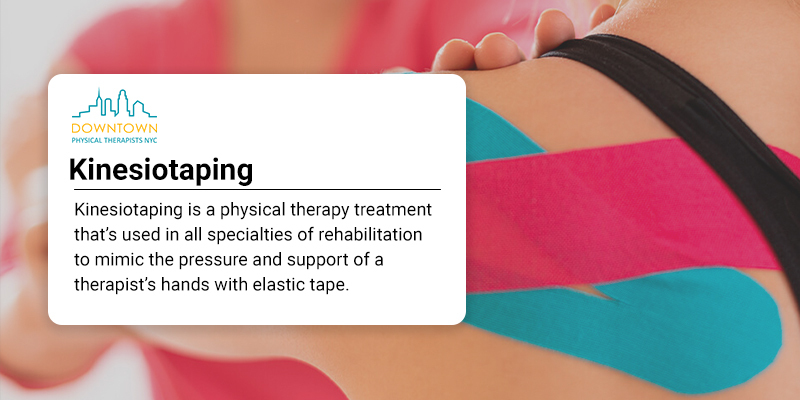 When Not to Use Kinesiotaping
While there are a lot of benefits to taping and virtually no downsides when done correctly and by a professional, there are some situations where you want to avoid taping. If you have any of the following conditions, then taping might not be right for you.
Open wounds. Wounds need specific care to heal, and you should follow the care of your physician or wound team. We do have medical doctors on our staff who can work within your wound care guidelines.
Blood clots. Increasing blood flow for individuals who have blood clots can be dangerous and isn't advised.
Active cancer. Cancer has a lot of nuances and it's best not to introduce new treatments during active cancer care that are not affiliated with cancer treatment.
Lymph node removal. If a lymph node is removed, having taping can increase lymphatic flow and cause swelling rather than proper flow.
Although kinesiotape is non-latex, so latex allergies are not the problem, some people have issues with adhesives.
Fragile skin. Through aging, medications, or a health condition, skin can become fragile and susceptible to tearing. Taping is definitely contraindicated in these situations.
Book Your Physical Therapy Appointment Now at Physical Therapists NYC
At Physical Therapy NYC, we use kinesiotaping in conjunction with several different types of treatment to achieve extremely positive results. If you have any questions about taping, feel free to talk with our therapists to get the answers you want and to learn more about the process.
Our patients are our top priority, and our goal is to bring you long-term pain-free relief with the most effective treatment plan possible. Led by a team of in-house medical doctors, our physical therapy experts can ensure your care is delivered with experience and expertise.
Schedule A
Consultation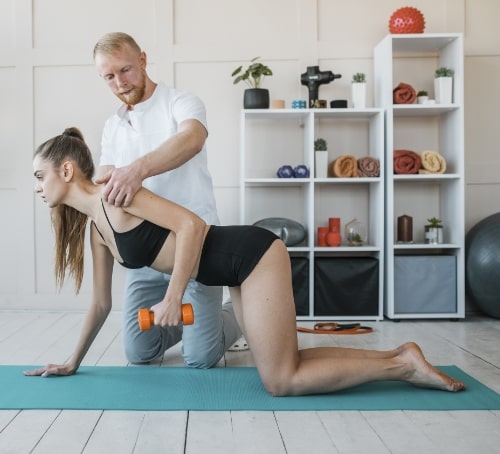 We specialize in treating busy professionals at Physical Therapists NYC, mainly because we are in the heart of the business district. Our downtown location makes it convenient for people who work in the city and on Wall Street to find the time to be seen for care and to have minimal down time in their day. To better accommodate your schedule, we have early morning and evening hours. It should be noted, those are very popular time slots, so we suggest scheduling today to ensure you get the time you want.
In our office, we feature some of the best state-of-the art diagnostic tools available and a well-appointed, full gym for your workouts and exercises. Having the latest and the best technology leads to a faster recovery with less setbacks along the way. We also put a lot of stock in our physical therapy staff, making sure that we have top-rated therapists who are leaders in their field. Your health care is our priority.
Connect with our office today to schedule a physical therapy appointment and begin living your life to the fullest again.