Hand pain and wrist pain can have many different causes and because the hands are so vital and complex, it can sometimes be difficult to pinpoint the exact cause. Our top-rated doctors are well-versed in different illnesses, injuries, and other causes of pain in the hands. They will find your diagnosis and work to create a customized hand physical therapy treatment plan that goes right to the root of your issues.
Some of the more common reasons patients seek physical therapy for hands are:
Accident or injury
Repetitive motion disorder
Trigger finger
Tenosynovitis or tendinitis
Broken hand bones
Sprains and dislocations
Gout
Peripheral neuropathy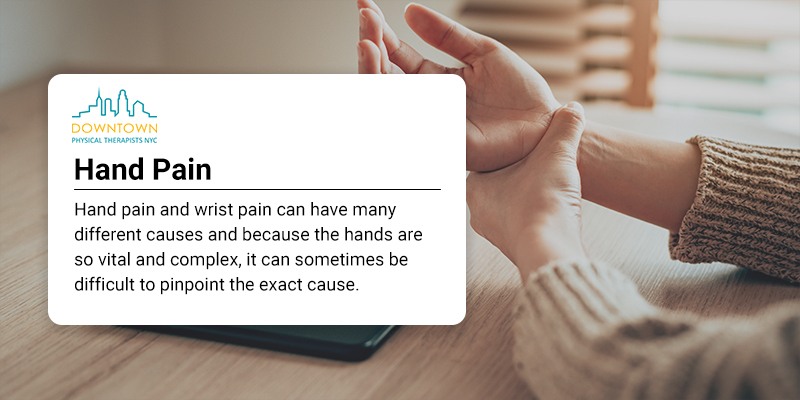 Hand Physical Therapy
Improving strength and mobility in your hand requires a physical therapy hand specialist who is trained in kinesiology, physiology, and anatomy. Some prescribed hand physical therapy exercises will be designed to help you move and function with less pain, but you will also find that there are ways you can adapt to avoid injury and strain in the future. Our therapists want to not only help you heal but to prevent further suffering.
Some types of care you can expect when receiving hand physical therapy include:
Hands on physical therapy
Custom splints
Therapeutic taping
Functional training
Exercises for motion and strength
Injury avoidance techniques
Electrical stimulation
Ionophoresis
Massage
CLIENTS TESTIMONIALS
I have an upcoming appointment and can't wait. I recommend Dr. Yadav to all my Friends.
LD
I received outstanding service. I would definitely recommend Dr. Yadav.
MB
Hand and Orthopedic Physical Therapy
Orthopedic physical therapists have advanced training in orthopedics, which focuses on the musculoskeletal system and the care and recovery from injuries to ligaments, tendons, muscles, and bones. Hand and orthopedic physical therapy are both available with our physical therapists, giving you the best opportunity for success.
This becomes particularly important if you've had hand surgery. You'll want to seek the specialized care of an orthopedic physical therapist who can help you regain function and improve strength. Orthopedic physical therapists are not limited to hand care. If you're undergoing surgery for something like carpal tunnel, for example, you'll want to make sure you're being treated by a therapist who specializes in or has training in hand orthopedics.
Physical Therapy for Carpal Tunnel
Speaking of carpal tunnel syndrome, this is one of the most common hand complaints we see in our offices when patients come in with hand pain. Many people are referred to us for physical therapy after carpal tunnel surgery and our team, led by medical doctors on staff, will take excellent care of you after surgery. You'll receive customized, hands-on care that will help you regain your mobility without pain.
For people who haven't undergone surgery, there is even better news. In some situations, physical therapy for carpal tunnel syndrome can reduce your pain and prevent the need for surgery. Hand specialists will work on more than just the muscles in your hand, your carpal tunnel therapy will expand to include the nerves and tendons in your hands. This will help to reduce pain and increase your mobility. You will learn techniques to make daily activities less painful and explore changes in your routine that will provide you with dramatic results.
How well carpal tunnel therapy works depends on your level of impingement and your commitment to adapting how you do some tasks and keeping up with your therapy. But hand therapy is definitely a recommended first step for pain relief.
Broken Hand Physical Therapy Exercises
Rehab for a broken hand, broken fingers, sprained wrist, etc. is highly recommended to help you heal faster and to regain all of your mobility. Depending on the severity and location of your injury, full recovery may not be possible after surgery, but with prompt broken hand physical therapy exercises, you stand a much better chance of achieving that full-recovery goal.
The primary objective after any broken bone is to regain strength and movement which is what makes physical therapy so important. It's the safest way to effectively bring that part of your body back up to speed without doing additional damage. This is especially important when you're dealing with the hand and wrist or the foot and ankle because these bones are so important in daily living. This is why your choice of physical therapist is crucial and selecting Physical Therapists NYC can make all the difference.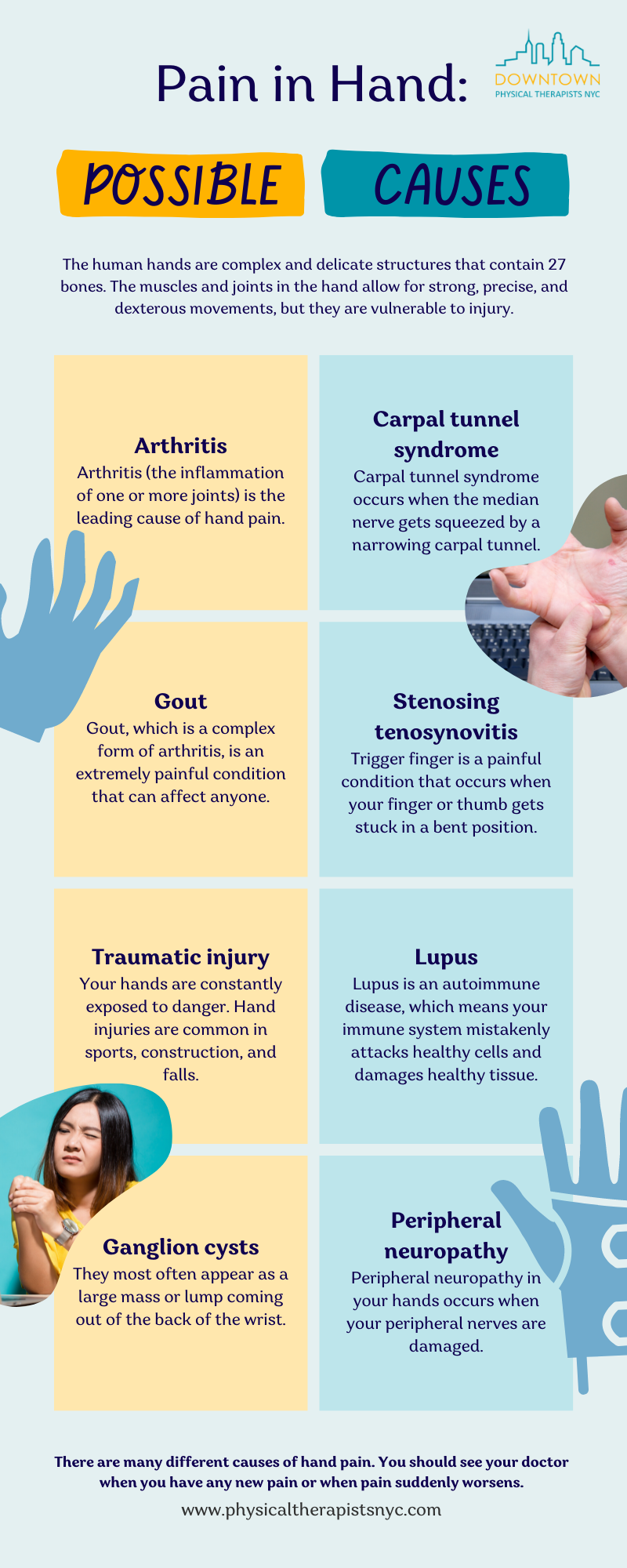 Schedule A
Consultation For Hand Pain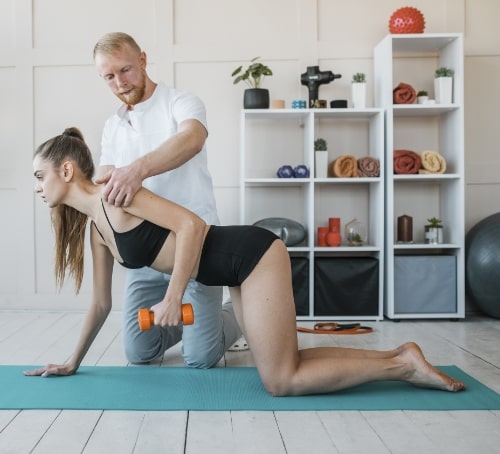 Book Your Appointment Now at Physical Therapists NYC
If you have hand pain, an injury of the hand or wrist, or lack of mobility, our staff is here to help. From the minute you walk in our door of our modern downtown offices, we will work to accommodate you. We understand that many of our patients work on Wall Street and in downtown NYC, which is why we have early morning and late evening hours, so you don't have to miss work.
Our team is guided by our well-trained medical doctors who listen to your concerns and customize your recovery plan. They will pay attention to your list of symptoms, perform diagnostic tests using our state-of-the-art equipment, if necessary, and then move into the gym to take advantage of modern tools, equipment, and techniques to speed up your healing process.
It is our mission, at Physical Therapists NYC, to create a treatment plan that is customized to your diagnosis and your level of comfort. We will work with you to define long-term goals and create a treatment schedule for your hand pain that will get you there. For us, it's not just about treating you today but giving you the best possible future solutions as well.
Connect with our office to schedule an appointment for physical therapy for hand and wrist pain, limited range of motion, carpal tunnel syndrome, recovery from broken bones, post-surgical hand consultations, and other conditions.