If you suffer from chronic back and/or neck pain, you might be a prime candidate for pain relief through spinal decompression. This non-surgical option offered at Physical Therapists NYC can be used for pain management and has been known to improve overall health by reducing compression forces on the discs and facet joints in the spine. For the best results, a physical therapy program of exercise and stretches with possible ancillary modalities is recommended.
What Is Spinal Decompression?
Spinal decompression is a non-surgical option that relieves pressure on the spinal cord, individual vertebra, and your spinal discs. When your spine is compressed, nerves get squished and immediately prompt pain symptoms. The pain may eventually go away but there is often a lingering numbness or tingling sensation because that nerve is still being starved of blood, oxygen, and nutrients.
By stretching the spine in a specified way, the vertebrae are allowed the space they need to move back into their original position and free the nerve(s) that were causing problems. Decompression in a physical therapy office involves the use of a special table to adjust pressure to different regions of the back and body. Decompression can be a temporary fix for pain, or it can be long-term, it depends on the individual, their situation, and the modalities or other therapeutic treatment that is used in conjunction with spinal decompression therapy.
How Does Spinal Decompression Work?
The logic behind spinal decompression is that if you are able to reduce the compressive forces on the discs and facet joints, then the nerves are freed, and you will feel fewer pain symptoms. A lumbar decompression table is used to stretch and relax the spine simultaneously and in a controlled manner that relieves pressure and allows misaligned discs and vertebrae to move back into their correct position.
Sometimes, this pressure release will prompt increased blood flow to the area which will fuel it with essential oxygen and nutrients that travel in the blood. This supports natural healing and gives you a non-invasive, medication-free option for pain relief.
Most spinal decompression done on the traction table is enhanced with spinal decompression exercises designed to support the changes in your spine through the strengthening of corresponding muscles. One of the biggest benefits to this type of therapy is that it can effectively target your source of the pain through spinal realignment and a rehabilitation program targeted to your specific concerns.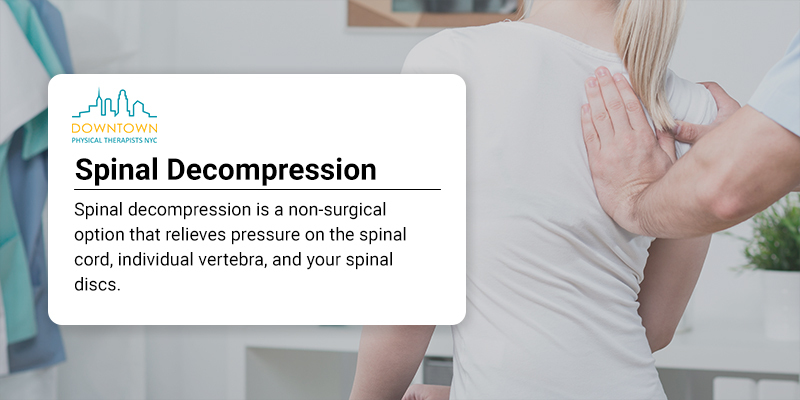 What Is Spinal Decompression Used For?
Spinal decompression therapy is a wonderful option for people who suffer from chronic pains that are caused by spinal stress, most typically by compression of the spine and discs. Some conditions that respond very well to spinal decompression are:
Spinal stenosis
Spinal postoperative recovery
Disc herniation or slipped disc
Facet syndrome
Back pain, especially in the low back region
Neck or cervical pain
If you have any of these conditions and would like to know more about how we can help you find more mobility in your life and reduce pain, Physical Therapists NYC is here to help. We offer decompression treatment, therapy, and exercises to get our patients back on their feet with less pain and more mobility. We will often pair this treatment with other physical therapy modalities, exercise, stretches, and massage so you get the best care possible with optimal results.
It should be noted that some people are not good candidates for spinal decompression. If you've had a broken vertebra or spinal surgery, you may not be a good candidate but there are other options available. Our skilled physical therapy staff will help you determine what your best treatment program is and get you on the road to pain-free recovery.
CLIENTS TESTIMONIALS
Dr. Yadav has magical hands, I love her techniques. Well Recommended.
MG
Dr Yadav was very understanding and treated me very professionally.
CJ
Book Your Physical Therapy Appointment Now at Physical Therapists NYC
At Physical Therapy NYC, we believe that spinal decompression, in the right situations, can be a big benefit for patients. Results can range from non-invasive pain reduction to a complete resolution of the problem and a full, happy life. Each patient is different and will be treated as the individual they are from the moment they step foot in our office. All of your care will be customized, and you will have a say in how your journey progresses.
Our patients are our top priority, and our goal is to bring you long-term pain-free relief with the most effective treatment plan possible. Led by a team of in-house medical doctors, our physical therapy experts can ensure your care is delivered with experience and expertise.
Schedule A
Consultation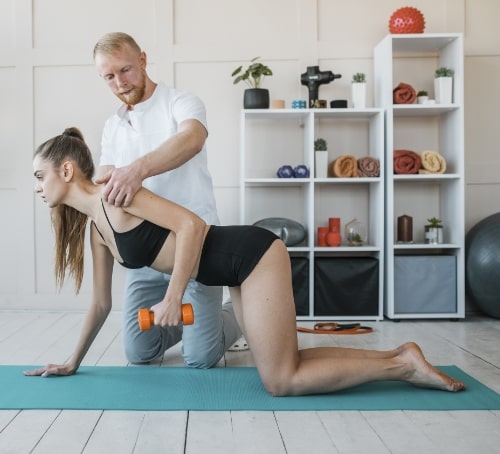 We specialize in treating busy professionals at Physical Therapists NYC, mainly because we are in the heart of the business district. Our downtown location makes it convenient for people who work in the city and on Wall Street to find the time to be seen for care and to have minimal downtime in their day. To better accommodate your schedule, we have early morning and evening hours. It should be noted, those are very popular time slots, so we suggest scheduling today to ensure you get the time you want.
In our office, we feature some of the best state-of-the-art diagnostic tools available and a well-appointed, full gym for your workouts and exercises. Having the latest and the best technology leads to a faster recovery with fewer setbacks along the way. We also put a lot of stock in our physical therapy staff, making sure that we have top-rated therapists who are leaders in their field. Your health care is our priority.
Connect with our office today to schedule a physical therapy appointment and begin living your life to the fullest again.