Manual therapy treatment is one of the most common forms of prescribed physical therapy and it's one of the most effective. Sometimes referred to as manipulative therapy, this is a hands-on treatment that is designed to work on areas of pain and disability.
Manual physical therapy can include massage techniques, manipulation of muscles, and joint mobilization.
At Physical Therapists NYC we believe that hands-on manual therapy techniques, combined with exercise and patient education is the core of rehabilitative care. We find that our patients are able to get back to their active lifestyles more quickly and completely with the inclusion of manual therapy.
What To Expect from Manual Therapy
Manual therapy is a technique that involves gentle manipulation of your joints and soft tissues in a hands-on manner with the goal to improve range of motion and flexibility and reduce pain. This technique relaxes tight muscles and improves circulation to prompt healing.
When you are seen in our offices, you'll thoroughly discuss your condition and future movement and recovery goals with your therapist and an individualized treatment plan will be created. That said, your experiences in our office may include some of the following manual therapy techniques.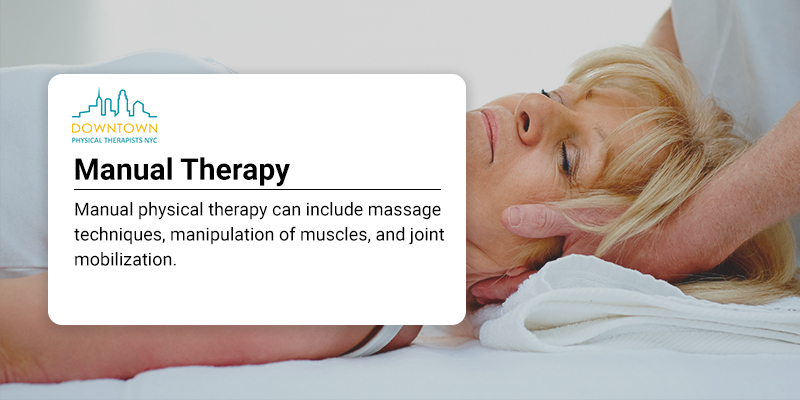 Types of Manual Therapy
Integrative manual therapy. Integrative manual therapy is a functional approach to rehabilitation that takes the structure of the body and all systems into consideration to create a harmonious relationship within the body. This whole-body approach is preferred by many because it uses a structural and functional approach.
Structural rehabilitation addresses joint mobility, muscle tone, soft tissues, range of motion and muscle control
Functional rehabilitation focuses on balance, coordination, sensation, strength, endurance, your senses, and behavior.
CLIENTS TESTIMONIALS
So happy to go back running! Thank you for the relief.
MM
We got good stretches in, Thank you till next time.
EQ
Advanced manual therapy. Highly skilled physical therapists use this technique to improve the movement of your joints, soft tissues, and fascia. During this type of treatment, you may encounter soft tissue mobilization, traction, joint mobilization, joint manipulation, passive range of motion, movement with mobilization, proprioceptive facilitation, and more. It's a hands-on approach with additional techniques for maximum benefit.
Functional manual therapy. A functional manual therapist works with an approach that's similar to integrative manual therapy. The goal is to strengthen and treat the entire body to achieve optimum performance, beginning with the core. The concept is that going beyond exercises and hands-on therapy opens the body up to additional benefits. This all begins with core strength, engagement, and proprioceptive awareness.
Orthopedic manual physical therapy. Orthopedic manual physical therapy is a specialized branch of physical therapy that targets neuro-musculoskeletal conditions. Most patients who have these conditions benefit from this specialized treatment to restore full, pain-free movement. This is done through reeducation programs, hands-on mobilization and manipulation, passive movements, resistance muscle activation, and a customized exercise treatment program.
Manual Therapy FAQ
There are some common questions, ideas about therapy and hesitancies that patients feel if they've never had any type of physical therapy in the past. We hope these answers to physical therapy questions help. These are the manual therapy questions we hear most often and the ones we know you want answers to.
Q: What should I wear?
A: Because we're located in downtown New York City, we often cater to people who work in that district or on Wall Street, and they're typically coming from work. No matter where you're coming from, you're going to want to have some comfortable clothing that you can move in. It might require bringing a change of clothes.
You also want to take your area of concern into consideration when you dress. If you have a knee injury, shorts are optimal because your therapist can then easily access your knee. A shoulder injury might work best with a tank top so we can reach the shoulder easily for hands-on care and for a visual inspection.
Q: What happens on the first appointment?
A: Your first appointment will include a thorough health history, especially as it relates to your area of concern, this means you might want to bring some notes and collect information on your current prescriptions before coming to the office. We love it when patients take notes on what movements cause more pain or what times of day they experience pain.
After the verbal history is recorded, there will be a physical examination and you might even begin some manual therapy, massage, and exercises or some measuring of your range of motion and pain levels. Expect there to be a physical component to your first visit.
Q: What is manual therapy?
A: Manual therapy treatment is a hands-on technique for manipulating the body. It's a bit like massage in some respects but in other respects it's not. There are times when your therapist will be moving and manipulating your joints, they may ask you to join in with some resistive techniques and pulling and pushing. It will typically focus on the area of injury or pain but may extend away from that to ensure that you're addressing the entire problem and getting the most benefit.
Q: Is manual therapy painful?
A: We certainly don't want to cause you any pain or to put too much stress or strain on your body. If you are ever experiencing pain, please let us know so we can adjust our approach. That said, it can be uncomfortable and that's to be expected. Think of times when you've exercised, and it feels uncomfortable to stretch or to do another push-up or run. That feeling of tight muscles, stretching, and even the breaking down of muscles in a healthy way to build new muscle doesn't feel great. But it shouldn't reach the point of pain, just discomfort as you build muscle, flexibility, and mobility.
Q: How long will I need manual therapy?
A: How long you need manual therapy all depends on what you're being seen for and the condition your body was in before illness or injury. It also depends on how compliant you're willing to be with your prescribed exercises and care routine. Feel free to ask at your visit for a rough estimate on the timeline, it's all customized so our staff will know more when they see you.
Schedule A
Consultation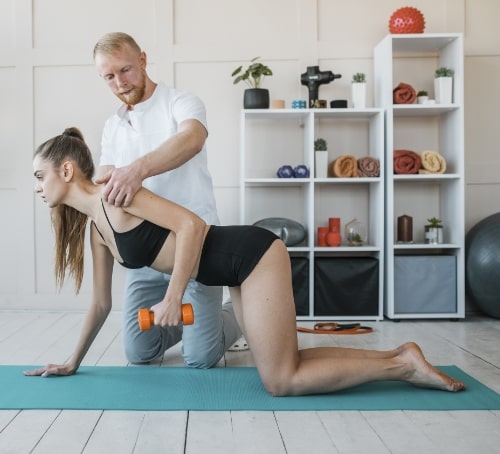 Book Your Physical Therapy Appointment Now at Physical Therapists NYC
If you've been prescribed physical therapy with a manual therapy component, it's time to schedule an appointment and begin healing. There's no reason to put it off any longer, in fact, the sooner you begin care, the easier it is for your body to recover.
At Physical Therapists NYC, we often treat busy professionals. Our downtown location makes it convenient for people who work in the city and on Wall Street. To better accommodate your schedule, we have early morning and evening hours. It should be noted, those are very popular time slots, so we suggest scheduling today to ensure you get the time you want.
In our office, we feature some of the best state-of-the art diagnostic tools available and a well-appointed, full gymnasium for your workouts and exercises. Having the latest and the best technology leads to a faster recovery with less setbacks along the way. We also put a lot of stock in our physical therapy staff, making sure that we have top-rated therapists who are leaders in their field. Your health care is our priority.
Connect with our office today to schedule a physical therapy appointment and begin living your life to the fullest again.