Your hip is a marvel of engineering with a large ball-and-socket joint that can withstand repeated motion and wear and tear. It fits together in a remarkable way that allows for walking, running, dancing, sporting activities, and more. When the hip begins to fail, the cartilage wears down or is damaged, when there is an injury, the pain can be intense, and loss of mobility limits your enjoyment of life and daily activities. If you're suffering from hip pain, visiting Physical Therapists NYC is your first step toward relieving your symptoms.
What Is Hip Pain?
Hip pain is defined as any painful symptoms in or around the hip joint. It is possible that you will not experience pain directly in the hip area. You may get pain in your thigh, knee, or your groin.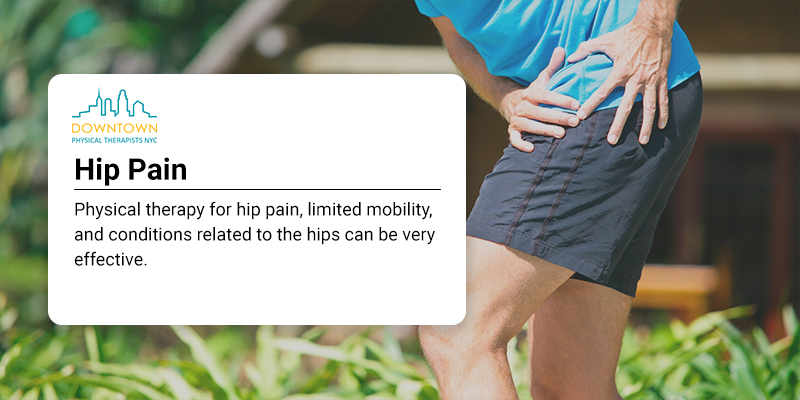 What Causes Hip Pain?
Conditions that cause hip pain include:
Arthritis
Hip fracture
Hip dislocation
Repetitive use
Muscle strain
Infection in the bones or joints
Pinched nerves
Inflammation or irritation of the tendon
Referred pain from lower back or knees
What Are The Symptoms Of Hip Pain?
Depending on the cause, your symptoms of hip pain may include:
Stiffness
Bruising
Loss of function
Tenderness
Muscle weakness
Swelling, warmth, and redness in the affected area
Limited movements
When Should I See A Doctor?
You should seek professional medical attention right away if:
Your hip pain resulted from a fall or other injury
There is bleeding, severe bruising, or deformity in the affected area
You can't move your leg or bear any weight on it
Your hip pain doesn't subside within a week of home treatment
You feel feverish or have a rash
Hip Pain Treatment
The sort of treatment you will receive is determined by your orthopedic specialist's diagnosis. It could include any or all of the following:
Pain relievers
Anti-inflammatory medications
Rest
Hot or cold therapy
Physical therapy
Surgery
Best physical therapy for hip pain, limited mobility, and conditions related to the hips can be very effective. In our offices, we see a variety of different conditions but there are some that are more prevalent than others. Our well-trained medical staff and hip pain doctors are experts in the following:
Hip pain
Hip replacement
Hip arthritis
Hip dysplasia
Hip surgery
Hip fracture surgery
Hip bursitis
Of course, there are other reasons for hip pain and seeking physical therapy, but these are very common complaints. The good news is that PT for hip pain is often extremely effective and can bring you back to a comfortable level of movement and may restore you to normal function without pain.
Physical Therapy for Hip Bursitis
PT for hip bursitis can be very effective, reducing pain, swelling, stiffness, and weakness. Not only do these hip physical therapy exercises work directly to relieve bursitis pain, but they also strengthen the surrounding areas, including the back and legs. It's not uncommon for someone who suffers from bursitis to feel better overall after being prescribed physical therapy.
Hip bursitis, also called trochanteric bursitis, happens when one of the fluid-filled sacks on the side of the hip becomes damaged, inflamed, and/or irritated. Instead of acting as a cushion, like it normally does, it now causes pain and prohibits the smooth movements it's designed to facilitate.
There are many causes of bursitis, typically affecting women almost twice as frequently as men. Repetitive motion, leg-length differences, incorrect posture, and some illnesses can all cause a bursitis flare-up. In most cases, quick action and focused physical therapy can improve your comfort rather quickly. A continued hip exercise program will often lead to long-term positive results. Surgery is rarely needed for bursitis.
CLIENTS TESTIMONIALS
Great visit, helped work out all my stiffness, very gentle.
CR
Great therapist, really gives a lot of attention and care.
SK
Hip Labral Tear Physical Therapy
Labral tears occur when the band of cartilage surrounding the hip joint is injured. This typically happens because of repetitive movements but there can also be a hip labral tear if there's some sort of trauma, like a car accident.
If the labral tissue is torn, it cannot heal on its own and surgery is required to repair the tear. But it's likely that you will be prescribed a course of physical therapy before surgery is discussed.
Hip labral tear physical therapy is so effective in some cases that the patient feels well enough to skip surgery entirely. This is done by focusing PT hip exercises on a combination of stretching and strengthening activities. By maximizing the strength of the hip and surrounding area, you're also minimizing the stress placed on the labrum. This is done at Physical Therapists NYC through pain management techniques, hands-on physical therapy, movement re-education, functional training, and muscle strengthening exercises.
Physical Therapy for Hip Arthritis
Osteoarthritis and rheumatoid arthritis are the most common causes of hip pain and your odds of having arthritis increase with age. People with arthritis in their hips will typically feel stiffness, have a reduced range of hip motion, and may experience pain as well.
Physical therapy for hip arthritis, either kind, will focus on increasing mobility and comfort during motion by strengthening the muscles surrounding the hip. There will also be a significant focus on how the patient performs daily activities and finding solutions to doing those activities with less stress and strain.
People with arthritis tend to avoid exercise because they worry it will exacerbate their condition. The truth is that proper exercises, done correctly, can greatly increase strength and flexibility throughout the body and relieve pain from both types of arthritis. The benefits of physical therapy and exercise for arthritis are exponential.
Hip Dysplasia Physical Therapy
Hip dysplasia is a condition where the hip socket doesn't properly cover the ball portion of the thighbone and can lead to dislocation. It's typically a condition that people are born with, and early treatment can often correct the problem.
Unfortunately, people with milder cases may not be diagnosed until they are older. When they do start to develop pain and other symptoms, they are often faced with surgical treatment options. But PT can be useful before surgery to try and strengthen the surrounding muscles and improve flexibility. Hip dysplasia physical therapy is also a critical part of surgical after-care, helping the patient to get back to normal activities without pain and with strength and confidence in their movements.
Physical Therapy for Hip Replacement
Hip replacement surgery is a fairly common procedure that is done to relieve pain, improve mobility, restore "normal" activities, and to repair damage after an injury. While this type of surgery is often very successful, your recovery greatly improves with the addition of physical therapy for hip replacement as an added layer of care.
PT after hip surgery, any type of hip surgery, is the best way to speed along the process and ensure that the body adapts and recovers strength and flexibility. An added wrinkle to recovery from hip surgery is that the patient, in many cases, has been suffering for awhile and most likely has been avoiding exercises that cause additional pain. Therapy, in these cases, not only helps get the individual back to pre-surgical strength but pushes them further so they are stronger than they have been in a long time.
Physical Therapy After Hip Fracture Surgery
As the elderly population is growing, the incidence of hip fractures is also on the rise. The good news is that studies have shown that physical therapy after hip fracture surgery can greatly shorten hospital stays and improve clinical outcomes.
Postoperative rehabilitation often begins in the hospital, as soon as possible. These "exercises" are often very simple and focus more on having the patient sit, put gentle pressure on their toes, foot, and leg, and then walking with assistance.
Once released from the hospital, a more extensive physical therapy treatment program will be implemented. At Physical Therapists NYC, we will work closely with you to ensure you're recovering as quickly and comfortably as possible. Our goal is to create a long-term approach to pain-free movement with a focus on strength and flexibility.
Schedule A
Consultation For Hip Pain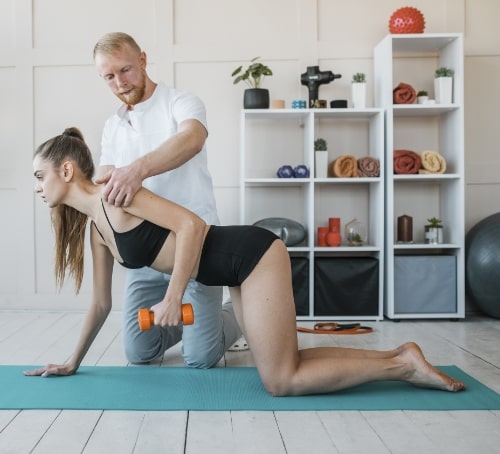 Book Your Appointment Now at Physical Therapists NYC
If you are suffering from hip pain, our medical team at Physical Therapists NYC is ready to pinpoint the cause of your pain and put you on the path toward recovery.
Our team is led by our well-trained NYC hip pain doctors who listen to your concerns and guide your recovery plan. They will pay attention to your list of symptoms, perform diagnostic tests using our state-of-the-art equipment, if necessary, and then move into the gym to take advantage of modern tools, equipment, and techniques to speed up your healing process.
From the minute you walk in our door of our modern offices, we will work to accommodate you. We understand that many of our patients work on Wall Street and in Downtown NYC, which is why we have early morning and late evening hours, so you don't have to miss work.
Connect with our office to schedule an appointment for hip pain treatment, limited range of motion, arthritis, bursitis, post-surgical hip therapy, and other conditions.