Lymphatic drainage massage treatment, sometimes referred to as manual lymph drainage, is a gentle form of massage that's used to relieve swelling in the lymph nodes. In most cases, this swelling is caused by lymphedema or the draining of the lymph fluid into soft tissue. It's most common in breast cancer patients but can occur with other cancer surgeries, radiation treatment, and other medical conditions.
At Physical Therapists NYC, we can help patients who are suffering from painful swelling due to a collection of lymph. Lymphedema happens when your body's tissues hold onto fluid that normally would have returned to the heart by way of the lymph vessels and lymph nodes. If something disrupts this normal process, the fluid collects and as more and more collects there is more swelling, pressure, and pain. Our therapists use specialized lymph drainage massage to move lymph fluid to the lymph nodes and correct the process. This reduces swelling and it can immediately relieve pain.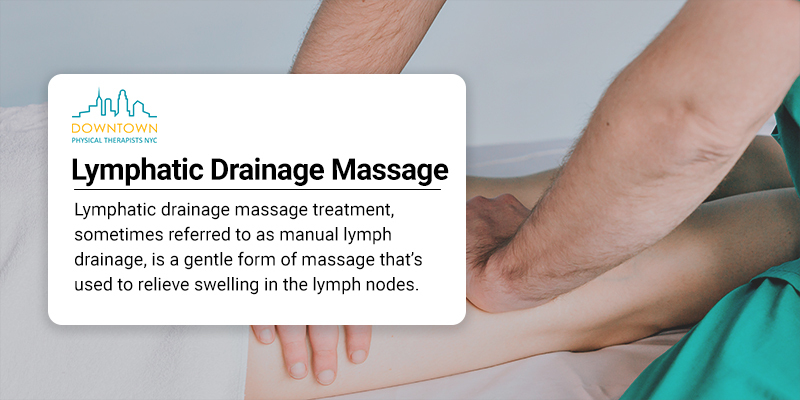 How Lymph Drainage Massage Works
The blood in your body contains more than just oxygen and nutrients, it's the lymph system's job to collect the mixture of proteins, water, waste products, and immune system elements in the body and filter it so that a "more pure" mixture is available for the veins to carry to the heart. When this process isn't working correctly this fluid collects.
Traditionally, compression bandages are prescribed to help patients with lymphatic issues, but lymph drainage massage can be an added therapy that more quickly restores the body to a pain-free condition with less swelling.
Before you are treated at Physical Therapists NYC for lymphatic conditions, your therapist will talk to you about what the massage will entail. They'll examine the areas of concern to see the location and severity of your complaints. A particular sequence of massage techniques that include stretching, compressing, gliding, and cupping physical therapy will be used to stimulate the lymphatic system. This is all very gentle and designed to ease fluids into the nodes so they can be processed naturally.
CLIENTS TESTIMONIALS
Created good relationship with new P.T, I Like him, You will too!
CR
Excited to go back to my daily activies, I recommend 100%
CS
Who Can Benefit from Lymphatic Drainage Massage Treatment
While anyone who develops lymphedema, regardless of the underlying cause, can benefit from lymph massage, there are some other conditions that also see benefits from this treatment.
Fibromyalgia is a very complicated diagnosis and many times the origin of pain is undetermined, what is know is that it causes inflammation of the nerves in the skin and tissue swelling. Massage of the lymphatic system has improved the pain symptoms of many of these patients and decreased swelling.
Rheumatoid arthritis. As rheumatoid arthritis progresses, the efficiency of the lymph system is often decreased, which leads to additional swelling and joint concerns. During this stage of rheumatoid arthritis, lymphatic massage can ease the swelling and prevent further damage to joints due to fluid build-up.
Chronic venous insufficiency. This condition happens with the walls of the veins in the legs stop working correctly and blood has a hard time making it from the legs back up to the heart. Massage can help speed up blood flow.
Certain skin discoloration. Many times, when the lymph fluid builds up and swelling occurs, it causes discoloration, usually redness, of the skin. For some, it's this discoloration that is the first sign of lymphedema. In these situations, a lymph massage is the fastest way to resolve skin discoloration.
One thing to note is that lymphatic drainage massage should be performed by skilled experts. In recent years, lymphatic drainage massage face has become a highly searched term, and some have even called lymph massage of the face a mini-face lift. There is no scientific evidence to support these claims.
However, you can have swollen lymph concerns in the face, they are typically due to a viral or a bacterial infection or lymphoma. In these situations, seeing a trained specialist at Physical Therapists NYC can help relieve any feelings of pain and swelling which can improve your appearance if you have discoloration and edema.
Schedule A
Consultation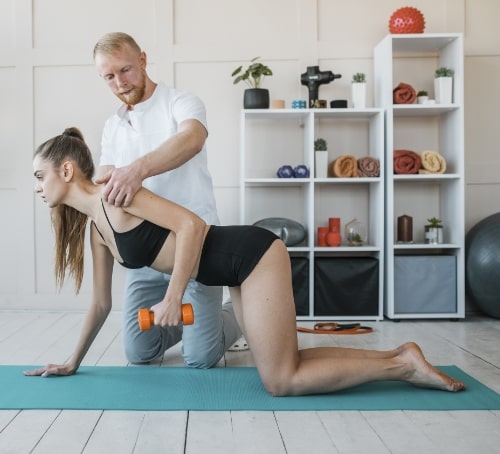 Book Your Physical Therapy Appointment Now at Physical Therapists NYC
If you are looking for lymphatic drainage massage NYC, then our office is the first place to contact for care. At Physical Therapists NYC, we have trained members on staff trained to perform lymphatic massage to relive your pain and help your body function appropriately again.
Our patients are our top priority, and our goal is to bring you long-term pain-free relief with the most effective treatment plan possible. Led by a team of in-house medical doctors, our physical therapy experts can ensure your care is delivered with experience and expertise.
We specialize in treating busy professionals at Physical Therapists NYC, mainly because we are in the heart of the business district. Our downtown location makes it convenient for people who work in the city and on Wall Street to find the time to be seen for care and to have minimal down time in their day. To better accommodate your schedule, we have early morning and evening hours. It should be noted, those are very popular time slots, so we suggest scheduling today to ensure you get the time you want.
In our office, we feature some of the best state-of-the art diagnostic tools available and a well-appointed, full gym for your workouts and exercises. Having the latest and the best technology leads to a faster recovery with less setbacks along the way. We also put a lot of stock in our physical therapy staff, making sure that we have top-rated therapists who are leaders in their field. Your health care is our priority.
Connect with our office today to schedule a physical therapy appointment and begin living your life to the fullest again.