Ankle pain can be distressing, interfering with your daily activities and causing a decline in your performance at work. Physical therapy for sprained or broken ankle as well as tendonitis, shin splints, and ankle arthritis has been shown to help with the rehabilitation of injured extremities while also providing relief for both acute and chronic pain. Improve your joint mobility and reinforce muscles to restore the range of motion with the help of skilled ankle injury rehabilitation specialists located in Brooklyn and Manhattan, NY.
If something is wrong with your legs, ankles, and feet, it doesn't take long for the rest of your body to feel out of sorts. Pain in this region can immediately compromise your mobility, daily activities, and the enjoyment of your life.
People suffering with ankle pain or injuries may be able to find relief with a few days of rest and home care, but a persisting level of pain, limited range of motion, or a more severe injury is reason to see a doctor. Most ankle pain can be traced back to an injury but there are some illnesses, joint problems, and disorders that can also compromise your ankle comfort.
Ankle therapy is often the best approach to relieving ankle pain, increasing mobility and strength in the ankle, and recovering from an injury or surgery. Our team of doctors specializes in top physical therapy approaches to treating ankle issues. This may include targeted exercises, ankle massage therapy, hands-on care, and modalities in your treatment plan to create a customized approach that gives you the most effective outcome in the shortest timeframe.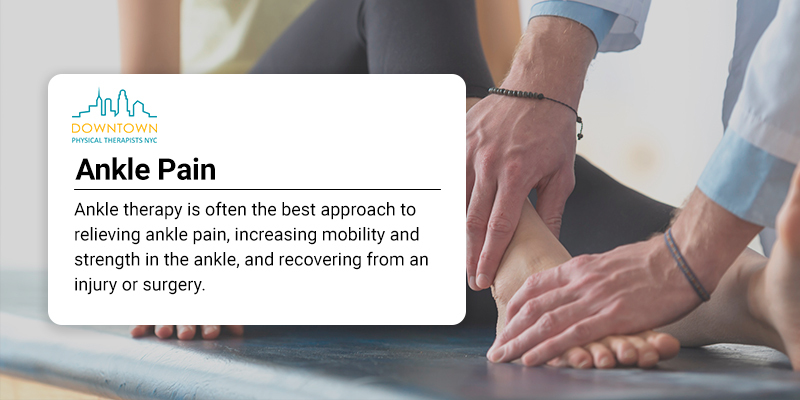 Ankle Physical Therapy Exercises
Your ankle joint is a weight-bearing marvel, but it's also very susceptible to injury. The worst thing is that an already compromised ankle is instable, which can lead to further injury. This is why seeking the help of a trained physical therapist is important. They can help you rehab your ankle faster and more effectively, so you heal quickly and eliminate your chance of further injury. They might also be able to help you improve your normal gait to avoid future problems.
Some very common ankle physical therapy exercises you may encounter at Physical Therapists NYC include:
Dorsiflexion, pulling toes upward
Plantar flexion, pointing your toes
Inversion, moving toes and whole foot inward
Eversion, moving toes and whole foot outward
Writing the alphabet in the air with your toes
Calf raises
Shifting your weight
Balance exercises
These exercises are not just useful for people with ankle pain or injuries, they're great ways to strengthen your ankle and improve your balance. This can help with walking, running, other physical activities, and sporting pursuits. Doing some of these exercises regularly or before sports can reduce your odds of having an ankle injury.
CLIENTS TESTIMONIALS
Great visit, helped work out all my stiffness, very gentle.
CR
Great therapist, really gives a lot of attention and care.
SK
Physical Therapy for Sprained Ankle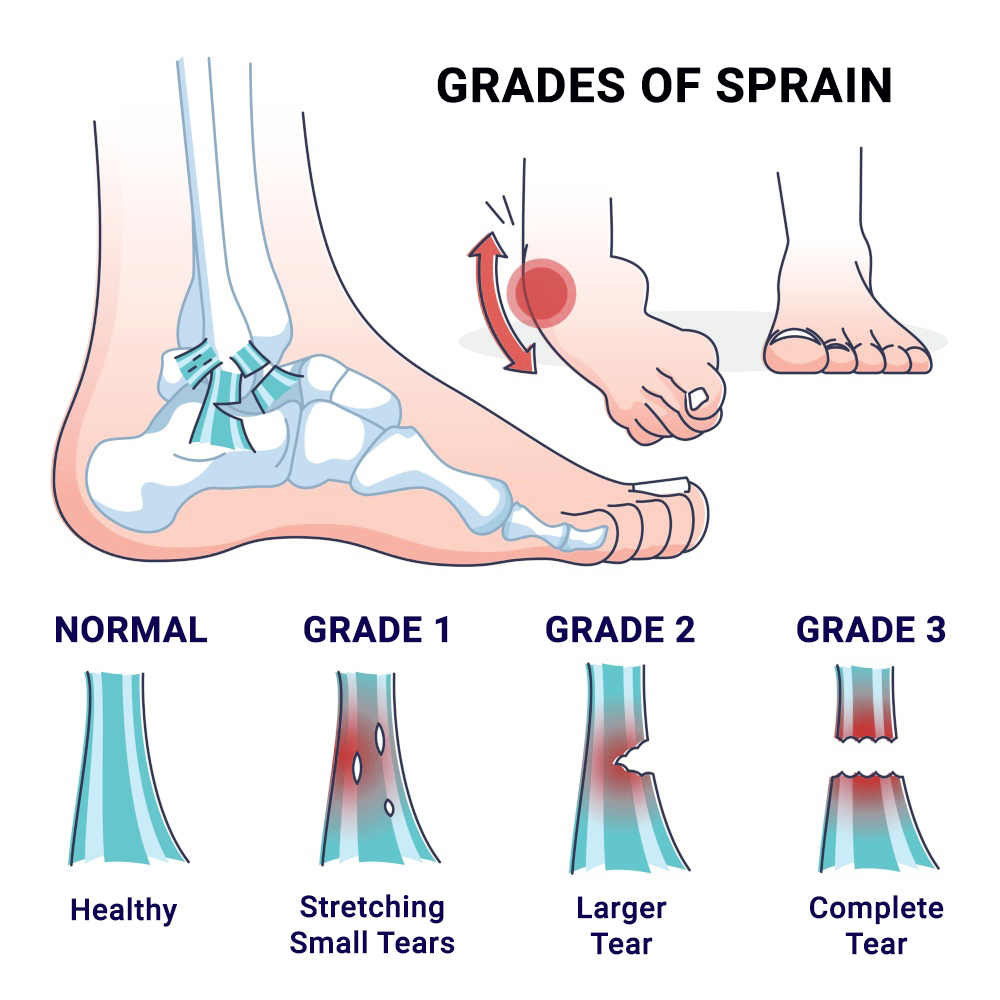 Sprained ankle therapy is a very common prescribed approach for people who have a sprain, a strain, or have rolled their ankles. A sprain happens when your ankle ligaments are stretched further than they're meant to go. Sprains can happen to ligaments that were simply stretched too far, ligaments that have ripped, and ones that have been completely torn.
In most situations, a sprain occurs to the lateral ligaments, these are the ones on the outside of your foot. The medial, or inner side of the ankle, is less often injured but it can happen. Most sprains heal within a couple months, but the recovery time can be much longer depending on your all-over health and the level of injury.
PT is one of the best treatment options available for sprained ankles. Not only does physical therapy for sprained ankle address the immediate issues of pain, lack of mobility, and recovery, it can be an effective tool for strengthening the ligament and surrounding muscles so future injuries don't occur. Unfortunately, if you sprain your ankle, you're more likely to reinjure yourself in the future. This is why doing all that you can to strengthen the ankle is so important.
Read more: What Are The Benefits Of PULSE PEMF Therapy?
Physical Therapy for Broken Ankle
A broken ankle is typically very painful, and it instantly changes your level of mobility. Obviously, you will need to be seen by a healthcare professional immediately. Most people with broken ankles head directly to urgent care or the hospital. Once the ankle has been set, you'll most likely be place into some type of cast, you may have a few different ones throughout your healing process. You'll likely have a few different assistive devices for mobility too.
Some patients who have had broken ankles will be immediately referred to a physical therapist to receive instruction on how to best use their assistive devices during recovery. You will eventually receive ankle fracture physical therapy, but that will come later, after your bones have had time to mend. In the meantime, learning to walk with crutches, a cane, or a walker is important and can help you understand weight-bearing restrictions.
Your therapist may also begin working with you to strengthen the knee and hip of the affected leg so you're in better shape when it's time to begin ankle therapy. Having strong muscles can greatly reduce your odds of a future injury after your bone has healed.
Broken ankle physical therapy also plays a big role in the healing process. Wolff's law states that a bone grows and remodels in response to stress. Our therapists are experts in applying the appropriate stress and teaching you how to do this, so you get the maximum healing benefits.
PT After Ankle Surgery
Some broken ankles require surgery for remodeling of the bone and setting but there are other reasons for ankle surgery.
Arthritis
Tendonitis
Chronic ankle instability
Deformity of the ankle
Not only are there different conditions that might require ankle surgery, there are different types of ankle surgery. They include:
Ankle arthroscopy
Tendon surgery
Ankle fracture surgery
Ankle fusion
Ankle replacement
Lateral ankle ligament reconstruction
No matter why you're having ankle surgery or what type of surgery it is, you will most likely have physical therapy after ankle surgery. This therapy helps you recover from the initial issue that prompted surgery and the surgery itself. It's not just about being able to move your ankle again, PT after ankle surgery can help with the following:
Preventing blood clots
Eliminating scar tissue
Reducing swelling and inflammation
Increasing strength in the ankle
Increasing strength in the rest of the foot and leg
Restoring range of motion
Gait retraining to prevent future injuries
If you know that you're going to have ankle surgery, it's a good idea to connect with a physical therapist before surgery so you can schedule an appointment as soon as possible after your surgery.
Schedule A
Consultation For Ankle Pain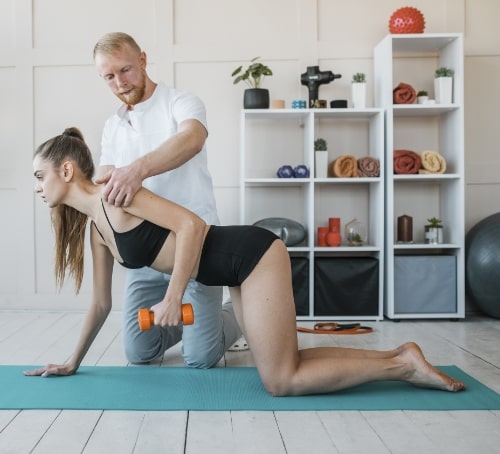 Book Your Appointment Now at Physical Therapists NYC
If you have ankle pain, a sprain, or a broken ankle, our staff is here to help. From the minute you enter our modern downtown offices, we will work to accommodate you. Our goal is to create a comfortable experience that makes coming to therapy easy and enjoyable. We understand that many of our patients work on Wall Street and in downtown NYC, which is why we have early morning and late evening hours, so you don't have to miss work.
Our team is guided by our well-trained medical doctors who listen to your concerns and draft your recovery plan. They will pay attention to your list of symptoms, perform diagnostic tests using our state-of-the-art equipment, if necessary, and then move into the gym to take advantage of modern tools, equipment, and techniques to speed up your healing process.
It is our mission, at Physical Therapists NYC, to create a treatment plan that is customized to your diagnosis and your level of comfort. We will work with you to define long-term goals and create a map for ankle recovery that will help prevent future injuries. For us, it's not just about treating you today but giving you the best possible future solutions as well.
Connect with our office to discuss your ankle pain and how best to approach scheduling an appointment or a consultation with our PTs. We're here to help throughout your recovery journey.