Myofascial pain syndrome is a chronic pain disorder that's generalized in one location on the body. It's typically caused by repetitive stress or repetitive motions. Contrasted to an overuse injury, rather than slowly recovering, people who have myofascial pain syndrome feel their muscle aches worsening. When this happens, it's best to seek professional myofascial pain syndrome treatment at Physical Therapists NYC.
What Causes Myofascial Pain Syndrome
The soft tissues in your body that help support your muscles and bones are referred to as your fascia. When you are injured or repetitively use a particular muscle set, there can be small tears that cause scar tissue in your fascia, called trigger points. Where that fascia connects to your muscles is specifically at risk for this type of pain which can turn into myofascial pain syndrome.
Almost everyone experiences some muscle pain from overuse at some point in their lives, whether they've lifted something very heavy, worked out too hard at the gym, or danced the night away – sore muscles are often the result and generally no need for concern. It's when a sore muscle doesn't get better after a couple of days that there might be an issue. Myofascial pain syndrome is evidenced by pain that will not go away or that gets worse, it can typically be felt as a "knot" in the muscle. This is a trigger point that is signaling the nerves to prompt a pain response.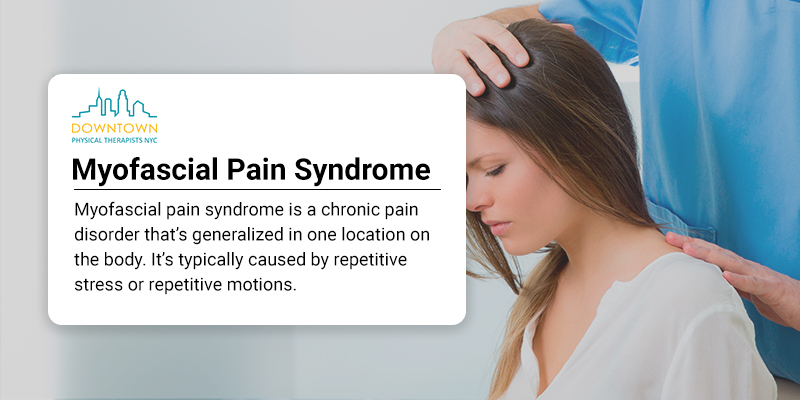 Myofascial Pain Treatment
There are a variety of different myofascial treatment options, the most successful typically include a few different treatments combined with physical therapy to create a multi-pronged approach for more immediate pain relief and long-term results. Some treatments you may encounter include medications such as:
Pain relievers. Usually, over-the-counter pain relievers will be the first approach, but your doctor may suggest a stronger, prescription pain reliever or a pain patch.
While it's not uncommon for people with chronic pain to also have depression, that's typically not why they're prescribed in this case. Many antidepressants are also very effective pain relievers, and they can improve sleep.
Loss of sleep often is a symptom of myofascial pain syndrome which can bring about anxiety. Sedatives may be a solution to both of these concerns.
CLIENTS TESTIMONIALS
Perfect choice, thank you for the warmth kindness.
CR
Overall he's a good Dr.
Tyron
 Physical Therapy for Myofascial Pain Syndrome
One of the best treatments for myofascial pain syndrome is physical therapy. At Physical Therapists NYC, we use several different techniques to create a customized plan for each patient that will deliver immediate and long-term relief. Some treatments that may be combined to give you pain relief include:
Hands-on care is often the most beneficial in these situations. You may receive a massage to relax tense muscles or a specific massage called Active Release Technique (link to ART page) to really target the trigger point causing your pain.
Graston Technique. The Graston Technique (link to this page) is another method that uses tools to massage and treat the affected areas by breaking up scar tissue and prompting the body's own natural healing process.
Trigger Point Therapy. There are two different types of myofascial trigger point therapy (link to page), manual and dry needling. Both techniques can provide rapid results when it comes to pain relief and an improved range of motion.
Cupping Myofascial Decompression. This method combines negative pressure technology to release the fascia and muscle tissue underneath. While most approaches to physical therapy are compressive and use tissue mobilization to break up scars and trigger points, cupping therapy uses decompression to pull apart adhesions and boost fluid and nutrient exchange.
Ultrasound therapy uses sound waves to increase blood circulation and warm the area in question which can promote natural healing.
Reeducation and Lifestyle Changes. Because myofascial pain syndrome is most frequently caused by repetitive injuries due to work, hobbies, or sporting activities, a change in lifestyle or a new approach to these activities might be necessary. By working with a physical therapist, you can discover new ways to perform routine acts that will avoid excessive use of the afflicted area. Certain lifestyle changes including routine exercises to build up strength in that region can also make a big impact.
If you have pain that won't go away and appears to be getting worse, it's best to seek early treatment from a physical therapist at Physical Therapy NYC. We'll work with you to relieve your pain symptoms and find new ways to approach your activities, so you do not have a recurrence of pain.
Book Your Appointment Now at Physical Therapists NYC
At Physical Therapy NYC, we use a multi-pronged approach to providing myofascial pain syndrome treatment. We believe that coming at your problem from different angles gives you a greater chance for recovery in the shortest amount of time possible. Then, continuing on a program of regular exercise, relaxation techniques, and modification of movement will help you avoid these pains in the future.
Our patients are our top priority, and our goal is to bring you long-term pain-free relief with the most effective treatment plan possible. Led by a team of in-house medical doctors, our physical therapy experts can ensure your care is delivered with experience and expertise.

Schedule A
Consultation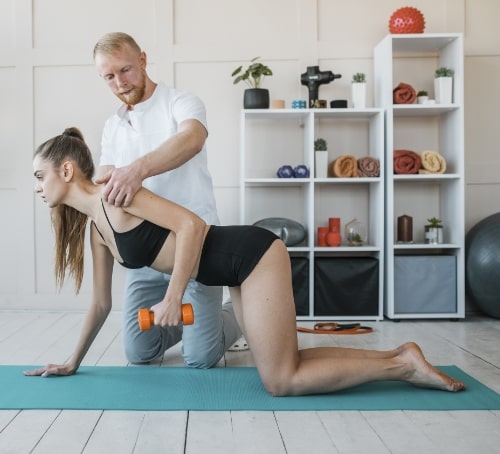 We specialize in treating busy professionals at Physical Therapists NYC, mainly because we are in the heart of the business district. Our Downtown location makes it convenient for people who work in the city and on Wall Street to find the time to be seen for care and to have minimal downtime in their day. To better accommodate your schedule, we have early morning and evening hours. It should be noted, that those are very popular time slots, so we suggest scheduling today to ensure you get the time you want.
In our office, we feature some of the best state-of-the-art diagnostic tools available and a well-appointed, full gym for your workouts and exercises. Having the latest and the best technology leads to a faster recovery with fewer setbacks along the way. We also put a lot of stock in our physical therapy staff, making sure that we have top-rated therapists who are leaders in their field. Your health care is our priority.
Connect with our office today to schedule a physical therapy appointment and begin living your life to the fullest again.