Arthritis is the most common joint disorder in the U.S., affecting millions and causing pain, swelling, and stiffness that typically worsens with age and significantly lowers the quality of life. A highly skilled team of PT professionals in Downtown Manhattan and Downtown Brooklyn, NY, can develop a customized arthritis physical therapy program to help you maintain and even increase your strength and mobility. Our experienced therapists will also provide you with the resources you need to avoid future arthritis-related symptoms and injuries.
Arthritis is one of the leading causes of disability in the United States, affecting more than 50 million adults. There are more than one hundred different types of arthritis with varying degrees of disability and pain associated with each one. If you're suffering with any form of arthritis, you're probably very concerned about maintaining as much mobility and flexibility as possible while keeping your pain at a minimum or avoiding pain altogether. The good news is that physical therapy can play a large role in your arthritis treatment plan.
Your primary physician may have you use some prescription medications for your arthritis but adding physical therapy is a great natural treatment for arthritis that can help you overcome the pain and stiffness without relying on additional medications. Your therapist can also help you learn some arthritis management exercises that will help you control your symptoms on your own.
What Is Arthritis?
Arthritis is an umbrella term used to describe over 100 different conditions characterized by inflammation in the joints or other parts of the body, most commonly affecting the hip, knee, spine, fingers, and other non-weight-bearing joints. Joint inflammation in arthritis is caused by an overactive immune system and can be defined as a cut or bruise on the inside of the joints, which causes discomfort and stiffness.
What Are the Symptoms of Arthritis?
Arthritis begins with minor symptoms that gradually worsen over weeks or months. The most common symptoms of arthritis include:
Swelling and stiffness in the joints
Pain in the affected joints
Limited mobility
Tingling and loss of sensation
Fever
Weight loss
Some kinds of arthritis, such as osteoarthritis and rheumatoid arthritis, can affect organs other than the joints, resulting in the symptoms listed below:
Red eyes
Skin problems
Muscle weakness
Dry mouth
Cataracts
Difficulty sleeping
Who Is at Risk for Arthritis?
Some risk factors for arthritis are modifiable and some are not. The following are some contributing factors to arthritis you can control:
Being overweight
Previous joint damage
Smoking
Poor diet
Repetitive motions involving the same joints
An abundance of sedentary behavior
The arthritis risk factors that cannot be controlled include:
Being a woman
Heredity and family history of arthritis
Older age
Understanding the precise role and timing of action of arthritic risk factors is critical. Our arthritis physical therapy specialists in NYC have the knowledge and expertise to help you get back to feeling stronger and healthier.
Physical Therapy for Arthritis
Physical therapy is one of the best natural arthritis treatment options around because it has a layered effect for sufferers. There are four primary ways that physical therapy for arthritis helps patients, and those benefits are compounded for greater relief.
Range of motion. Working with one of our physical therapists can help you support your current range of motion longer for more comfort and physical activity. There is also a possibility that you'll be able to improve your range of motion and participate in activities that you'd given up due to arthritis.
Targeted pain relief. Some forms of arthritis pain are triggered by your environment. A physical therapist can discover what part of the body is most affected and they can walk through your day-to-day life with you to uncover what's causing the problem. Not only that, but they can help you learn new approaches to aggravating movements and repetitive motions to avoid future pain and joint damage.
Improve muscle strength. One of the biggest benefits of physical therapy is the targeted strengthening of muscles. This can lead to more stability and support surrounding your joints which removes stress and pain.
Modalities for immediate relief. Therapeutic modalities like heat and cold, electrical stimulation, hands-on care and massage therapy, ultrasound, and others can remedy pain and give you future arthritis pain management techniques.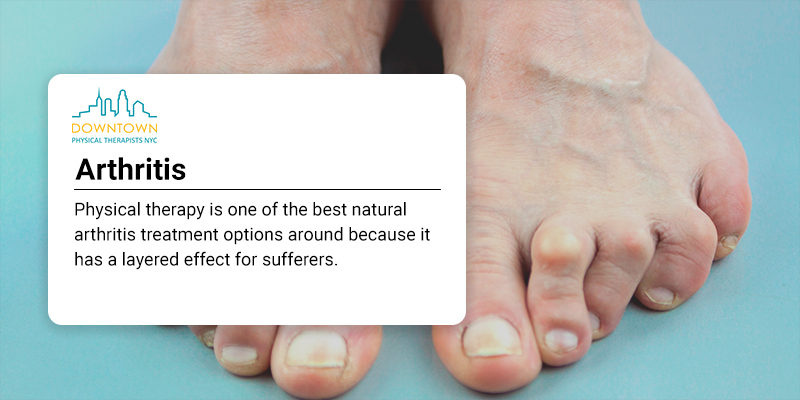 CLIENTS TESTIMONIALS
Great visit, helped work out all my stiffness, very gentle.
CR
Great therapist, really gives a lot of attention and care.
SK
Osteoarthritis and Physical Therapy
Osteoarthritis (OA) is the most common type of arthritis. This is what people are thinking of when they relate arthritis with aging because it's caused by wear and tear damage to the joint's cartilage. The main job of cartilage at the ends of bones is to cushion movement so the joint can move slowly. When the cartilage is worn away the bones begin to rub against each other causing pain and restricted movement. It's true that OA typically happens over time or with aging, but it can also be caused by an injury or an infection in the joint.
Because osteoarthritis often happens due to use and time, it tends to affect weight-bearing joints more frequently. Physical therapy cannot "fix" osteoarthritis, but your therapist can look at how you move throughout your day and recommend different techniques that will reduce pain levels and improve movement and flexibility.
Many times, OA requires surgery for joint repair or replacement. A physical therapist is an essential part of your surgical recovery team as they help you rebuild strength and range of motion. You'll find, with diligent work, that you can move better with physical therapy for osteoarthritis surgery then you could pre-surgery.
Rheumatoid Arthritis Treatment and Physical Therapy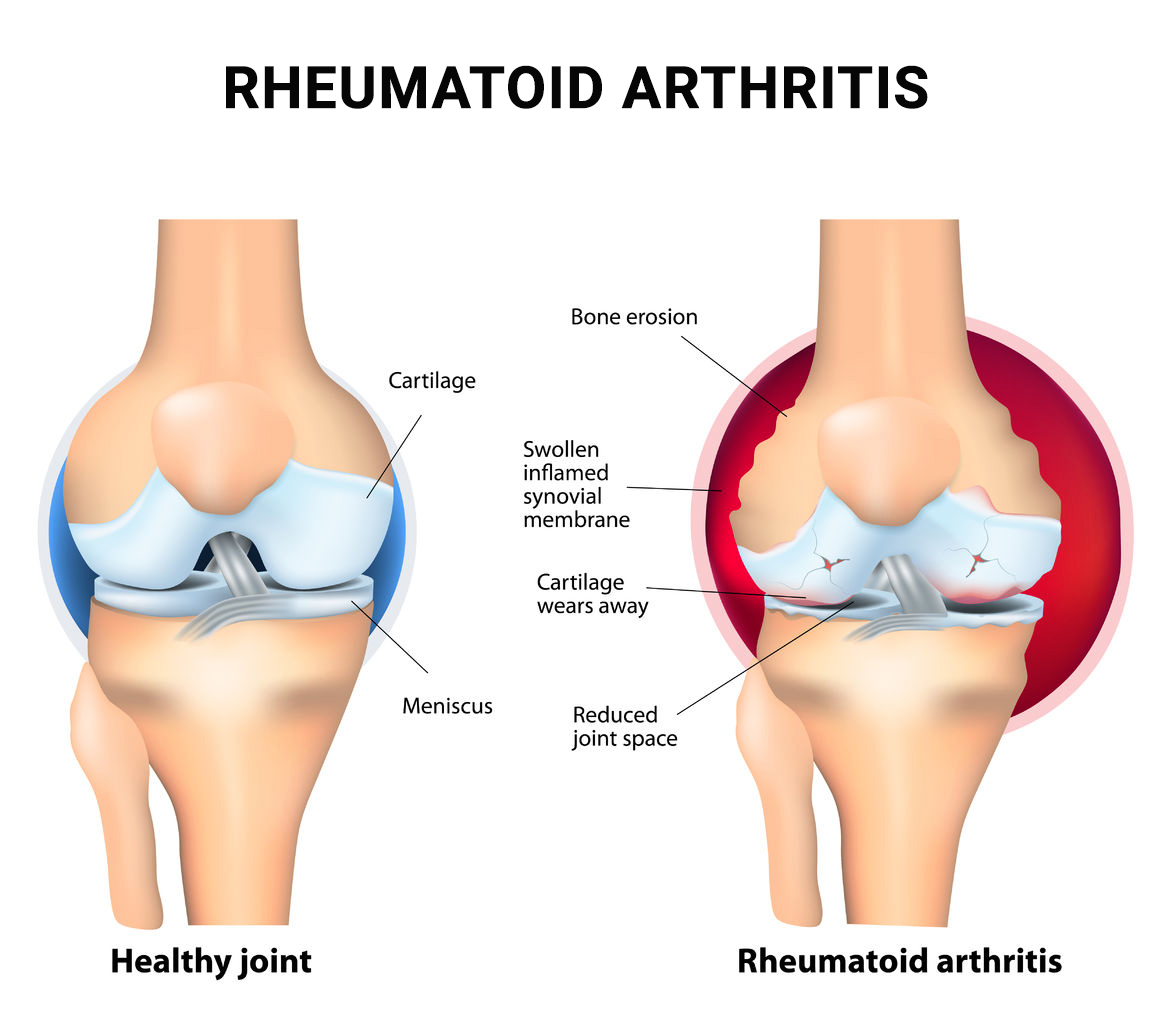 Rheumatoid arthritis (RA) is one of the most common forms of arthritis and it's caused by the body's own immune system attacking the lining of the joint capsule. This causes that area to become inflamed and swollen and can destroy the cartilage within the joint.
There is no cure, but management of rheumatoid arthritis is possible with help from a rheumatologist and a physical therapist. Early intervention, diagnosis, and rheumatoid arthritis treatment can prompt remission of symptoms.
Our best physical therapist will work with your doctor to create a rheumatoid arthritis treatment plan that takes your level of the illness and function into consideration. The first step in your therapy will be to assess pain and range of motion and make measurements. The next step, and what might be most important to the patient, is immediate action for rheumatoid arthritis pain management. This may include:
Hands-on treatments and massage therapy
Stretching and strengthening exercises
Movement re-training including joint protection techniques
Aerobic conditioning
Hot and cold treatment
Radiant heat from infrared radiation
Ultrasound and diathermy
Cryotherapy
Electrical stimulation and iontophoresis
Infusion therapy for rheumatoid arthritis
Using adaptive equipment
Schedule A
Consultation For Arthritis Physical Therapy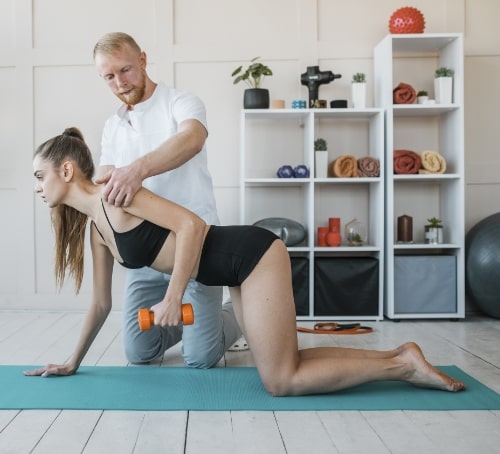 Psoriatic Arthritis Treatment
People who have the skin condition psoriasis may also develop psoriatic arthritis. This is an inflammatory type of arthritis that causes joint stiffness and pain due to swelling and it is progressive. It is another condition that cannot be cured but treatment can be very beneficial.
A rheumatologist should head up the treatment team for anyone with psoriatic arthritis, but a physical therapist can play an important role in improving the life of someone who is diagnosed with this type of arthritis. Psoriatic arthritis treatment in the physical therapy office will focus on education, improving range of motion, strengthening and general cardiovascular conditioning. Modalities, similar to those used for rheumatoid arthritis, will also be used to relieve pain and improve physical function.
Physical Therapy and Other Types of Arthritis
While OA, RA, and psoriatic arthritis are three of the most common types of arthritis, there are still many other forms. In some situations, focusing on the specific type of arthritis isn't as beneficial as focusing on the body and the region affected by pain, swelling, and limited movement that is caused by arthritis.
Physical therapy for knee arthritis is very common in our office because the knees take so much physical abuse throughout a lifetime. If you're looking for an arthritis knee treatment program because you're feeling the effects of time and use on your knees, you're probably already noticing an inability to move like you once used to. People who are very active tend to experience this type of arthritis and it severely limits their ability to perform the activities they once loved. Physical therapy exercises for knee arthritis often turn to more gentle forms of fitness like swimming, biking, and stretching with great results.
Physical therapy for hip arthritis is another common request in our offices. Hips are load-bearing regions of the body that also take a lot of abuse and they're very susceptible to injuries from falls. Hip arthritis treatment often begins with activity modification. The focus is on remaining as active as possible but doing it in a way that relieves extra pressure and reduces pain for long-term success.
Arthritis in the neck or cervical spondylosis is less common but can be very debilitating for the patient. Neck arthritis treatment with a combination of over-the-counter-pain medications and physical therapy can be very beneficial. Some types of neck arthritis are caused by injuries, and they typically resolve over time. Others are due to poor posture and repetitive motions. In these situations, movement re-education and adaptations will be the best path to pain relief and there's no one more qualified to help with this than a physical therapist.
Spinal arthritis treatment can cover a wide range of aches and pains that are all related to the spine, from the cervical spine all the way down to the sacrum. In fact, arthritis in back treatment can be a little tricky because you can feel the pain or limitation in movement in your extremities too. The key for physical therapy with spinal arthritis is to focus on gentle spinal exercises and a reduction in inflammation for improved range of motion. Overall fitness can be a big step toward relieving this type of back pain.
Shoulder pains related to arthritis are often the result of overuse due to sporting activities or work, but trauma can also come into play. Shoulder arthritis physical therapy generally puts improved range of motion at the top of the list along with pain relief. A review of daily activities and tasks will play a big role in the creation of a treatment plan that is customized to your level of activity and pain. Using modalities, exercises, stretching techniques, and building strength all plays into relieving these symptoms.
Book Your Arthritis Therapy Appointment Now at Physical Therapists NYC
If you have an arthritis diagnosis or are concerned that the pain and stiffness you're experiencing are related to arthritis, it's time to come into our Physical Therapists NYC office to receive a proper diagnosis and begin physical therapy.
Our skilled and award-winning physical therapy team is led by well-trained medical doctors who listen to your concerns and guide your recovery plan. They will pay attention to your list of symptoms, perform diagnostic tests using our state-of-the-art equipment, if necessary, and then move into the gym to take advantage of modern tools, equipment, and techniques to speed up your healing process.
Connect with our office to schedule an appointment. In many cases, early intervention and treatment of arthritis can lessen the effects and improve your quality of life.