Meet with the best rehab post fracture fixation physical therapists in New York, NY
Recovering from a fracture or a broken bone can be a long and painful process, but physical therapy can help ease the pain and shorten your recovery. In physical therapy, your focus will be on the muscles that surround your broken bone and how to regain strength after the bone has healed. In addition, a physical therapist can help you target other muscles that can help support your injured area and relieve day-to-day pains and pressures, so you recover faster and have less pain.
How Physical Therapy Helps Fractures
Whether you had surgery to reset your bone or not, you will spend some time with that area immobilized to promote healing. But even patients who are in the hospital immediately after surgery can benefit from having a physical therapy visit. When you're initially recuperating, your therapist will instruct you on proper techniques for using assistive devices and how to support your broken bone by adapting and relying on other body parts more heavily.
When you're ready to come to a physical therapy clinic to begin your treatments, you'll find that therapists can help in a variety of ways.
When you're ready to come to a physical therapy clinic to begin your treatments, you'll find that therapists can help in a variety of ways.
Understanding weight-bearing limits and how to maintain restrictions
How best to remove and apply slings, air casts, and other bandaging
Use massage and hands-on techniques to reduce scarring and adhesions
Use electrical stimulation and ultrasound to improve muscle recruitment
Build your range of motion and improve flexibility
Manage pain and measure pain levels
Develop more strength in the area and surrounding regions
Gait analysis for lower extremity bone breaks
Create a plan for overall function and mobility into the future
As you can see, having a physical therapist as part of your healthcare team can help broken bone recovery from the very beginning well into the future.

CLIENTS TESTIMONIALS
I was seen Fairly quickly and everything was very clean. Highly recomend this location and Dr Yadav
AS
Great office. Everyone was so kind and helpful. She treated me better than I have been in a while.
HE
Physical Therapy for Broken Bones
What types of breaks require or can benefit from physical therapy? Just about any of them because there will be a period of immobilization as the bone heals which may require some adaptive techniques. Then there is the period of recovery which often means your muscles need to rebuild their strength, range of motion, and flexibility. By using therapy and a customized treatment plan you can target your specific needs and speed up the healing process. Some common areas of fracture that require physical therapy are listed below.
• Physical therapy for broken ankle. Broken ankles can benefit greatly from physical therapy because there are so many affected muscles, joints, and tendons and because the ankle plays such an important role in walking and other forms of mobility. Physical therapy for broken ankle surgery is typically recommended as soon as possible to speed up recovery so the patient can get on their feet as soon as possible without the risk of further injuries. Broken ankle physical therapy exercises can include stretching and strengthening the entire leg, the toes and rest of the foot as well as the ankle itself.
• Physical therapy for a broken wrist. Similar to the ankle, the wrist involves a lot of intricate mechanics that work together to perform activities of the fingers, hands, and wrists. For most people, a speedy recovery from a broken wrist is highly desirable and they find that physical therapy not only helps things move along faster, but there is also less pain and less opportunities for complications. Physical therapy for broken wrist with plate is even more important because it often involves damage to surrounding ligaments which need extra attention that a physical therapist can provide.
• Physical therapy for a broken foot. Having prompt physical therapy following a broken foot is a critical part of the healing process. Exercises will provide the opportunity to build up strength in muscles while increasing flexibility and range of motion. Ligaments and tendons that have been immobilized will once again begin to move and work in conjunction with the rest of the foot structure.
• Physical therapy for a broken arm. If you've had a broken arm, stretching and strengthening exercises are key to returning your arm to its previous level of function. The arm includes several different bones, and the therapy will be modified to fit each region. Of particular importance will be any physical therapy exercises for broken elbow. A broken elbow causes stiffness in the joints and tight muscles that require movement to heal completely, and therapy is the best way to manage this with the highest degree of safety.
• Physical therapy for broken hip. If you've had hip fracture surgery, your rehabilitation, including physical therapy, will begin as soon as possible. For some people this means the day after surgery they'll consult with a physical therapist to begin care. Whether you've had surgery or not for a broken hip, movement is one of the best ways to maintain strength and mobility. Even sitting can be difficult at first but it's an important step that will keep healing on track.
• Physical therapy for broken pelvis. A cracked or broken pelvis can cause intense pain and can hamper movement or make it impossible to walk at all. Pelvic fractures are quite rare, but they are an injury that greatly benefits from adding physical therapy as soon as possible. Hands-on care and guided exercise will help restore your strength, mobility, balance, and function.
Book Your Appointment Now at Physical Therapists NYC
If you are recovering from a broken bone and live in or near the downtown New York City area, it's time to connect with our office and book an appointment today.
Schedule A
Consultation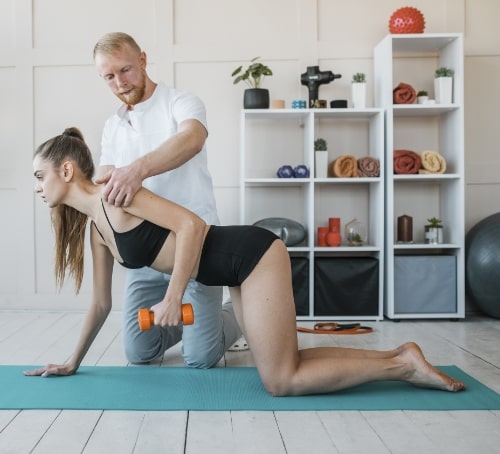 Our medical team at Physical Therapists NYC is ready to work with your primary care physician and/or surgical team to craft a fracture physical therapy program just for you. Your physical therapy treatment plan will be based on your pre-fracture lifestyle, your goals for recovery, and the severity of your injury. You can rely on our skilled and award-winning physical therapy team, led by well-trained medical doctors.
Our facilities feature state-of-the-art diagnostic tools, treatment modalities, and a full gym so your progress can be carefully monitored and charted. Because it's all housed in our convenient downtown NYC office, you don't have to worry about traveling to other facilities for x-rays and other post-surgical or follow-up care.
From the minute you walk in our door of our modern downtown offices, we will work to accommodate you. We understand that many of our patients work on Wall Street and in downtown NYC, which is why we have early morning and late evening hours, so you don't have to miss work.
Connect with our office today to schedule an appointment to begin your broken bone physical therapy.