Do you have questions regarding the treatments we provide, how to begin, insurance/billing processes, or what to expect at your appointments?
Be confident that we will be there for you at every stage of the process. Here are some frequently asked questions and the answers to them. Please feel free to contact us if you would like to learn more.
Can I Choose Physical Therapist on My Own?
You are allowed to choose the provider of your physical therapy treatment. However, we urge you to consider all of your options, and when you do, we're sure Physical Therapists NYC will go above and beyond your needs. We think we're the best option available for helping you in recovering from an injury, surgery, or chronic pain since we have several convenient locations, knowledgeable clinicians, and provide the flexibility to book your first appointment within 24-48 hours.
What to Bring to My First PT Appointment?
The list of things you have to bring to your first appointment at one of our rehabilitation clinics includes:
Photo ID
An accepted form of payment
Referral Information
Insurance cards/information
List of medications that you are taking now
Please arrive at least 15 minutes before the start of your session. Additionally, even though it's not required, you can bring any recent reports from your doctor that include information from a medical procedure, an MRI, or the findings of an X-ray.
What to Wear to My Appointments?
It is crucial that you feel comfortable. Hence, dress as though you're heading to the gym because your session may involve stretches and light exercise.
What Type of Treatments Our PT Specialists Perform?
We offer various types of hands-on physical therapy as well as laser therapy and complementary treatments such as therapeutic dry needling. Our physical therapists will put together an in-depth treatment plan to help you achieve desired results using the best equipment at our disposal.
What Are My Healthcare Privacy Rights?
We understand that information about you and your health care is private to you. Please, take a moment to review the HIPAA notice of privacy practices to learn more about your rights.
How Often Should I Have PT Appointments?
Each appointment will take 45 to 60 minutes on average. Your first examination will determine the number of times you will attend. However, most patients schedule three visits per week.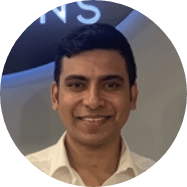 Dr. Hetarth Kapadia is a licensed physical therapist that has extensive experience working with orthopedic, neurological, and cardiovascular patients, bringing a wealth of knowledge and expertise to the practice.
Dr. Hetarth Kapadia received his Bachelor's degree in physical therapy from S.B.B. College Of Physiotherapy and his Master's degree in Kinesiology from California Baptist University, Riverside, California, with a major in Exercise Science.
Dr. Hetarth is now pursuing his Doctorate in Physical Therapy at Touro College in New York. Before becoming a part of our practice, he worked in New York at various outpatient clinics where he dealt with patients with musculoskeletal and orthopedic disorders.
More about Dr. Kapadia