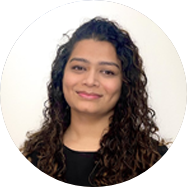 Dr. Nidhi Patel, PT
Physical Therapist
"I'm better than I was before thanks to Dr. Patel's guidance and professionalism. I'll highly recommend her to all my family and friends."
Dr. Nidhi Patel is a patient-centered Physical therapist in New York who specializes in advanced treatment for patients suffering from musculoskeletal and neurological disorders. She delivers highly customized care with an innovative approach to recovery based on knowledge of pain management and human anatomy.
Dr. Patel improves patient outcomes by teaching and coaching others. She prides herself on being adaptable to changing treatment strategies based on each patient's unique needs. She worked in outpatient orthopedics, inpatient acute care/rehab, and long-term care/skilled nursing during her training.
She enjoys spending time with family/friends and exploring new places in her free time.
Specialties:
Education and Training:
DPT: Physical therapy
University of Montana ‐ Montana, Currently Pursuing
Master of Science: Physical therapy in Rehabilitation
Ahmedabad Institute of Medical Sciences ‐ Ahmedabad, India
Bachelor of Science: Physical therapy
SNDT women's University ‐ Surat, India
Physical Therapist
Theradynamics Physical therapy (Hands of Hope PT PC) ‐ New York, NY
Strengths:
Musculoskeletal Rehabilitation
Neurological Rehabilitation
Postoperative rehabilitation
Manual Therapy
Provider information
NPI: 1831848605
Specialty: Physical Therapist (225100000X)
License: 046870
PECOS ID: 4688971716
Practicing from: 2022
Accepts Medicare: Yes
About Our Centers
Our qualified therapists treat numerous pain disorders using a comprehensive rehabilitation approach. We have several sites throughout New York.
If you experience pain and need outpatient physical therapy, you've come to the perfect spot. People in New York City and Brooklyn suffering from lower back, sciatica, knee, shoulder, and neck discomfort can benefit from our hands-on, one-on-one physical therapy.
Our top-rated physiotherapists in New York are passionate about utilizing time-tested physical therapy approaches to treat pain concerns with the help of non-invasive treatment options. We also treat patients who have orthopedic, neurological, or cardiovascular issues.
CLIENTS TESTIMONIALS
Dr. Patel was friendly, professional, and attentive. She listened to my concerns and provided me with useful feedback and exercises to perform in between sessions.
Patient
Dr. Patel deserves a standing ovation! She is a professional with excellent therapy and communication skills. She truly makes physical therapy enjoyable and engaging. I couldn't have had a better experience…
Patient