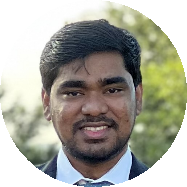 Dr. Suresh Kotte, PT
Physical Therapist
"Amazing care and felt super comfortable. Had a sports injury to my ankle and I already feel better will continue coming!"
Dr. Suresh Kotte has completed his master's in kinesiology from Dallas baptist university and his bachelors in physical therapy degree from KIMS college of physiotherapy, Hyderabad, India. He is a licensed physical therapist in the state of New York since 2021.
He is a certified BLS and ACLS provider. He has an extensive experience of 6 years working as a physical therapist in India as well as the USA. He has expertise in Muscloskeletal, Neuro and Sports rehabilitation and believes in using the evidence based practice for the betterment of the patients.
He had the opportunity to work in different set ups such as inpatient, in home health therapy and outpatient and sports rehabilitation facility. He is passionate about exploring creative ways to make the process of rehabilitation fun and exciting for his patients. He believes patient education is integral to exercise prescription and adherence.
He is currently working towards gaining his CSCS and OCS certificates. In his free time, he enjoys playing badminton, cooking, watching movies and sports.
Board certifications:
American Board of Physical Therapy Specialties
Education:
Dallas Baptist University, Master's in Kinesiology
Krishna Vishwa Vidyapeeth (Bachelor's)
Professional memberships:
American Physical Therapy Association
Awards and publications:
Oxford International Conference on recent trends in physiotherapy- Bangalore
Poster presentation at Oxford International Conference
CERTIFIED APOS THERAPIST
Provider information
NPI: 1417627142
Specialty: Physical Therapist (225100000X)
License: 047301
Practicing from: 2021
Accepts Medicare: Yes
About Our Center
With several locations throughout New York, our certified therapists use a multimodal rehabilitation approach to treat various pain conditions, including chronic pain.
You've come to the right place if you're in pain and need outpatient physical therapy. We offer hands-on, one-on-one physical therapy to people in New York City and Brooklyn suffering from the lower back, sciatica, knee, shoulder, and neck pain.
Our team is top-tier New York pain rehabilitation physiotherapist specialists who are passionate about treating pain issues non-invasively and using time-tested physical therapy techniques. We see a lot of patients who have orthopedic, neurological, or cardiovascular problems.
CLIENTS TESTIMONIALS
I had residual ankle instability, following a really bad ankle sprain. Dr. Kotte worked on this with me, until my ankle was strong and I was able to stop wearing my ankle brace.
Patient
Injured my delf playing baseball few months ago came in for consultation and booked a few appts now I feel Great! Glad DR Kotte was able to help and do what he does!
Patient