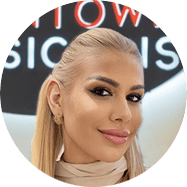 Enrica Sosa, NCBTMB
Massage Therapist
"Enrica Sosa is amazing! Extremely knowledgeable and attentive to your pain and recovery. Highly recommend!"
Enrica Sosa
Enrica Sosa is a New York Licensed and Board Certified Massage Therapist specializing in injury, pain management, and head concussions, using different techniques: sports massage, trigger point therapy, deep tissue, myofascial release.
Certified in CranioSacral therapy, she collaborated with Dr. John E. Upledger Institute and with the most prestigious New York Hospitals and Chiropractors, NBA players, and Olympic Fencing Team in Columbia University.
Specialties:
Physical Therapy
Occupational Therapy
Massage Therapy
Education and training:
New York College of Health Professions
Board certified by theNational Certification Board for Therapeutic Massage and Bodywork (NCBTMB)
Certified by Biodynamic Craniosacral Therapy Association of North America
CLIENTS TESTIMONIALS
Love the office. Everyone is amazing. Enrica Sosa is very attentive and knowlegable - highly reccomended.
Patient
Great energy, fun session, feeling more capable & knowledgable about my care, plus I got a good workout.
Patient