Hand therapy is typically prescribed for people with hand injuries, a broken hand, carpal tunnel syndrome, arthritis, or other problems that cause them to have diminished strength and range of motion. While the focus is on improving hand function, hand therapy often includes more than the hands and can extend to the wrists, forearms, elbows, and shoulders.
Hand therapists specialize in treating this complex region of the body and use a combination of therapeutic approaches, including occupational therapy and physical therapy, along with specific hand and arm exercises to help patients resume their everyday tasks and build strength and flexibility in their hands.
Who Needs Hand Therapy
Hand therapy isn't just physical therapy for broken hands or bones in the arm, it can be useful for many different types of injuries that affect the dexterity of the arms and hands and cause people pain. Common concerns that can benefit from hand therapy at Physical Therapists NYC include:
Broken hands or fingers
Golf or tennis elbow
Sprains and/or strains of the upper extremities
Trigger finger
Repetitive motion disorder
Coordination deficiencies or muscle weakness
Injury
If you're experiencing any pain or limitations in your hands, fingers, and even up your arms into your shoulders, you may be a good candidate for hand therapy at Physical Therapists NYC. We're happy to see you for a consultation to help determine if this is the right type of care for you so you can regain the function of your hands and fingers.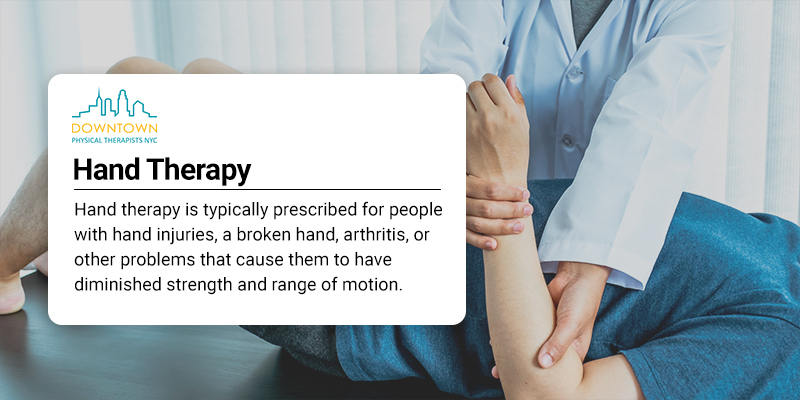 CLIENTS TESTIMONIALS
I have an upcoming appointment and can't wait. I recommend Dr. Yadav to all my Friends.
LD
I received outstanding service. I would definitely recommend Dr. Yadav.
MB
Broken Hand Therapy
While there are many different conditions that can be treated by a hand therapist, one of the most common and one that needs a little extra attention is a broken hand. The hand has many small bones that provide for a variety of movements and functions, because of their size and the amount of use they get, they can be very susceptible to fracture – especially for athletes. Before seeking any physical therapy broken hand exercises, it's crucial that your bone be set so it can heal properly. This will require a period of immobilization so the bone can mend back together. The body is a marvelous machine that is able to heal itself, but it does require time and patience. It's difficult to not have full use of your hand but the proper care, rest, and broken hand physical therapy exercises will help you return to normal function.
Because a broken hand is a serious injury, there will be some customized physical therapy exercises after broken hand that are recommended by your therapist. The goal is not just to resume normal activities and build strength but also to support healing. Seeing a hand therapist immediately after your hand has been set will set the stage for future care and a therapy program once immobilization is complete.
 What Can I Expect During a Hand Therapy Appointment
When you visit Physical Therapists NYC, you'll be welcomed into our office by our friendly and caring staff. Your care in our office begins the minute you walk through our doors.
During your appointment with a hand therapist, you'll discuss your condition, and a physical examination will determine your current level of function. Your therapist and you will evaluate what future goals of function and movement are and a customized treatment plan will be created. Expect some of your treatment and therapy to be performed in our well-appointed gym with equipment specifically designed to treat hand injuries. You may also be given exercises to perform at home, at work, or whenever you get the chance to speed up your healing and support your in-office efforts.
While some hand injuries and illnesses, like a broken hand or arthritis, are obvious candidates for hand therapy, others might do very well from treatment. If you've noticed limitations in your hands and fingers or through your entire arm, connect with our office for an evaluation to see if you can benefit from treatment. There's no reason to live with pain or loss of motion if therapy can improve your situation.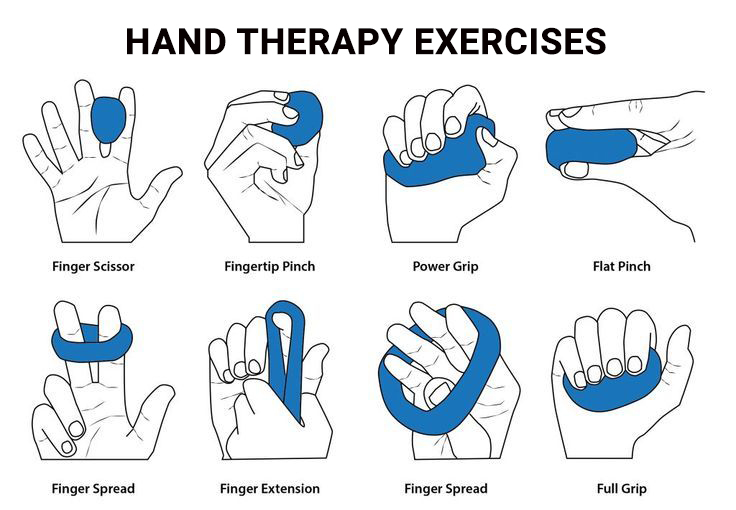 Schedule A
Consultation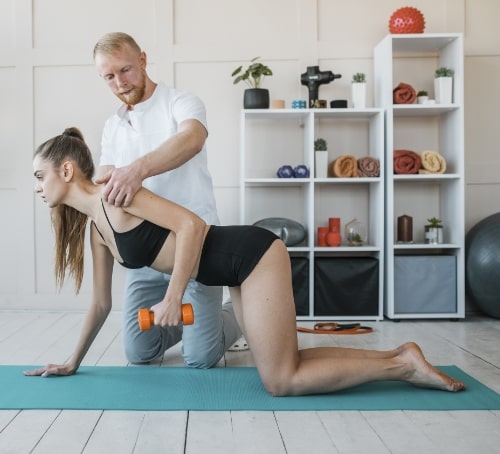 Book Your Physical Therapy Appointment Now at Physical Therapists NYC
At Physical Therapists NYC, we have hand therapists on staff to attend to this very complex part of the body with the attention, skill, and expertise you expect from our facility. Our patients are our top priority, and our goal is to bring you long-term pain-free relief with the most effective treatment plan possible. Led by a team of in-house medical doctors, our physical therapy experts can ensure your care is delivered with experience and expertise.
We specialize in treating busy professionals at Physical Therapists NYC, mainly because we are in the heart of the business district. Our downtown location makes it convenient for people who work in the city and on Wall Street to find the time to be seen for care and to have minimal down time in their day. To better accommodate your schedule, we have early morning and evening hours. It should be noted, those are very popular time slots, so we suggest scheduling today to ensure you get the time you want.
In our office, we feature some of the best state-of-the art diagnostic tools available and a well-appointed, full gym for your workouts and exercises. Having the latest and the best technology leads to a faster recovery with less setbacks along the way. We also put a lot of stock in our physical therapy staff, making sure that we have top-rated therapists who are leaders in their field. Your health care is our priority.
Connect with our office today to schedule a physical therapy appointment and begin living your life to the fullest again.