One-On-One Pilates based Physical Therapy
No doubt you've already heard of Pilates. This method of exercise has been around for decades and is very popular with people who want to stretch and strengthen their bodies but want to do so in a gentle way that isn't like lifting weights or running.
At the core of Pilates is your core or the center of your body. By strengthening the core, working on flexibility and balance, Pilates is an extremely effective way of building strength and flexibility. It's also a great way to support a physical therapy treatment plan.
What is Pilates?
German native Joseph Pilates turned to athletics to battle his own ailments as a youth and began a lifelong love of fitness. He began to create his own system of fitness that was based on a balance between mind, body, and spirit. His system developed and in 1926 he emigrated to the United States and opened a fitness studio in New York with his wife and began working with many of the ballerinas from New York City Ballet.
Since then, Pilates has become a well-known practice that's defined as a mind-body exercise that requires core stability, strength, and flexibility, and focuses on attention to muscle control, posture, and breathing. Pilates himself said that the practice should look and feel like a workout, not therapy. Yet Pilates is the perfect pairing with physical therapy.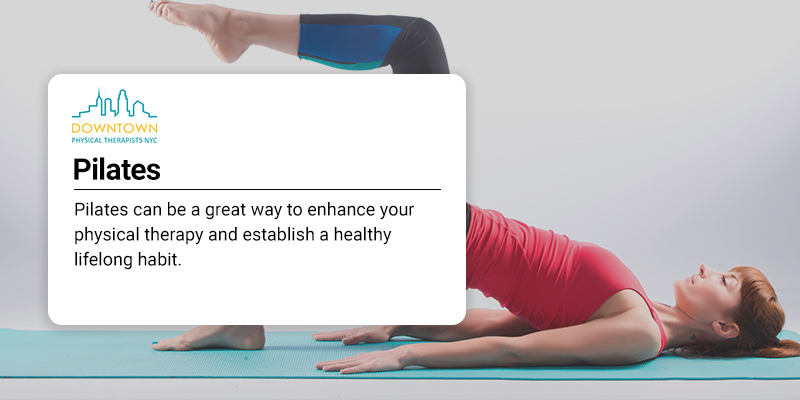 Pilates and Physical Therapy
At Downtown Physical Therapist NYC, we have discovered that including Pilates with physical therapy, for some patients, dramatically improved their response to therapy, healing time, and overall health. It's a great companion piece to a therapy program and can lead to a lifetime of health and fitness.
Pilates-based rehabilitation addresses the patient's specific symptoms to strengthen the target area while improving overall balance and flexibility. These are exercises that often can be performed at home and continued long after physical therapy is done to prevent further issues and injuries.
One of the most compatible theories of Pilates is a sense of balance, or harmony between the body with all areas being strengthened. In many traditional workouts only a couple areas are targeted, people look to firm up their abs or build strong arm muscles. This can be counterintuitive to therapy whereas Pilates has a whole-body approach that's very beneficial for recovery.
Benefits of Pilates
Discovering how your therapy and Pilates can work together is as easy as looking into the benefits of a Pilates program. There are many and they can apply to everyone, whether they're receiving physical therapy or not.
Reduced or eliminated pain
Less stiffness
Increased awareness of muscles and their interplay
Ability to control and pinpoint pain symptoms
More efficient patterns of movement
Breaking old and possibly harmful movement patterns
Improved function
Better posture
Increased core strength
Reduced muscle stiffness
Less risk of injury
Faster injury recovery
Improved function for daily tasks
Increased movement confidence
Greater independence
Weight loss
Improved circulation
Greater flexibility
Increased joint mobility
Not only does Pilates offer a vast array of benefits physically and mentally, but it's also an exercise that has very little chance of injury when done correctly and it can be performed by anyone at any age.
Conditions That Benefit from Pilates
Pilates can be a great way to enhance your physical therapy and establish a healthy lifelong habit. But before diving into a Pilates class, it's best to check with your physical therapist or your doctor to see if this is the right program for you, especially if you have some underlying health concerns or conditions. That said, the following are conditions that can benefit from Pilates.
Low back pain and sciatica
Thoracic pain
Degenerative spinal conditions
Kyphosis
Scoliosis and post scoliosis surgery
Osteoarthritis
Rheumatoid arthritis
Patellofemoral pain syndrome
Abdominal and pelvic floor weakness
Post-orthopedic surgery
Strains and sprains
Fibromyalgia
Pain from poor posture
Multiple Sclerosis
Whiplash
Our Facilities Are State of the Art
Not only do we have the best physical therapists around, but we also believe we have one of the best facilities. Where you receive your care, and the tools or machines used in your therapy can mean a lot when it comes to a successful treatment plan. In our office, we feature some of the best state-of-the art diagnostic tools available and a well-appointed, full gym for your workouts and exercises. Having the latest and the best technology leads to a faster recovery with less setbacks along the way. We also put a lot of stock in our physical therapy staff, making sure that we have top-rated therapists who are leaders in their field. Your health care is our priority.
Our quality of care is considered among the finest in the country and with the technology and expertise to back it up, our patients find the relief they are seeking.
What Our Patients Have to Say
We know we have the best physical therapists and facility around, and our patients agree.
CLIENTS TESTIMONIALS
Dr. Parikh is the best PT I've ever seen, hands down. She was such a great listener, asked many questions to understand my issue and made me feel extremely comfortable in her care. Would highly recommend!
Elizabeth O.
Dr. Parikh has been instrumental in helping me get back to good health. She considers the specific problem that you came in for, but then also considers all the other aspects that could lead to that problem and addresses those as well.
Patrick
Book Your Physical Therapy Appointment Now at Physical Therapists NYC
Starting a physical therapy program enhanced by Pilates is as easy as connecting with our office and making an appointment. Every single person can benefit from doing exercises that are designed to make daily living easier and support their regular movements.
At Physical Therapists NYC, we welcome both rehab patients and individuals who want to improve their lives and health. Led by a team of in-house medical doctors, our physical therapy experts can ensure your care is delivered with experience to give you the best results possible.
We specialize in treating busy professionals at Physical Therapists NYC, mainly because we are in the heart of the business district. Our downtown location makes it convenient for people who work in the city and on Wall Street to find the time to be seen for care and to have minimal downtime in their day. To better accommodate your schedule, we have early morning and evening hours. It should be noted, those are very popular time slots, so we suggest scheduling today to ensure you get the time you want.
Schedule A
Consultation