Vestibular rehabilitation training is a physical therapy, exercise-based program that's designed to improve balance and help people who experience dizziness. If you're having balance-related problems, vertigo, or recurring dizziness, connect with Physical Therapists NYC to see how we can help.
What is Vestibular Physical Therapy
Vestibular physical therapy can help when the patient's dizziness, vertigo, or balance problems are related to an injury or a disability within the vestibular system. Your vestibular system is comprised of several tracts with the main components being found in the inner ear. Within this system, there are receptors that transmit information to the brain. Its main responsibility is to notify the brain of positioning so you can keep your balance and equilibrium.
If there has been an injury to the vestibular system the body will compensation for this, but it can be confusing to the brain and the individual will feel dizziness, have vertigo, and/or suffer from balance problems. Vestibular therapy/training works by using the body's natural inclination to compensate and training the patient to use alternative signals from other systems to relearn how to balance. For these individuals, having vestibular training can return them to normal function and they will once again experience confidence in their activities.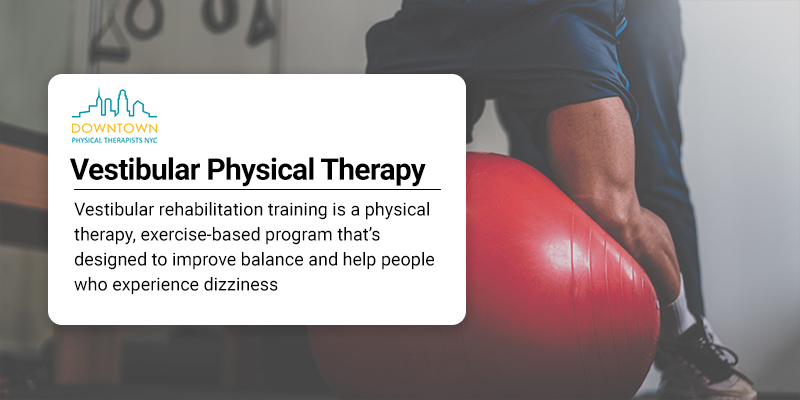 Who Needs Vestibular Therapy
Vestibular therapy is unlike many other kinds of physical therapy in that it's only applicable for people who have been diagnosed with a vestibular condition. If this is not what's causing your feelings of vertigo or dizziness, then vestibular therapy will not work for you. Some of the conditions that do benefit from vestibular therapy include:
Vestibulopathy
Post-concussion syndrome
Cervicogenic dizziness
Mal de Debarquement
Persistent postural perceptual dizziness
Vestibular migraine
Unilateral vestibular hypofunction
Vestibular neuritis
Benign paroxysmal positional vertigo
Certain neurological conditions
Dizziness can come from many other issues, when you're seen in our offices, our therapist will take a detailed history and review your medical history with you. There will also be a physical examination to determine if vestibular therapy is the proper approach to your symptoms or if another physical therapy treatment path would be more efficient.

CLIENTS TESTIMONIALS
Perfect choice, thank you for the warmth kindness.
CR
Overall he's a good Dr.
Tyron
What Happens During Vestibular Rehabilitation
The goal of this type of therapy is to train your body and brain to use other positioning signals to assess balance. This is done through three categories of vestibular exercises.
Habituation Exercises. These exercises address dizziness that's caused when the individual changes their horizon or when they turn their head quickly. Repeated exposure to the conditions that cause dizziness train the brain to ignore them and the feelings of dizziness will fade.
Gaze Stabilization. People who say that their vision wiggles when they're looking at something can benefit through gaze stabilization. In this exercise, the individual looks at one object and then moves their head around, constantly looking at the object.
Balance Training Exercises. These might be the most important for people who suffer with vestibular issues because a fall can be so serious. Removing the fear of a fall and decreasing the likelihood of one improves daily activities and confidence in movement. These exercises are customized to the patient, taking their particular level of balance into consideration and then regularly challenging them a little bit until they've mastered that level.
Balance therapy is one part of vestibular rehabilitation that can be beneficial for anyone. If you have dizziness or balance concerns that are unrelated to a vestibular problem, balance therapy in our office can help and get you back on your feet.
Schedule A
Consultation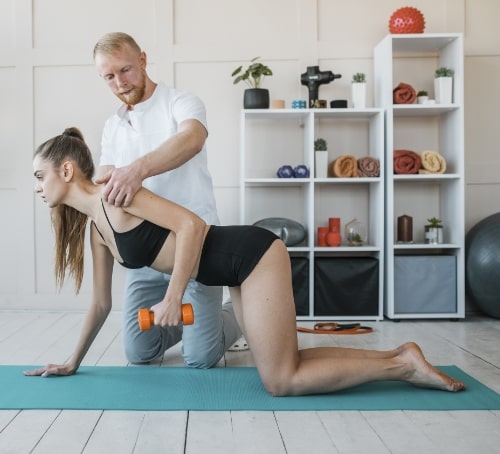 Book Your Physical Therapy Appointment Now at Physical Therapists NYC
If you're struggling with dizziness, vertigo, or balance problems, Physical Therapists NYC is here to help. A diagnosis of a vestibular condition makes you a great candidate for vestibular therapy and treatment to relieve your symptoms and to retrain the way your brain perceives the world around you. It is possible to overcome many of these feelings and rejoin your normal activities with the help of our therapeutic team.
Our patients are our top priority, and our goal is to bring you long-term pain-free relief with the most effective treatment plan possible. Led by a team of in-house medical doctors, our physical therapy experts can ensure your care is delivered with experience and expertise.
We specialize in treating busy professionals at Physical Therapists NYC, mainly because we are in the heart of the business district. Our downtown location makes it convenient for people who work in the city and on Wall Street to find the time to be seen for care and to have minimal down time in their day. To better accommodate your schedule, we have early morning and evening hours. It should be noted, those are very popular time slots, so we suggest scheduling today to ensure you get the time you want.
In our office, we feature some of the best state-of-the art diagnostic tools available and a well-appointed, full gym for your workouts and exercises. Having the latest and the best technology leads to a faster recovery with less setbacks along the way. We also put a lot of stock in our physical therapy staff, making sure that we have top-rated therapists who are leaders in their field. Your health care is our priority.
Connect with our office today to schedule a physical therapy appointment and begin living your life to the fullest again.