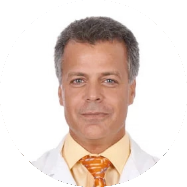 Dr. Juan-Carlos Izquierdo, DC
Chiropractor
"It was a great visit. The expetice of Dr. Izquierdo and the exercises he gave me & treatment, make me feel much better."
Dr. Juan-Carlos Izquierdo, DC
Juan-Carlos Izquierdo, D.C. is a licensed and board-certified chiropractor in New York. He graduated from Farleigh Dickinson University with a B.S. in Applied Psychology and Life University in Atlanta with a Doctor of Chiropractic degree.
Dr. Juan-Carlos Izquierdo maintains his education in the field, having completed advanced courses in Upper Extremity Diagnosis and Treatment, Lumbar Diagnosis and Treatment, and Sports Rehabilitation and the Athlete at NYU Medical School and New York Chiropractic College. He graduated from New York Chiropractic College with a degree in Chiropractic Sports Medicine and an Atlanta Back School certification in Ergonomics.
His dedication and skill have been recognized by The Children Are Precious Foundation, where he was named Medical Professional of the Year in 2004. He is also a recipient of the New York City Fire Department's "9/11 Volunteer Medical Personnel Citation" and the New York Chiropractic Council's "9/11 Service Beyond Call of Duty Citation."
Specialties:
Education and Training:
Life University, Doctor of Chiropractic
Strengths:
Musculoskeletal Rehabilitation
Neurological Rehabilitation
Postoperative rehabilitation
Manual Therapy
About Our Centers
Our physical therapy clinic, which has many sites around New York, uses a comprehensive rehabilitation strategy to address numerous pain disorders, including chronic pain. You've arrived at the correct spot if you're in pain and require physical therapy. People in New York City and Brooklyn suffering from lower back, sciatica, knee, shoulder, and neck pain may come to our clinic for hands-on, one-on-one physical therapy.
Our best-in-class pain management professionals in New York are aimed at treating pain issues non-invasively and through time-tested physical therapy approaches. People who suffer from orthopedic, neurological, and cardiovascular diseases can also be treated at our clinic.
CLIENTS TESTIMONIALS
The professional excels at making patients feel comfortable in the office setting and I enjoy coming for my visits. He is also highly skilled at his profession and my pain is alleviated every visit, I am definitely on the road to recovery because of JC!
Patient
It was a great visit. The expetice of Dr. Izquierdo and the exercises he gave me & treatment, make me feel much better.
Patient