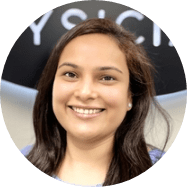 Dr. Rupal Yadav, DPT
Physical Therapist
"Dr. Yadav is very knowledgable and was able to help me with my pain. I highly recommend her as a PT."
Dr. Rupal R. Yadav is a licensed Physical Therapist in New York state. For Dr. Rupal the physical therapy profession is a way to share her profound knowledge and passion for musculoskeletal and sports medicine rehabilitation.
Dr. Rupal attended California Baptist University, Riverside, California and earned her MS in Kinesiology with Exercise Science as major. She moved to New York where she received her Doctor of Physical Therapy degree from Touro College. She has vast experience working with all different types of conditions with orthopedic disorders, sports injuries , neurologic disorders, women's health. Her advanced training and experience have helped her become a CCIP LEVEL 1 Certified instructor by American Physical Therapy Association.
In addition to taking care of her patients she loves spending time with her family, teaching, reading books, meditation and watching movies.
Education and Training:
Doctor of Physical Therapy – Touro College, NY
Master of Science in Kinesiology – California Baptist University, California
Bachelor Of Physiotherapy – K.M. Patel Institute of Physiotherapy, Gujarat, India
Diploma in Physiotherapy – Sardar Patel Institute of Paramedical Sciences, Lucknow, India
Strengths:
Musculoskeletal Rehabilitation
Neurological Rehabilitation
Post operative rehabilitation
Manual Therapy
Professional memberships:
American Physical Therapy Association
Provider information
NPI: 1316577281
Specialty: Physical Therapist (225100000X)
License: 045436
PECOS ID: 0446593180
Practicing from: 2020
Accepts Medicare: Yes
About Our Center
With several locations throughout New York, our certified therapists use a multimodal rehabilitation approach to treat various pain conditions, including chronic pain.
You've come to the right place if you're in pain and need outpatient physical therapy. We offer hands-on, one-on-one physical therapy to people in New York City and Brooklyn suffering from the lower back, sciatica, knee, shoulder, and neck pain.
Our team is top-tier New York pain rehabilitation physiotherapist specialists who are passionate about treating pain issues non-invasively and using time-tested physical therapy techniques. We see a lot of patients who have orthopedic, neurological, or cardiovascular problems.
CLIENTS TESTIMONIALS
My pain was terrible coming in. The Dr truly made my pain go away drastically. I will be coming back for sure!
Patient
very informative and helpful visit. we didn't feel rushed. the exercise video followup seems very helpful.
Patient